In the movie, "The Horse Whisperer," a talented trainer has a remarkable gift for understanding horses and nursing them back to health and peak performance. The trainer does this, not with exotic tools or analysis, but with a feel for the situation and a "sense" of the inner workings of his subject.
The "Process Whisperer"
This analogy may be a stretch, but in many utility and public sector organizations, there's a "Process Whisperer" – someone intimately familiar with key processes in the business and how those processes might be enhanced or nursed back to health and then operated at peak performance. Often, these "whisperers" are the process owners or work in proximity to an area. Through their on-the-job knowledge, observation and eye to customer service or effective output, they have developed theories and opinions that would help optimize performance.
Why are these resources not always utilized? Policies and procedures are excellent tools organizations should have to establish strong internal controls and promote uniformity in processes. However, policies and procedures documents can become stagnant and out of step with the actual processes which are fluid and evolve with software modifications, changing vendor or customer inputs or introduction of new apps or background knowledge. Employees that own and perform processes often have solid and robust ideas on how to streamline such process and to promote efficiencies. Sometimes it's in the name of making a process "easier," but if a process is "easier" and still has effective internal controls, press the "easy" button every time.
Tapping the whisperer knowledge base and measuring results
Organizations do not always have a formal process in place to obtain the knowledge from those employees who work most closely with business processes. Here are some methods for tapping into in-house "whisperer" resources:
In-depth reviews of select business processes by internal auditors or outsourced internal audit projects
Employee process improvement hotlines
Annual department focus groups on sharing best practices
Company contests with prizes for suggestions that produce greater efficiencies
Company initiatives that share cost savings with departments or organization-wide
It is also ideal to have the tools in place to measure results, through cost analysis, customer satisfaction surveys, reduction in auditor comments on internal control weaknesses or reduced error corrections.
Implementing a program
Many business areas are ideal for implementing a process whisperer improvement program in your utility or public sector organization. Here are some of the areas your organization could explore:
Customer service
Electric distribution line construction and work order accounting
Materials management
Accounts payable
Payroll preparation
Finance functions
Employee goal setting and evaluations
Enterprise risk management
Information technology controls
Purchasing
How would this work?
If you don't have a process whisperer program, select one of the areas above and give it a try. The image below depicts the inputs and desired outcomes: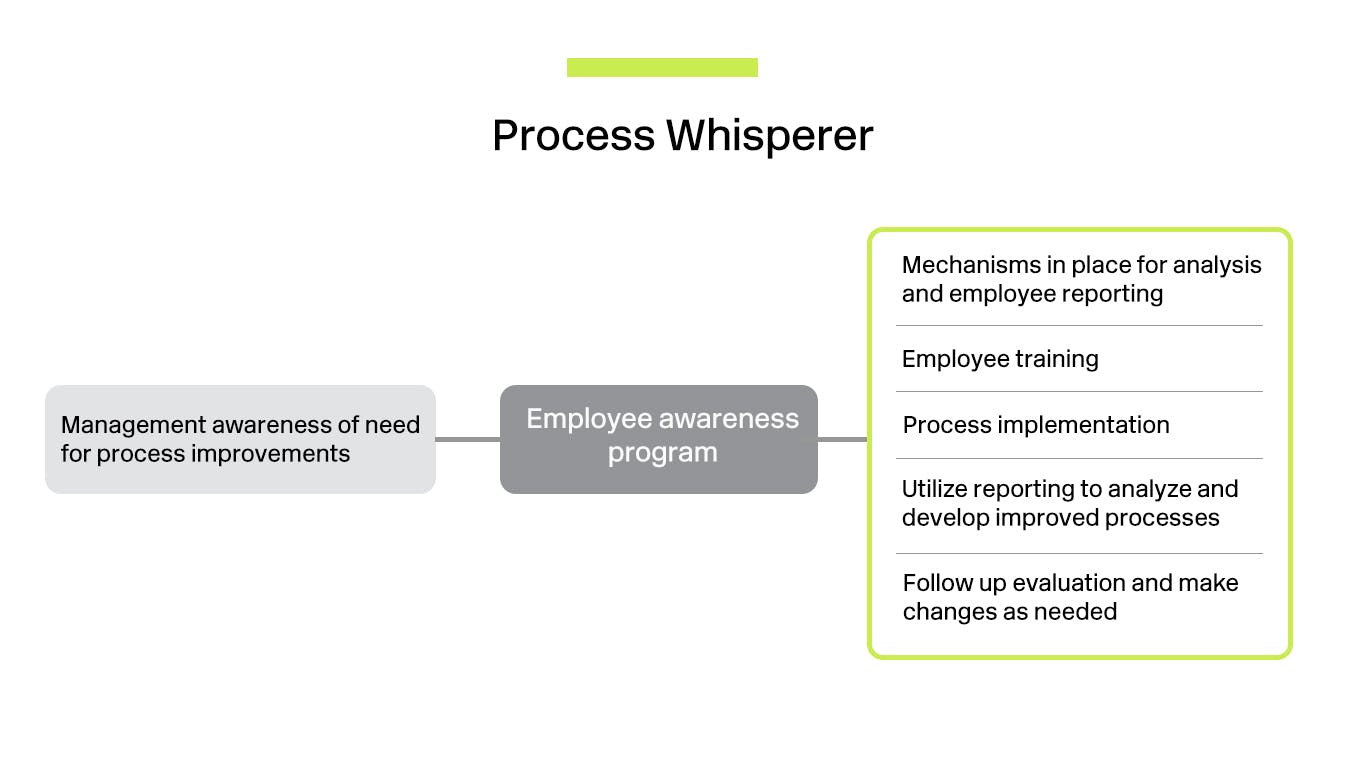 For more information on this topic, or to learn how Baker Tilly public sector specialists can help, contact our team.