Colleges and universities face increased pressure from public and government leaders to "prove" the value of higher education and ensure student-centric, cost-effective operations and delivery models. Fiscal pressures – combined with the need to meet increased demands for compelling academic programs and higher levels of support services to meet increasing student academic and wellness needs – spur colleges and universities to seek new innovative and sustainable models for improvements on campus.
Shared services, one possible model for service delivery, has the potential to improve the responsiveness of  services, ensure consistency in approach and remove duplication across the institution, and ensure cost effective approaches to operations. But can shared services work on both large and small campuses? What obstacles might accompany the implementation of shared services—and how can you overcome them?
A panel of university and college chief business officers, moderated by Baker Tilly Managing Director, Christine Smith, shared their unique experiences and realized successes in implementing shared services on their campuses during the 2019 National Association of College and University Business Officers (NACUBO) Annual Conference.
Below is an overview of the panel's shared services approaches, goals and results so far: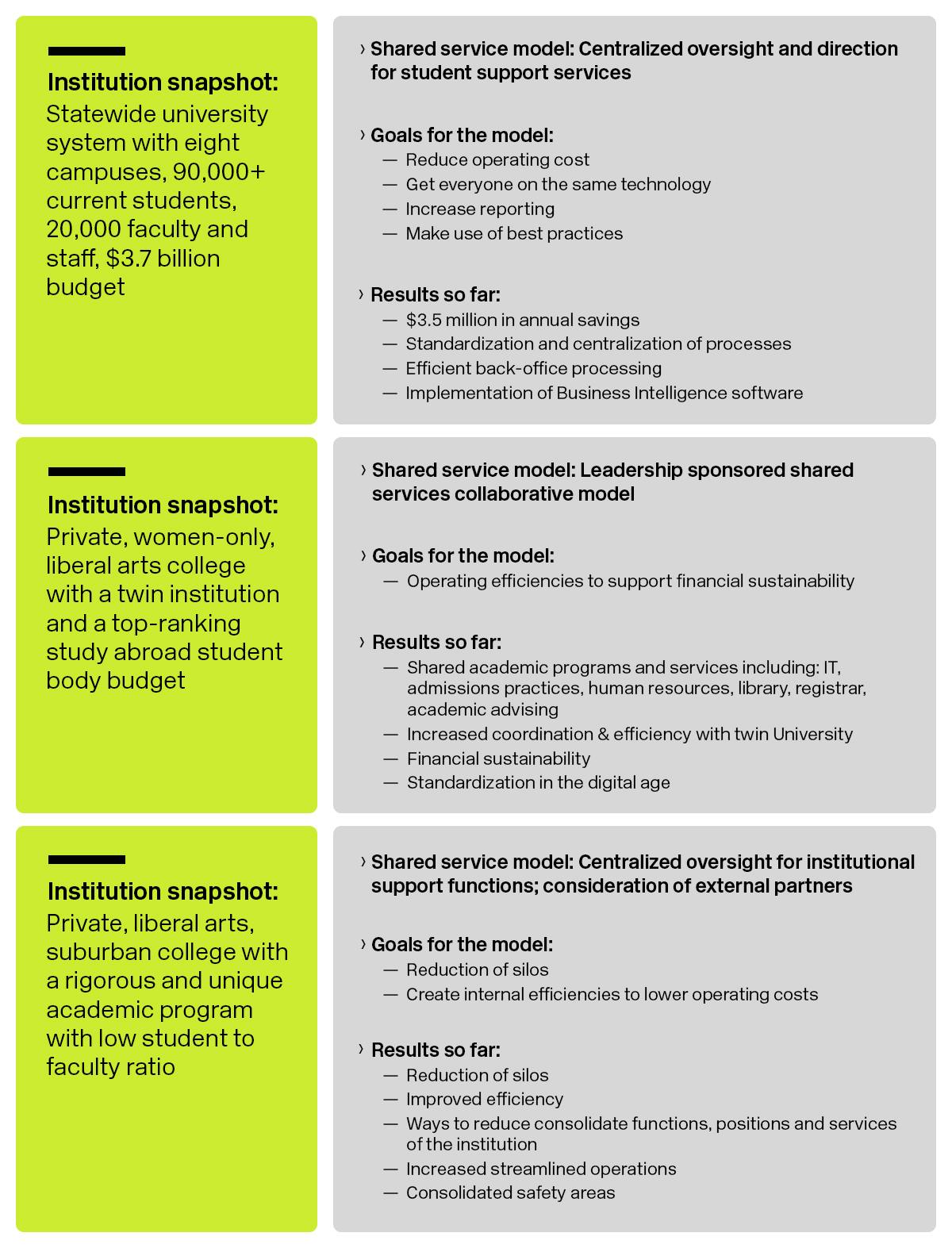 Six core, common themes emerged from the panel discussion and engagement with the audience:  
Find "true" collaborators – Collaborating across teams, departments, universities, state system entities or with a cooperating university counterpart with a shared understanding of why you are coming together is important for a shared service program's institution-wide mutual benefit.
Quick wins – When implementing a new potentially disruptive program, it is important to focus on enhancing morale and creating positive internal attitudes by sharing early successes.
Honest progress assessment – Being able to talk about any difficulty encourages an organization to go forward with a shared services program rather than give up at the first challenge.
Governance structure –A shared services program can come to be in a variety of ways, but to be successful you must ensure a formal governance structure for how things will be decided. Having a governance structure and plan in place is vital and should be supported by service line or contractual agreements.
Continuous improvement – Effective shared service operations require constant evaluation of service delivery approaches, assumptions and participants.   The foundation of a shared services program is not set in stone; it can and should be assessed, changed, and continually tweaked for the benefit of all stakeholders.
Communication – Getting everyone's input in the early stages is critical for a program that affects a variety of stakeholders across an institution.   Consideration and arbitration of identified problems allows for vested parties to share concerns as well as develop a mutually agreed upon solutions - and is key to ensuring a positive path forward.
For more information on this topic, or to learn how Baker Tilly specialists can help, contact our team.