The opportunity of a generation
Under the American Rescue Plan (ARP), approximately $31.2 billion of the $1.9 trillion of funding has been set aside for Indian Country. Unlike most of the funding provided under the CARES Act, ARP funding appears to address the necessary infrastructure investments desperately needed across Indian Country, such as critical healthcare, water, sewer, and broadband improvements, and potentially other critical infrastructure needs. The ARP also provides increased flexibility and longer deadlines to incur costs.
Tribes in many areas of the lower 48 and Alaska have had unmet critical infrastructure needs for generations. While this funding presents the opportunity to address these needs, managing large-scale infrastructure projects is a labor intensive task that many may not be set up to manage. This can result in unclear goals, miscommunication between project participants, project delays and cost overages. In addition, tribes may not be aware of other funding sources that they can leverage, such as existing federal programs or New Market Tax Credits that allow more efficient use of funding distributed under the ARP.
Baker Tilly's tribal services practice leverages in-house experience to support over $3 billion of energy and infrastructure projects that are either in service or under construction. We employ former infrastructure project developers, engineers, architects and finance professionals to support the execution of complex projects for our clients.
Funding within the $31.2 billion of tribal set-asides that may be available on a direct allocation or competitive basis is as follows: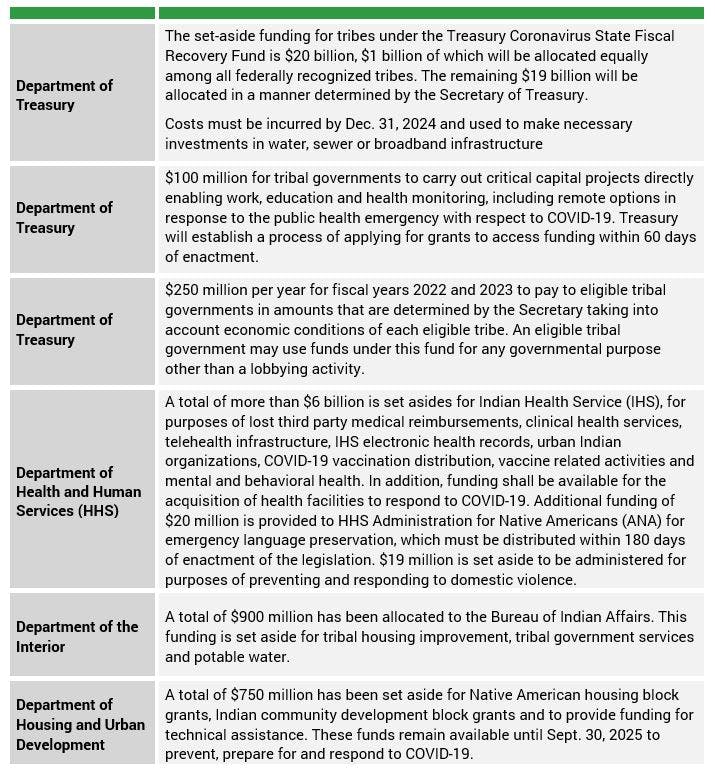 This list of set-asides does not include other funding available on a competitive basis within the overall $1.9 trillion ARP.
How Baker Tilly can help
By applying a process-based plan from our existing project management office (PMO), our approach brings clarity to your project(s). As your trusted advisor, we utilize best practices so that you can confidently move forward with a clear understanding that your end goals will be met. Bringing additional capital sources to the table where available and through collaborating with our clients, we address the following:
Concept
Vision for the project
Identify roles/responsibilities
Development budget and timeline
Reporting requirements for leadership
Identify "gates" or goals the project needs to achieve to continue to move forward
Feasibility
What does "feasible" mean to stakeholders?
Detailed design
Compile firm bids and refine numbers
Rerun financial analysis
Complete/remove any other project fatal flaws from the equation
Project finance
Internal formula driven funding from the ARP
Additional competitive grants
New market tax credit financing
Debt financing
Project execution
Construction cost monitoring/auditing
Construction oversight support
Project closeout/compliance documentation support
See below for the infrastructure project management lifecycle.