New Coronavirus Legislation 
As the U.S. government continues to monitor and respond to the Coronavirus outbreaks occurring globally, the House and Senate both overwhelmingly approved an approximately $8.3 billion funding deal. The legislation will boost funding for testing of the virus and lower costs for related medical treatments. This funding will be distributed to government agencies at the federal, state, and local levels, allowing them to purchase items and services they will need for Coronavirus prevention, preparation and response efforts. This document breaks down important points and impacts of the bill.
Bill Breakdown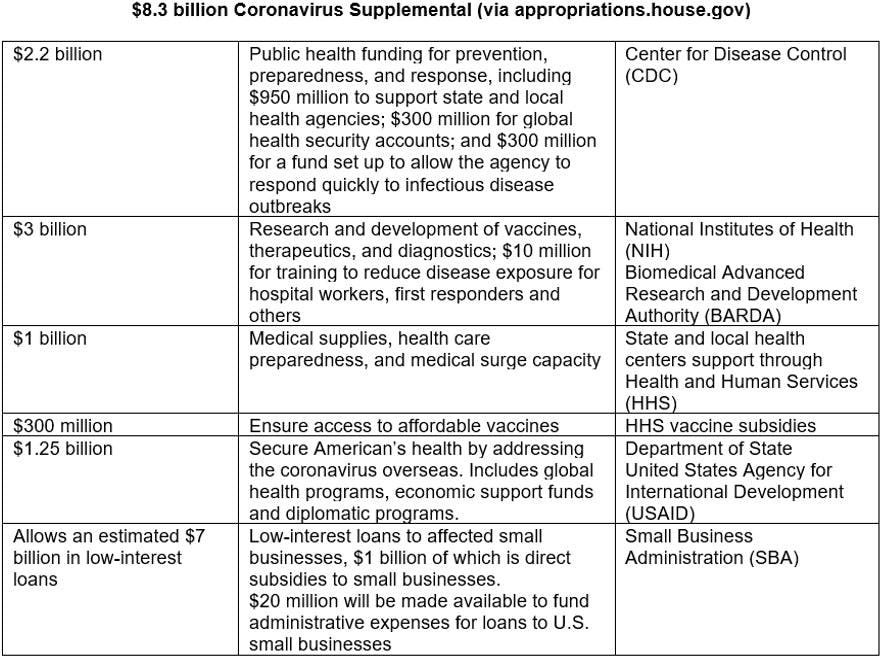 Other Affected Agencies
Food and Drug Administration (FDA)
National Institute of Environmental Health Sciences
National Ebola and Special Pathogens Training and Education Center (NETEC)
Applicable Contracting Information
The Senate Appropriations Committee's summary of the funding plan indicates that 85% of it will go to address Coronavirus concerns domestically. Federal, state and local government contractors are able to purchase relevant items that can be helpful in the prevention, detection and treatment of Coronavirus. The package would maintain standard procurement requirements for federal contracts requiring a "fair and reasonable" price for those supplies. It would also provide the Department of Health and Human Services with authority to ensure that they are "affordable in the commercial market" as long as product development isn't delayed as a result.
Government agencies and eligible buyers (FEMA, NIH, etc.) can purchase goods and services directly from Federal Supply Schedule (FSS) contractors, which have pricing that is deemed fair and reasonable. Below is a list of FSS contracts offered by the US General Services Administration (GSA) and Department of Veterans Affairs (VA) that are most relevant to the new Coronavirus legislation. Additionally, FSS contractors that have opted in for Disaster Recovery/Purchasing can sell products and services to state and local governments in areas where a state of emergency has been declared (CA and WA), or if a national state of emergency is declared.
FSS Schedules
621 II – Medical Laboratory Testing and Analysis Services
65 I B – Pharmaceuticals and Drugs
65 II A – Medical Equipment and Supplies
73 – Food Service, Hospitality, Cleaning Equipment and Supplies, Chemicals and Services
84 – Total Solutions for Law Enforcement, Security, Facilities Management, Fire, Rescue, Clothing, Marine Craft and Emergency / Disaster Response
Items and Services
Medical Supplies: Gloves, masks, sanitizers, thermometers and covers, gowns, hazmat containers, IV bags, hazmat suits, syringes, hazmat bags, respirators
Research equipment: Test tubes, petri dishes, gloves, syringes, pipettes, microscopes,
Medicines
Medical services and staffing: Nurses, emergency medical staff, doctors, PAs, CNAs, preparedness training, transportation
Construction and renovation services
Food, water, filtration, portable kitchen units
Transportation and packaging for overseas aid
Other Relevant Logistic Contract Vehicles
Category A - CAT A III is a limited-use contract for international and domestic services limited to the movement of critical medical supplies
Next Generation Delivery Service - NGDS is a mandatory-use government-wide solution for small package delivery services (DOD, Federal Agencies, and Cost Reimbursable Contractors).
Recommendations
Stay prepared for the possibility of the US Government declaring a national state of emergency and the surge of government procurements that could follow. While there is no guarantee of a nation-wide pandemic, the government has mobilized to be ready for the possibility; the last and only time a public health national emergency was declared was in 2009 regarding the H1N1 outbreak.  Would a state of a national emergency to be declared, it would afford special purchase arrangements for goods and services at the state and local levels to receive favorable pricing negotiated by the federal government. 
In addition to rapid procurement activities of the above listed goods and services, the government health agencies may plan to increase logistics, staffing, communications, and data analytics procurement activities. There is no limit to the goods and services needed in an effort to contain an evolving health threat and preventing further spread.