"Contrarian."  It's one of those words that is common in the investment community and even in the technology sector. Frankly, in today's world of information sharing, being contrarian is one of the few ways to truly differentiate, innovate and drive new forms of success. Of course, you can't just be contrarian…you also have to be right! This may be one of those times, when the contrarians among us in HR and IT have the opportunity to accelerate their organizations' digital transformations and add value by thinking differently and going against the grain.
As of this writing, the U.S. Department of Labor estimates that 22 million people in the United States have lost their jobs in the last four weeks as the Covid-19 crisis is shaking the economy.  The United States has not seen this level of job loss since the Great Depression.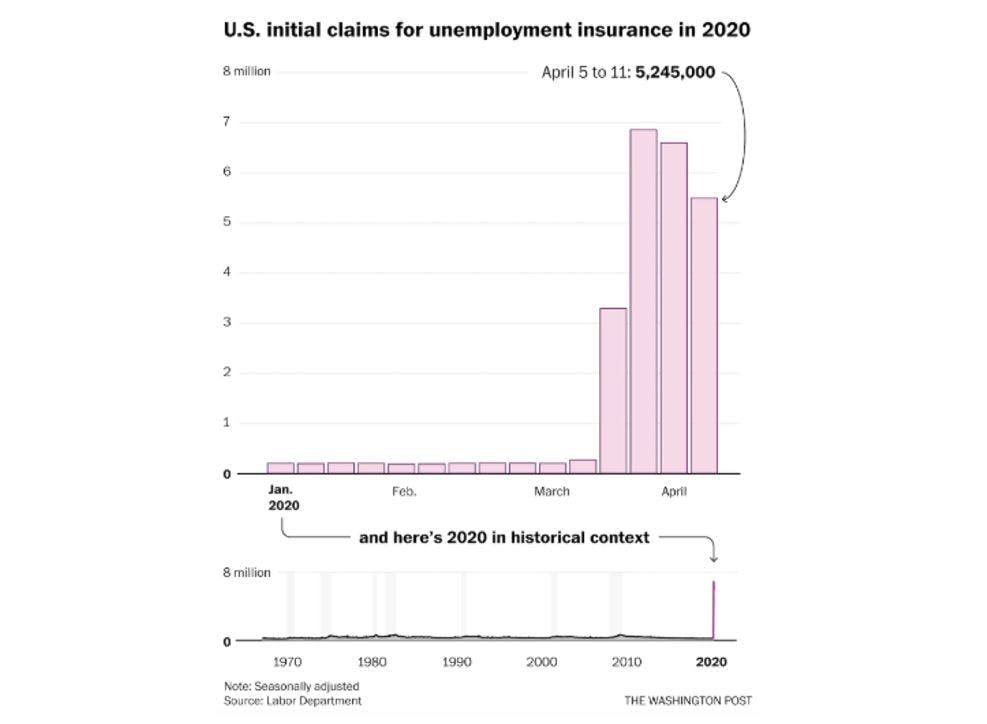 Compounding the issue, many of those losing jobs are not actively looking to find new ones – rather they are waiting for the "great lockdown" to either slow or end before returning to their previous employer or finding a new one. When will this end and what will the labor market look like later this year? The U.S. is trusting that trillions of dollars in government aid will resurrect the economy as quickly as it shut down. Morgan Stanley economists have forecasted a quick rebound; other experts are less optimistic. Everyone agrees that there is a lot of uncertainty and many unknowns.
Continuing with the state of the labor market, an HR or IT contrarian could argue that when it comes to talent acquisition, this is the ideal time to invest in efforts that will transform and differentiate their organization. While some organizations may be furloughing and laying employees off, this could be the perfect time to modernize and prepare the critical recruiting and onboarding processes and tools that will maximize an organization's comeback as the economy rebounds.
A true, opportunistic contrarian could argue that even the hardest hit industries like hospitality or retail, should be looking at this time as a chance to lay the foundation for success later this year. Consider the following:
Opportunity to focus:  How often can you get the recruiting organization to focus on anything other than sourcing, recruiting and onboarding?  Now is the chance to harness the professional brainpower of the talent acquisition department – they aren't distracted by their 'day jobs', they can focus on the challenges and gaps that exist in their current practices, and design new, fresh approaches to streamline, automate and be successful later this year.  We are seeing this with several organizations, in very different industries as they continue to work towards "go-live" in the very near future, or even "kicking-off" Oracle Recruiting Cloud (ORC) now, in anticipation of robust functionality later this year.
Recruiting:  Anecdotally, 80% of furloughed employees will actually return to their previous job. This means most organizations will effectively experience around 20% turnover, requiring them to recruit for new employees in addition to bringing back the previous workforce.  Knowing this impending high level of demand and burden on the talent acquisition function, this could be the ideal time to get the tools and processes in place to ramp back up. 
-Establish pipeline or "evergreen" requisitions now - to begin sourcing potential candidates for roles that they know will need to be eventually backfilled.
-Establish talent communities utilizing tools like campaigns and LinkedIn Recruiter System Connect to ensure the employer's brand is top of mind when it comes time for candidates to determine their next career move.
-Review the application process before the hiring surge begins to ensure it is as streamlined as possible. Tools like profile import from LinkedIn and Indeed and Resume Parsing can all help to reduce the time to apply.
On-boarding:  Getting the newly hired or re-hired employees back to work as efficiently as possible will be imperative. Even under regular circumstances, time to productivity is critical to maximize value over the first week, month, quarter of employment. Triggering those activities and following through on them effectively over time, can have significant organizational outcomes, for example in customer service, patient care or units produced.
-Leveraging video functionality pre day 1 in the onboarding process can help get new hires up to speed quickly. Welcome videos from the leadership team, their new department, and other learning related content portray an organization's culture and accomplish foundational learning from the onset, making day 1 more productive.  
-With single database seamlessness, being able to drive employee self-service activities within the onboarding process is critical. By directly triggering core functionality, eliminating integrations and enhancing the user experience, organizations can ensure employee data is accurate and timely. This has proven to be hyper-critical over the last 8 weeks.
-Linking the performance process at the time of on-boarding has proven to enhance employee time to productivity and engagement. Connecting managers and employees for goal setting conversations when an employee is joining (or rejoining) helps the newly hired understand how they align within the organization, and how to make an immediate impact. Prompting 30, 60 and 90 day follow ups with new hires creates a healthy cadence of feedback and course correction if needed.
Mobile/remote access:  If there is one thing we have learned, it's that the workforce doesn't begin and end in the workplace. From a full lifecycle, user experience perspective, the need for seamlessly integrated, mobile enabled tools and remote access for a recruiter, manager, candidate and new hire is not just a nicety; it's now a proven requirement. 
-Utilizing mobile responsive pages on the career site and within your applicant tracking system ensures everyone (candidates, new hires, managers and recruiters) across the hiring process can work on any device to support the organization's hiring efforts. This isn't to meet the conveniences of life on the go, it's about executing business transactions regardless of location – now a requirement.
-Video interviewing and online assessments are now a necessity. In a remote/virtual office world, these tools help the hiring team to assess candidates from anywhere, while also reducing travel time and expenses.
-Digital Assistant capabilities not only assist candidates searching for a job on the career site, but recruiters and managers who create requisitions and help  candidates navigate through the hiring process as well. The Digital Assistant serves as, a member of the recruiting team that works from anywhere, available 24/7. Once the "rehiring surge" happens, Digital Assistant functionality will reduce the tactical workload of recruiters and free them up to do what they do best: strategize with managers and sell the organization to candidates.
In conclusion, while this crisis strikes industries and organizations differently, one thing remains true – moments of monumental economic disruption are not the time to settle for the status quo. The disruption forces us to rethink the processes and practices that we've historically used to manage the workforce. For organizations to not only survive, but also maximize the "rehiring surge," they must be prepared with the people, the processes and the technology.  Opportunistic, and perhaps contrarian, thinking may lead organizations to successes later this year.
For more information on this topic or to learn how Baker Tilly specialists can help, contact our team.