Recent events have posed challenges to all organizations around the globe. Insurance organizations are no different. Organizational leadership has been tested during these times, requiring adjustments to or implementation of strategies and tactics to focus on what's most important to the organization: their people.
Business continuity took on heightened importance as the focus was moved toward ensuring employees' safety, developing a robust response team, initiating communication channels, and setting up employees for success with remote working environment productivity. Insurance organizations then shifted the focus onto its customers with open and frequent communications, as well as economic support initiatives such as delay of premium payments, premium refunds, reduction of lapsed policies/ penalties and temporary waivers of medical lab testing for life insurers, to name a few. These changes were derived from the business need to maintain relevance and ensure continued engagement with their customer base.
With all of these changes in the way we work and interact, it's left many people asking, "What's next?" This uncertainty is raising many questions about not only the current status, but what the next phase of our personal and business livelihoods may look like. Most insurance organizational leaders may be asking themselves:
What if the stay-at-home orders last an additional three months?
What can I do with my kids so I can get work done?
What if there is a mass increase in lapse rates on life insurance policies written?
What if there are additional catastrophe events (e.g., hurricanes, earthquakes, tornados and wildfires) during the remote workforce requirements, further stressing the business?
What if my regulator orders a requirement to pay business interruption claims when they're intended to be excluded?
What if we get hacked and our IT systems are crippled while working remotely? 
What if the economic recovery isn't until a year after the quarantine is lifted?
What if the economic recovery and rebound comes before we're ready?
The COVID-19 impact reaches far past that of health and wellness. We're seeing impacts in everything we do, and there are still many unknowns. However, through all this uncertainty there are a few knowns: We will emerge on the other side. We're seeing our world's technology infrastructure on display as a strength. And now is the time to begin to rethink our business for the future.
As we move towards "flattening the curve," we should ask ourselves how insurance organizations can move from a reactionary, sustainability mindset and take actions to build a stronger organization to manage being "ahead of the curve" in the future.
Looking to the future, leveraging technology
COVID-19 has forced all of us to work remotely, and organizations have seen the benefits and challenges of a remote work environment firsthand. We are also understanding what processes are critical to operations, and what information is needed to both make decisions and manage the business on a day-to-day basis. Now is the time to begin to apply the lessons learned and plan for our business world of tomorrow. For insurance organizations, it is time to: 
Identify unexpected changes or trends that may impact strategic direction
Determine a process for evaluating business changes as needed based on historical/predictive performance
Understand the process changes needed when moving to remote work, while also considering areas for improvement and/or simplification of traditional processes
Capitalize on process improvement/digital innovation opportunities
Develop a complete picture of your organization to establish mechanisms to assist in short-term and long-term decision-making
Data tells the full story, if utilized correctly
There are various methods of digital enablement an organization can focus on first in order to move into the "new world." One of the core elements underpinning any digital transformation is data, and your ability to leverage it in exclusive and beneficial ways. Data is a unique animal in that everyone has it, only a few trust it, but nobody should ignore it. Having a right-sized data analytics program can enable your organization to understand what happened in the past (hindsight), why it happened (insight), what might happen in the future (foresight), and how can we automate the management/insight generation (prescriptive).  

Wherever you are on the maturity model, understanding the art of the possible is a crucial early step in determining what is feasible given the data types your organization currently owns, what additional data you can capture to use and what questions would you would like your data to assist in answering.
Insurance organizations have endless amounts of under-utilized data
Life, annuity (L/A) and property and casualty (P&C) insurance organizations have access to various datasets throughout the company. While there are many key trends and ratios that could be considered, starting with a foundational strategy and data management program is critical to enable the execution and reliability of your data analytics program. We suggest starting small and iterating throughout your journey to ensure the best use of your data in decision-making can be attained.
Using historic data, business acumen and leadership instinct is a tried and true management style, and pairing these with foundational data analytics functions is a recipe for success. Regardless of your data analytics capabilities, everyone can benefit from improved messaging of the information. We like to think of this as "data storytelling." When we're considering the various different data analyses we will be performing, the several datasets that are needed for analysis and the process needed for appropriate data gathering, it is important to consider the "story" that should be developed, assessed and told to your stakeholders to have the most meaningful impact. Below are some high-level considerations that can be beneficial to organizations today, and into tomorrow:
Operations:
Workforce productivity
Vendor business continuity risk assessment
Call center key performance indicators (KPI) trends and shifts due to remote workforce implications and distractions 
Business interruption (BI) exposures and claim volume (P&C)
Workers' compensation and payroll trend and premium analysis (P&C)
Customer driving habit analysis and premium refund capacity analysis  (P&C)
Marketing spend and  return on investment (ROI)
IT project budgets and cost allocations through ROI/payback analysis
Expense and spend analysis (cash flow)
Customer:
Analyze policy lapse/surrender rates across the portfolio (L/A)
Reinstatement rates
Premium delinquency ratios
Retention analysis
Website traffic and policy self-service rates
Virtual "touchpoints" with existing customers
Customer segmentation analysis to maximize marketing
Sales and distribution:
New business sales growth and "what if" scenario planning
Agent/workforce reduction analysis
Trend of digital/online applications to paper application submissions
Target marketing and promotion optimization and analysis
Finance:
Equity exposures and investment stress testing
Commercial mortgage exposure and increase in forbearance rates
Credit risk modeling and stress testing
Counterparty exposure risk modeling
Unstructured claim data analysis for reinsurance recovery
Loss adjustment expenses (LAE) analysis/trends for litigation due to BI claims
Regulatory:
Predictive models on regulatory limits and requirements
Leverage data analytics to quantify COVID-19 impact and response
Monitoring allowed investment distribution for compliance
Modeling for premium growth and impact to applicable regulations
Establish your data strategy to enable sustainable growth
The above analyses and target areas are only an example of trends and data to consider. The possibilities are limitless and should be tailored to what is best for your organization and the stories you're looking to tell. A sustainable data analytics program is tailored to the organizations' intended level of maturity and aligned to the organizations' data analytics and management strategy. However, no matter how mature or robust your analytics capabilities, without triggers and actions as a result of the data, it just ends up being a bunch of nice dashboards and reports. Your data strategy should focus on delivering actionable insights. Whether that is a result of integrated automation or more basic data visualizations, actionable intelligence from your data is the desired end game. These insights will enable your business to spend less time understanding what is being displayed, and more time acting on the information provided to drive the business forward. These insights could be everyday decisions, or point to the need to rethink and transform the business.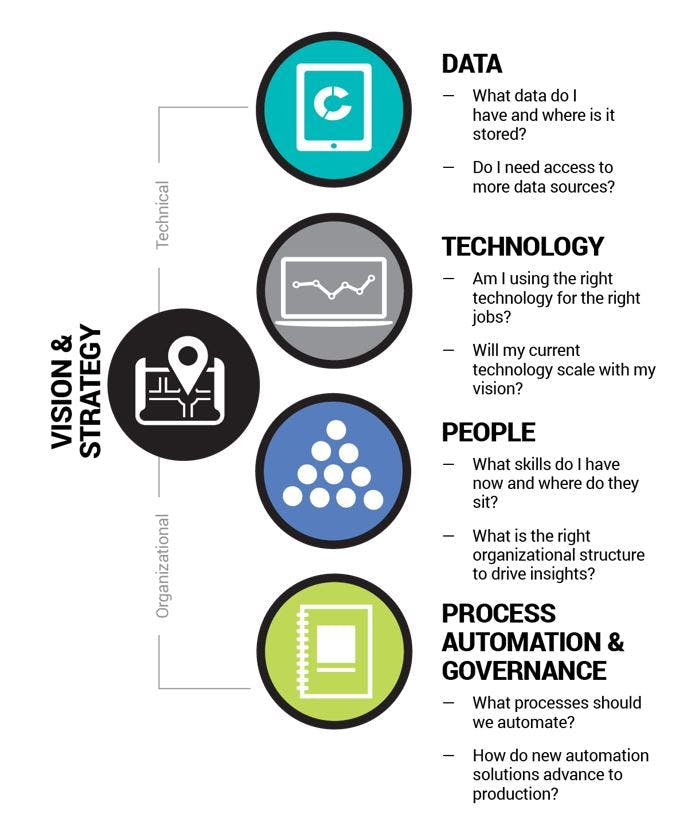 Use data to facilitate business optimization and scalability
There are many other "what if" scenarios and strategic decisions that can be modeled as a result of data analytics. As we're embarking on this data analytics journey, we should keep our focus forward for areas of opportunity to predict and monitor improvements, such as:
What if we expanded our digital to consumer (D2C) opportunities to prepare for a potential increase in a remote and virtual workforce as a result of companies and insureds adapting to the lessons learned from COVID-19?
What if we enabled our agents to have more technology on-hand through use of tablets and online virtual sales tools?
What if we explored our routine and inefficient processes, identifying opportunities for investing in automation and reallocating future growth and headcount spend to value-driven processes?
How do we track results and growth in a distributed business model?
How do we get ahead of the rebound and capitalize on potential new business and/or market opportunities?
Redevelop your organization to thrive in the business world of tomorrow
As most experts agree, there will be an end to this crisis, and the companies that come out on the other side more poised for growth and scalability will be the ones thriving long into the 2020s and beyond. We are presented with a unique opportunity to observe the impacts COVID-19 has had on our businesses already, and formulate a new strategy to be more digital-centric and nimble in the future, enabling our organizations to do more with the same infrastructure and people as we do today. The most successful companies will be the ones that have a solid strategy and are organized in a way to deliver results in an efficient and effective manner. Now is the time to consider your strategic approach to utilizing data, and leverage the lessons of that strategy to identify other areas for improved efficiency through the use of intelligent and decision automation.
Baker Tilly understands this fulcrum we're balancing on currently, and is well positioned as your Value Architect™ to help you prepare for tomorrow. We'd recommend a few immediate actions to take now, in order to establish your data analytics strategy for the future:
Assess current state of your data analytics capabilities
Determine the desired future state of the program, including the level of analytical maturity, decision automation and/or predictive insights
Establish and execute on a data analytics strategy and digital transformation road map
We wish you all well as we conquer this crisis and look forward to working toward a stronger tomorrow, together.
Please contact our team or contact your Baker Tilly adviser to discuss data analytics, intelligent automation and digital transformation.