The pandemic has exposed the strengths and weaknesses of nearly every organization in nearly every industry, but what has been most telling is how organizations have responded to this crisis. There are those that have had to succumb to the financial impact, while others — even in the same sector — have been able to stay afloat.
A survey of attendees at the 2020 Original Equipment Suppliers Association (OESA)  Automotive Supplier Conference  reveals   the majority of respondents said the global pandemic has accelerated their organization's desire to create alternative supply chains and/or supply base.
Baker Tilly presented "Black Swan confined: Leveraging macro-level turmoil to unlock supply chain and organizational resilience" at the annual conference. He discussed what organizations can do to turn significant external pressures into a competitive advantage as well as how they can plan for future "black swan" events.
Guideposts
Leaders who believe the concept that challenges bring opportunities for innovation and growth seem to oversee the organizations that have best weathered this crisis.
For organizations that are still struggling to see the potential, Baker Tilly recommends looking at the following guideposts. They range from factors we cannot control (guideposts one and two) to elements that are more controllable (guideposts three, four and five):
Geopolitical and social economic risk: This is everything that we see, not only the global pandemic but every dynamic and interplay among the large economies (e.g., U.S., China, the European trade bloc and countries within it, Latin America, etc.) as well as the sectors and governments that permit this interplay of economic prosperity to occur. These are the "big things" happening outside the four walls of your organization that will most likely affect you somehow and will be influential in what you do next.
Disruption-based competitive pressures: The pandemic forced organizations to make significant changes quickly, and many came to the unhappy realization that their competitors were better prepared than they were. For the most part, organizations have little insight into the inner-workings of their competitors. That unknown creates a different kind of external stress.
Rapid foresight processing and planning: This is the first (and crucial) step in how an organization can become less reactive and more anticipatory. Leverage data analytics and planning foresight to understand the current reality head-on, to make decisions that preserve the value the organization has created to this point — and to enhance the value it generates in the future.
Supply chain DNA manipulation: Successful leadership embraces radical change when it is necessary. As it relates to supply chain, this translates into leveraging internal and external information to take a clear-sighted perspective of what you have been doing and look at making changes that you may have never thought possible or would have ever considered before.
Sustainability: No matter what changes an organization has to make to both survive during and thrive following a catastrophic event, leadership has to ensure the actions it has put in motion are not a short-term fix. That the decisions made today require a longer-term view and, simultaneously, inject operational and cultural resilience that enables the organization to survive the next major disruption — not just to get through this one.
Combined, these factors create a continuum from macro-level events that stretch into the four walls of an organization and, in doing so, shine light on the fact that what may appear as a victimization of a company due to external factors are, in fact, more manageable issues that empower organizations to become more proactive. It is up to leadership to determine how to harness the factors that will have a profound impact on their organization for the better and act accordingly with the expectation of such a leadership role.
Use guideposts to maximize resiliency
To use these guideposts in a way that is actually meaningful and actionable, Baker Tilly suggested "evaluate the output of guideposts three, four and five in order to create a platform for growth that is sustainable and avoids risks that could put you in a position to behave differently from peers in your sector."
Even though your organization cannot control the first two stages, be mindful of them, Baker Tilly said. In fact, use what information you can glean from those external factors to shape what you do in the foresight processing and planning stage. Baker Tilly suggests borrowing a page from organizations that lead their field in supply chain responsiveness and resilience by following the key sequential actions they take, including:
Integrate supply chain strategy and enterprise strategy
Leverage analytics and visual/dynamic scenario planning to evaluate the economic and strategic benefits from possible supply chain changes. Doing so can fundamentally elevate the organizational view far above rows and columns on a spreadsheet — and more powerfully equip one's team to cut through the complexity of supply chain nodes and the decisions related to them — in such a way that dynamically impacts income statements, balance sheets, racks of inventory, and nearly every facet of how a company's supply chain defines the overarching relationship with the market and itself. 
Decisively implement alternate business models or supply chain (re)designs that increase velocity in information processing, planning and action.
Figure 1: Real-life example of deep analytics and dynamic visualization for a company near-shoring a portion of its manufacturing activity from Asia to Mexico. [Source: Baker Tilly, 2020]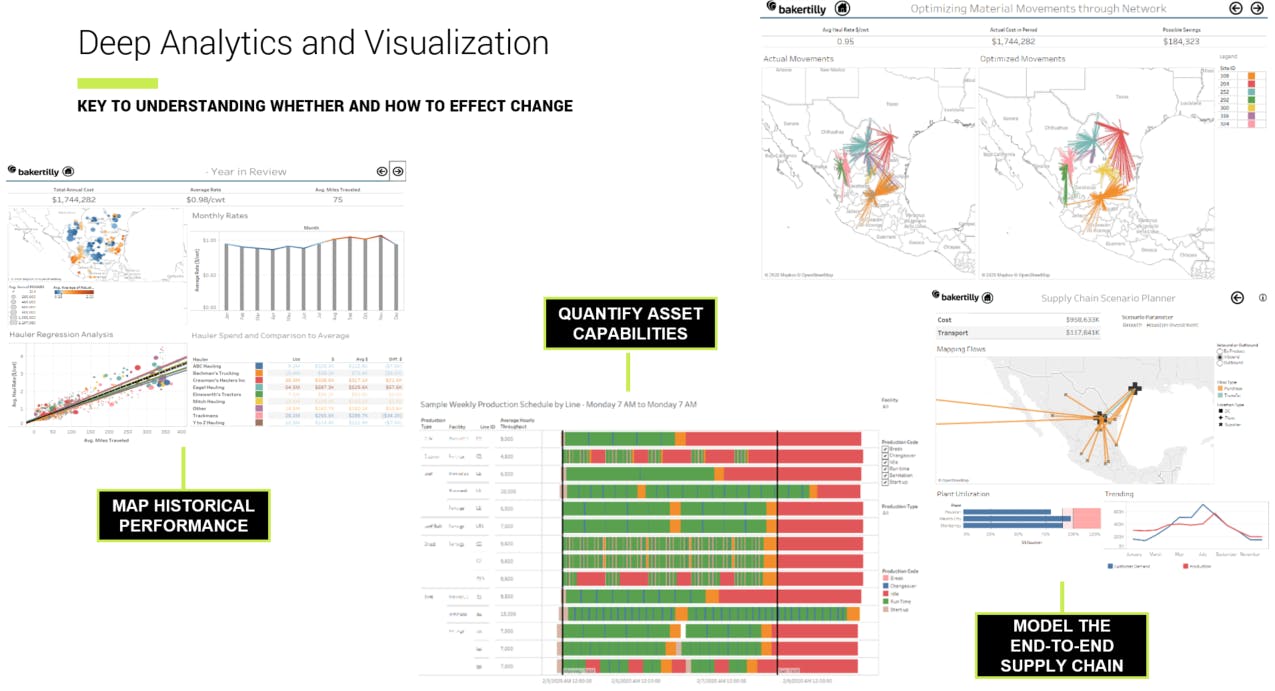 Integrated data gives organizations the ability to plan properly, respond thoughtfully and transform how they not only react to changes to their supply chain, but also drive profitable growth.
Once an organization is employing data analytics to be more proactive, it can use that information to change the "DNA" of its supply chain with confident and assertive measures. Before March 2020, it would have been unthinkable for a well-oiled supply chain organization to change what it has been doing for years. The pandemic has made it necessary, even imperative, for organizations to institute drastic changes to survive the current economy and to move forward in a post-pandemic world. It has triggered organizations to reconsider and rework the operational excellence that has been woven into the DNA of its supply chain and then implement the technological updates required to survive the next disruption that may be around the corner.
Finally, to transition from post-shock stability into sustainability, an organization should focus on and drive growth-enabled actions, which inevitably leads to ongoing near real-time supplier risk monitoring and management. While an organization may already have a pulse on some variables related to the risk of its supply chain, leadership should be taking a hard look at how far downstream into its supply base it can see. With the combined approach shared here, manufacturers can glean visibility into layers far beyond the first tier of suppliers and risks therein, resulting in an aggregated dashboard-style view of the health of its supply chain. A view that is monitored on an ongoing basis, with results "pushed" to functional leaders in their respective organizational areas in a nearly real-time manner.
Build this into the rhythm of an organization in running the business and leading its people, and one can begin to see how the journey from reactive to anticipatory is both achievable and, with proper commitment and support, sustainable.
Leadership's role
Executing strategic and business alternatives with discipline and rigor relies heavily upon sound leadership. As Baker Tilly said in their session, "the three controllable guideposts — those that help transition an organization from a position of 'pandemic victim' to an empowered one — are unlikely to happen without people working together to conquer obstacles that individually may seem insurmountable, yet are highly achievable collectively."
For successful execution, Baker Tilly encourages leaders to consider the following:
Harness uncertainty: Consider how the impact of uncertainty can be leveraged to supercharge team unity and performance and to unlock additional organizational strength. You are likely to be surprised with what your team can achieve.
Plan and prioritize: Use analytics, visual insights and dynamic strategic planning to clarify organizational priorities and unearth the untapped capabilities mentioned previously.
Assess organizational culture: Reflect on whether your organization's culture allows for creative engagement during times of crisis or ambiguity as well as for psychological safety where team members can offer ideas, be vulnerable and develop solutions without feeling they are at risk by voicing their perspective. Leverage the current environment, one where our professional lives collide with our personal/home life, to supercharge the establishment of a culture of "whole self –inclusion" and the performance excellence that inevitably follows. Watch it positively transform how your organization responds to challenges and accelerates capitalizing on opportunities.
Lead intentionally. Be visible, communicative and empathetic. Recognize one's role as a leader and the responsibility to crystalize the vision of a future that has not yet happened. A future that actually begins today and that you — the leader — will guide the team to. Show them that your organization's tomorrow is going to be better than its today and, while you may not have all the answers, collectively, you will chart the path and shape such a better future — starting now.
Baker Tilly professionals are ready to help optimize your supply chain operations. For more information on this topic or to learn how we can help, contact our team.