Baker Tilly and Winthrop & Weinstine co-hosted a webinar that provided an overview of real estate investment trust (REIT) fundamentals. The REIT framework allows developers a tax-efficient structure that can drive investor value while providing regular income streams and long-term capital appreciation and diversification. But while REITs have been strong in recent years, the structure may not be the right fit for every organization. This presentation will give insight on whether or not a REIT is an appropriate structure for your business, based on a few different variables.
In this webinar, our presenters discussed important topics to consider such as:
Is a REIT is an appropriate structure for you?
REIT structure and legal requirements
Key considerations and procedures for forming a REIT
Advisor and compensation issues
Significant collateral issues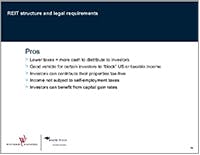 The information provided here is of a general nature and is not intended to address the specific circumstances of any individual or entity. In specific circumstances, the services of a professional should be sought. Tax information, if any, contained in this communication was not intended or written to be used by any person for the purpose of avoiding penalties, nor should such information be construed as an opinion upon which any person may rely.  The intended recipients of this communication and any attachments are not subject to any limitation on the disclosure of the tax treatment or tax structure of any transaction or matter that is the subject of this communication and any attachments.