Organizations invest millions of dollars implementing and maintaining applications or systems required for business operations, such as enterprise resource planning, accounting, financial reporting, human resources, procurement, and time entry. These system implementation projects are typically at risk of falling behind schedule, costing more than budgeted, or producing systems that do not meet business requirements. Recent studies show that more than half of all systems implementation projects go over budget and over 40% of projects are considered unsuccessful by stakeholders.[1]
Project Risk Reviews (PRRs) help organizations mitigate these risks by providing increased visibility, detecting issues earlier, improving effectiveness and quality of processes, and reducing overall project costs to help projects succeed.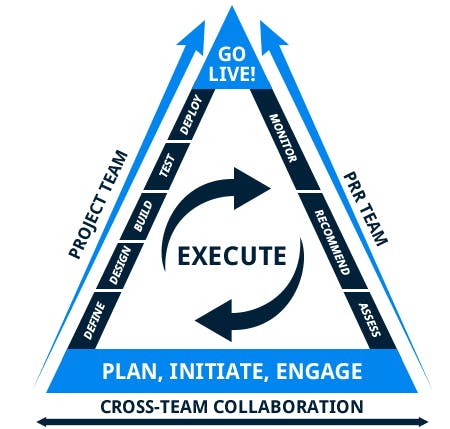 The primary goal of a PRR is to increase project success. A PRR provides an organization with an objective assessment of a project's processes and products, including analysis of system implementations activities in alignment with leading practices, industry standards, organizational mandates, and regulatory requirements.
PRR teams work in collaboration with system implementation project teams to proactively identify issues across all phases of the implementation cycle, provide pragmatic recommendations to resolve or mitigate challenges, and increase the likelihood that the system will meet the defined requirements.
Additionally, PRRs increase transparency into the progress and quality of development and configuration efforts, which in turn, enables project management to easily identify areas of concern and address issues before systems are fully implemented. Some of the activities typically conducted during PRRs include:
Planning oversight review
Project plan verification
Requirements verification
Requirements traceability assessment
Validate completeness of system and user acceptance testing
Assessing organization change readiness
The PRR approach can also be customized to focus on a specific milestone or phase of the project (e.g., testing) or provide an overall point-in-time snapshot assessment.  These approaches provide more timely insights related to each project milestone, support the implementation team efforts, and provide management the ability to react to issues in a timely manner.
Organizations can realize specific benefits from PRRs. Common challenges and benefits identified during PRRs include:
Challenges Identified
Benefits Achieved
Initial project deadlines were not achievable with current resources
Saved time and money updating deadlines to match resources, instead of trying to meet arbitrary deadlines
Lack of dedicated resources for communication and training activities
Near universal user acceptance of new software and business processes with on-going communications and multiple training resources (e.g., videos, job aids, classes)
New project implementation and data conversion methods for a rapid and iterative approach, which differed from organization's methodology
By using the updated approach, the project team was able to identify and resolve software and testing issues earlier, reducing the amount of rework and staying on scheduling
Future software changes are dictated by vendor, require dedicated business process analysts
Analysts proactively monitor upcoming changes, determine impact to processes, and recommend actions resulting in rapid acceptance of new functionality and reduction in end user problems
PRRs are useful for other complex, critical IT initiatives besides only system implementations, including critical software upgrades, major software releases, data migrations, platform conversions, and application migrations to hosted or cloud systems.
For more information on this topic, or to learn how Baker Tilly technology risk services specialists can help, contact our team.
Source:
[1] http://www.zdnet.com/article/2013-erp-research-compelling-advice-for-the-cfo/