As companies face uncertainty about post-pandemic sales and service strategy, many distributors have found it challenging to increase sales volume and points of distribution, which were industry pain points before COVID-19 placed more reliance on remote selling.
Service providers such as Amazon Prime, Provi, Barley Sober and numerous other e-commerce platforms are benefitting from having robust remote selling systems and strategies in place before customer demand increased in this new competitive landscape. Customers who have less availability for face-to-face calls and small talk are challenging the distributors' ability to perform. Instead, customers are taking the initiative to educate themselves about product offerings, leveraging reviews and their own insights to make decisions or outright shielding themselves due to social distancing and the effects of COVID-19. The lack of brand loyalty, new consumer preferences and the pressure for stock-keeping unit (SKU) rationalization makes it more challenging to successfully grow incremental business.  
The pitfalls of traditional sales and service strategies
Many organizations are looking for better results, yet are adverse to risks associated with major changes – continuing to rely on nominal departmental or incentive tweaks to "re-motivate" the sales team. When considering how to transform business without hemorrhaging market share and reasonable results, organizations should consider these questions:
Does it make sense to change a 30-year-old sales and service strategy?
Does a sales rep visit the customer to influence their order before it is placed?
How effective is the current business strategy when measured against the return on investment? 
Customer demands have skyrocketed and are expected to increase for the foreseeable future. The need to be more effective and efficient while engaging customers and increasing the customer experience will require employee routines to be overhauled to maximize sales and profit. This demand for products needs to be balanced with the need for employees and customers to stay safe.
Remote selling: reframing the sales pitch
Remote selling is contact-free customer engagement that utilizes a combination of techniques such as phone calls, emails, catalogs and social media posts. Remote selling strategies are common across all distributors and have been utilized in varying degrees for decades. When implemented correctly, remote selling leverages technology, business intelligence, automation and proper oversight to connect with customers, drive sales and maximize profits. Integrating remote selling in your company can benefit your business by:
Increasing accountability
Sales calls conducted as if the boss was standing next to you
Error-free process utilizing intelligent automation
The right objective with every sales pitch with business intelligence
Data-driven charts and graphs
As prevalent as remote selling has been for decades, most companies have not considered the benefits of updating their preferred sales methods and strategies. Holding onto outdated industry paradigms can hinder a company's implementation of progressive business strategies. Most distributors are not managing their data effectively. They have not challenged current repetitive routines nor considered how additional processes could be automated to accelerate business performance.
Distributors need a business intelligent approach that allows them to leverage their data, translate it into effective reporting, and leverage the insights for actionable results. Distributors should re-examine each team member's role and determine how they can repurpose their people into new roles that allow for their personal and professional growth while yielding better results for their business. These changes could allow for accelerated business metrics with long-term sustainable increases in sales, market share and profit.
Assess various aspects of your business
Understanding your current business operations can better position your company to implement necessary changes to adapt to the evolving market and meet your goals. These are the recommended areas of focus and necessary questions to ask while examining your business:
Engage in strategic scenario planning to determine current and long-term goals
-What does the business require to achieve its strategic plan? 
Recognize your cash flow position
-Can the current sales and service strategy deliver what the company requires from a cash flow standpoint in the "new normal," post-COVID-19 pandemic? 
-Can the company reach its goals with the current products, or is divestment or investment required? 
Comprehend your current technology capacity
-Do you have the right applications, tools and resources to achieve your goals?
Compliance to contracts and distribution agreements
-Everything in business is connected; how will adjustments to your company's sales strategy in one department affect other departments and commitments to your supplier partners?
Implement a hybrid selling approach
A hybrid approach combines a reasonable frequency of face-to-face interactions with remote selling, when applicable, to foster trust, help deliver the optimal sales pitch and render a preferred order. An accurate and honest assessment of your business goals, cash flow, supply chain and technological capabilities will better position your business to incorporate and adapt to remote selling. Building a sales strategy template that incorporates company standards, processes and protocols helps ensure more consistency across presentations and often leads to better results and a more accountable sales team.
Innovate with technology
Many technologies are readily accessible, and often customizable, to help businesses address a variety of needs. Due to the increase of demand in this technology, the overall cost of these technologies has decreased, which is why this is finally an affordable solution for distributors. The methods that follow help businesses to capitalize on opportunities and have more productive interactions with customers.
Customer delivery notification automation alerts the customer that their delivery is en route, as well as communicates other important information, like what is on the truck and the total cost for the delivery. This process is similar to following your packages across the country with a mail carrier service tracking number. This provides a way to set up a repeatable process and provide an exceptional customer experience. The customer is given time to review the order before it arrives, process payment, or simply prepare to receive the delivery prior to arrival to expedite the process. This level of information can inform your customer that their order has left the warehouse, and then again that you're one stop away from arrival. For customers that require additional service after delivery, an internal communication such as a text or email can be sent to select employees in your organization. This internal communication notifying the right people will improve response time of any post-delivery follow-up and enhance execution of additional opportunities with the customer.
Robotics process automation (RPA) replaces the manual, mundane tasks performed by employees with timesaving solutions performed by software robots – allowing employees to focus on higher level, valued-added work. For example, an automated email could give the customer time to mentally prepare for the sales call by checking inventory levels and overall performance of your brands, or to do their own research. An advance email notification prior to the sales call could motivate your sales team to fully prepare by communicating directly to the customer their last order, the year-to-date performance of all SKUs in easy to read charts and graphs, and a recommended next order. Automating this process provides accountability for your sales team by ensuring their "selling objective" is delivered as if the boss were standing right next to them.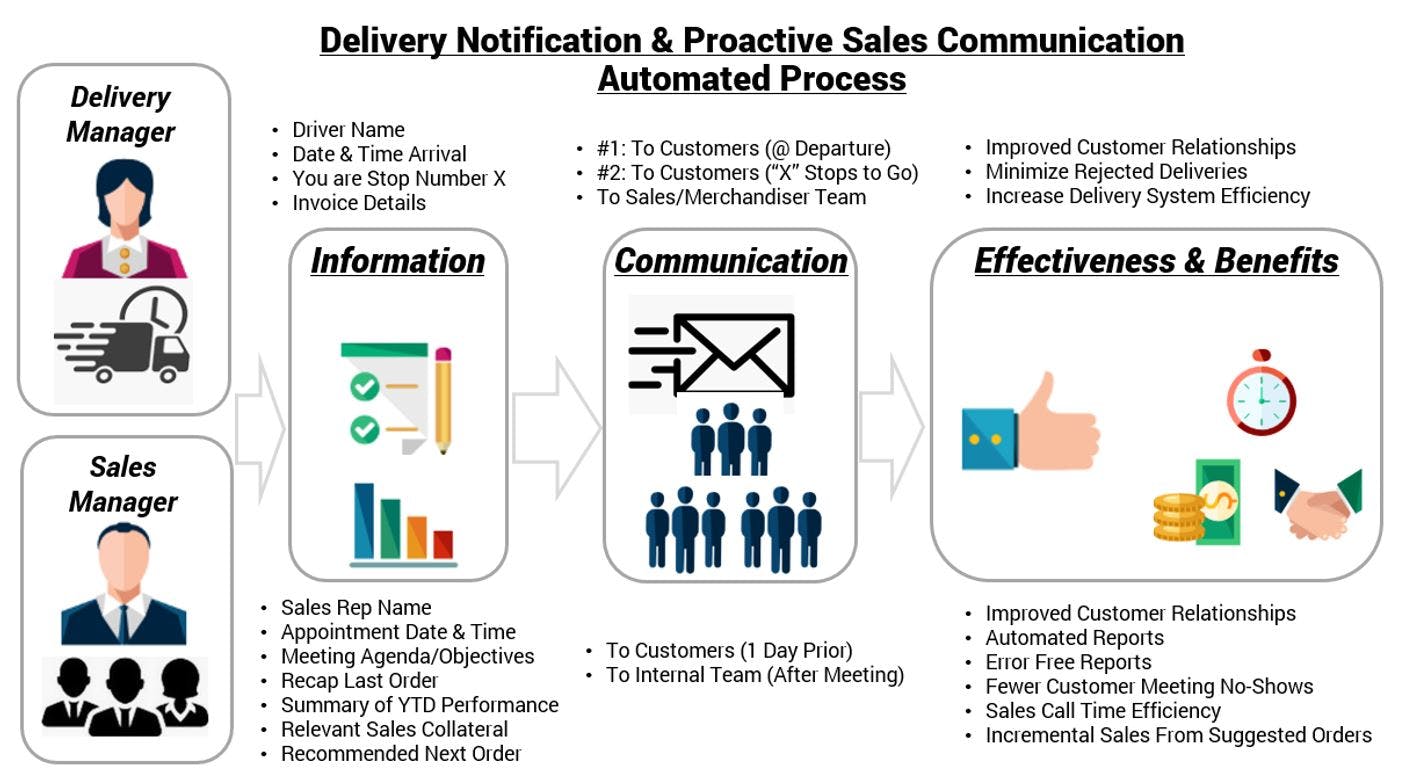 Preparing for the future is often hard to do, but expanding upon the same methodology of RPA in your business to teach your system to make decisions based on data with business intelligence is powerful, and a great way to move into the future. The use of customer delivery notifications, business intelligence and RPA technology can save your company time and efficiency, and create effectiveness that can be used to make additional sales calls to nurture opportunities that will grow the business and improve the customer experience.
How we can help
Sales transformation will help you achieve an exciting future state by combining business intelligence and intelligent automation with remote selling strategies. Baker Tilly professionals can help you assess your business, leveraging best practices to achieve sustainable solutions, and develop your remote selling strategies to maximize employee potential, enhance the customer experience and yield better results.
Contact us for more information on how to incorporate remote selling into your business.