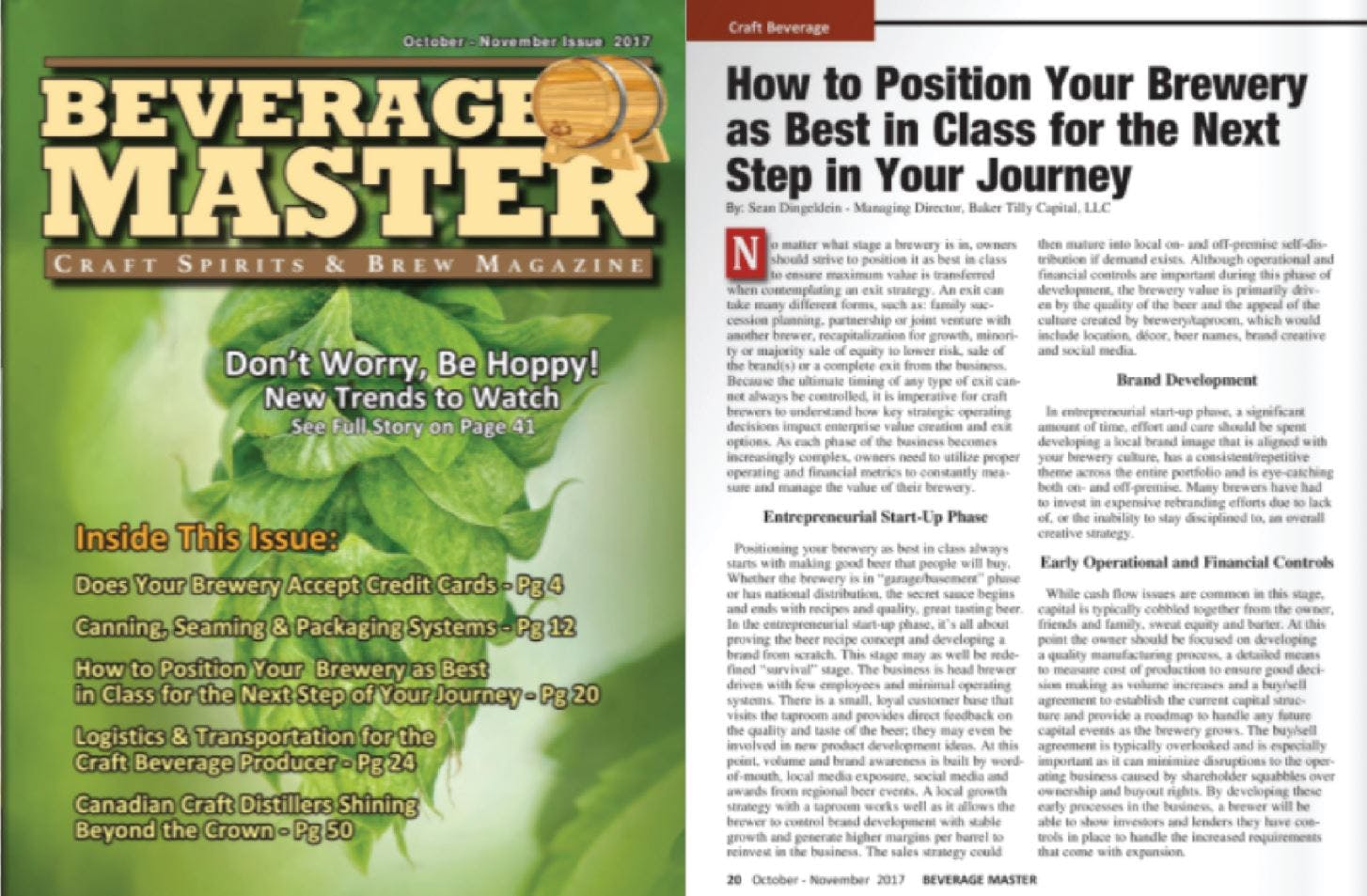 Reprinted courtesy of Beverage Master.

No matter what stage a brewery is in, owners should strive to position it as best in class to ensure maximum value is transferred when contemplating an exit strategy. An exit can take many different forms, such as: family succession planning, partnership or joint venture with another brewer, recapitalization for growth, minority or majority sale of equity to lower risk, sale of the brand(s) or a complete exit from the business. Because the ultimate timing of any type of exit cannot always be controlled, it is imperative for craft brewers to understand how key strategic operating decisions impact enterprise value creation and exit options. As each phase of the business becomes increasingly complex, owners need to utilize proper operating and financial metrics to constantly measure and manage the value of their brewery.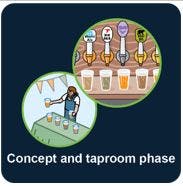 Entrepreneurial start-up phase
Positioning your brewery as best in class always starts with making good beer that people will buy. Whether the brewery is in "garage/basement" phase or has national distribution, the secret sauce begins and ends with recipes and quality, great tasting beer. In the entrepreneurial start-up phase, it's all about proving the beer recipe concept and developing a brand from scratch. This stage may as well be redefined "survival" stage. The business is head brewer driven with few employees and minimal operating systems. There is a small, loyal customer base that visits the taproom and provides direct feedback on the quality and taste of the beer; they may even be involved in new product development ideas. At this point, volume and brand awareness is built by word-of-mouth, local media exposure, social media and awards from regional beer events. A local growth strategy with a taproom works well as it allows the brewer to control brand development with stable growth and generate higher margins per barrel to reinvest in the business. The sales strategy could then mature into local on- and off-premise self-distribution if demand exists. Although operational and financial controls are important during this phase of development, the brewery value is primarily driven by the quality of the beer and the appeal of the culture created by brewery/taproom, which would include location, décor, beer names, brand creative and social media.
Brand development
In entrepreneurial start-up phase, a significant amount of time, effort and care should be spent developing a local brand image that is aligned with your brewery culture, has a consistent/repetitive theme across the entire portfolio and is eye-catching both on- and off-premise. Many brewers have had to invest in expensive rebranding efforts due to lack of, or the inability to stay disciplined to, an overall creative strategy.
Early operational and financial controls
While cash flow issues are common in this stage, capital is typically cobbled together from the owner, friends and family, sweat equity and barter. At this point the owner should be focused on developing a quality manufacturing process, a detailed means to measure cost of production to ensure good decision making as volume increases and a buy/sell agreement to establish the current capital structure and provide a roadmap to handle any future capital events as the brewery grows. The buy/sell agreement is typically overlooked and is especially important as it can minimize disruptions to the operating business caused by shareholder squabbles over ownership and buyout rights. By developing these early processes in the business, a brewer will be able to show investors and lenders they have controls in place to handle the increased requirements that come with expansion.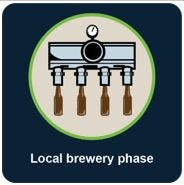 Entrepreneurial expansion phase
You now have a strong local following, a taproom offering brewery tours, periodic well-attended taproom events and a handful of core employees, so what's next? As the breadth and depth of demand for your craft beer expands, owners reach a key strategic decision point with respect to the best way to expand production capacity and distribution. The question "to grow or not to grow" during entrepreneurial expansion phase is a challenging one, as the business can now feel more like a job and potentially detract from the head brewer's passions of developing great beer for people to enjoy. But as with any type of business, you have to move beyond the start-up phase and grow to generate cash flow to satisfy an ever growing list of company stakeholders, rising costs and consumer expectations.   
Expansion financial considerations
The primary considerations for expansion include distributor selection, the impact of lower gross profit margin due to sales through a distributor, sales mix complexity, capital expenditures needed for expanding production and packaging (owning versus leasing) and working capital requirements caused by the change in distribution and growth. These investments are typically funded by additional sources of capital (debt and/or equity) and result in additional bank and investor reporting requirements. All of this requires the brewer to invest in and build more complex systems along with a management team to execute them.
Expanding from an inch wide, mile deep distribution strategy impacts all aspects of the business. It can be very enticing to see the potential volume growth gained from signing with a distribution partner, but it is critical to have the right partner and strategy. The right distribution strategy can provide immense value to a brewery. But if the brewer does not understand how this new sales approach impacts the company's operational and financial metrics, the strategy could result in higher volumes but at a profit level that cannot sustain the company. With expansion comes an increased need for inventory and higher accounts receivable (A/R). The inventory increase comes in three components: 1) increase in raw material inputs, 2) increase in costs of production to build inventory, and 3) the increased cost of carrying the inventory to ensure supply to the distribution channel. Overproduction to ensure supply to a new distributor pushes up inventory days on hand. Furthermore, after enjoying cash and credit card sales in the taproom, brewers now must give distributors sales terms that increase the cash collection cycle. Constant demands of inventory and A/R can create a tight cash flow environment. 
Expansion human considerations
During the expansion phase, one of the greatest challenges for craft brewers is recruiting and compensating managers and then effectively delegating duties to them. Successfully bridging these transition gaps is often the most challenging factor because it requires the founder to relinquish responsibilities that are crucial for success. As a result, finding the best partner(s) or key employee(s) to passionately work towards achieving well-defined goals and implementing systems is often a lynchpin to expanding past start-up phase. Having managers focused on each of the key operational and administrative aspects of the business is vital to the success of guiding your brewery and ensuring maximum enterprise value. Key areas to actively manage are: office administration (human resources, recruiting and retention, information technology), operational management (production, product development, quality control, packaging and capacity management), sales and marketing management (pricing, promotion, sales team leadership and brand and channel development) and financial management (bills of material, product cost accounting, financial reporting, benchmarking metrics and capital management). 
Metrics and key performance indicators
Due to the importance of the distribution decision, owners should be able to measure, track and manage key operational and financial metrics and forecast the impact of key strategic decisions. Utilizing this information, the brewer would be in a better position to develop a business plan to pitch the sales opportunity shareholders, bankers and multiple distributors to maximize the value of the potential distribution rights. Greater attention to measurable financial and operating metrics will provide the brewery president the ability to understand the potential impact of business plan strategies and then measure and manage the brewery's progress toward reaching goals. The following is a list of key performance indicators (KPIs) as well as ideas to assist in tracking this information over time.
Sales KPIs include: gross and net revenue per case equivalent (CE) by style, gross and net revenue per CE by sales channel, net revenue per employee and by package type, depletions/sales to retailers, and on- and off-premise mix.  Data tracking ideas for sales KPIs include: building the income statement from gross sales price lists and mapping costs to net sales, a price list organized by style/package per CE, accounting for all volume and marketing plan discounts by customer on invoices and understanding all costs that comprise net sales by style and package per CE.
Production KPIs include: total production yield/batch, product loss percentage, capacity utilization, barrels produced per employee and operational employee, production labor dollars and raw materials per barrel produced.  Data tracking ideas for production KPIs include: detailed cost of goods sold, detailed bills of material by style and packaging type and identifying fixed and semi-variable costs to determine break even production/revenue.
Profitability KPIs include: return on assets, return on equity, return on invested capital, gross and contribution margin and EBITDA margin.  Data tracking ideas for profitability KPIs include: maintaining detailed income, expense and volume information to present financial statements per volume metrics, as well as considering the impact of tax distributions in pass through entities when calculating net income return metrics.
Balance sheet KPIs include: current ratio, days outstanding (A/R, inventory, A/P), working capital to sales, total asset/fixed asset turnover, total capital employed and total debt to EBITDA.  Data tracking ideas for balance sheet KPIs include: maintaining detailed A/R and A/P agings, tracking raw material, WIP and finished goods inventory by lot and age and tracking all components of capital employed (working capital, net fixed assets and intangibles).
Return on capital
With expansion comes a much more complicated balance sheet and different sources of capital to fund it. As the number of stakeholders in the business increases, brewers should consider taking into consideration a financial metric that directly addresses whether or not the managers are creating value for all the stakeholders. One concept to consider is calculating economic value added (EVA), which represents the excess or deficit of net operating profit after tax to the brewery's cost of capital (debt and equity combined). In ratio form, this equates to return on invested capital (ROIC) compared to weighted average cost of capital (WACC).  Utilizing this concept, owners can determine if managers are truly creating significant company value. Unless the management team is generating a return on capital employed above and beyond what is needed to satisfy debt and equity holders, they are not creating economic value to the enterprise. 
So the brewery pays you and your employees a good wage, all the vendors are happy, the business is generating positive cash flows and the bank is getting paid on time. But the question is, are your equity investors earning the required rate return on their investment that is commensurate with the risk taken? Until the managers generate after tax returns with the brewery capital they manage that cover all operating and investor costs, they are not creating economic value in the business. In essence, if all these costs are covered, the brewery is minimally worth the book value of capital employed. This relatively simple concept of economic value added is a very powerful tool for managers, shareholders and boards of directors to employ to measure and manage the value of your brewery to ensure it is positioned properly for a possible exit event.
Key takeaways
Brewers should create a discipline to measure and manage the value of the business throughout its lifecycle to ensure it is positioned at its maximum value when an exit event arises. A few key factors to contemplate include:
Exit events can appear out of nowhere and may not feel like an exit event.
Establish operational and financial controls and the accompanying metrics to measure production capacity utilization, sales management and profitability on a monthly basis.
Forecast and plan, measure results to plan and adjust plan as the market changes. Missing targets is not inherently bad if you understand why you missed them.
Understand the types of capital you have invested in your brewery. As the business grows, efficiently managing capital can create significant value to investors. Brewers should always view strategic decisions from investors' perspective when they are not one and the same.
Do not overlook the human factor as you manage growth. Recruit and compensate managers who have beneficial expertise and aligned visions, and do not be afraid to let them do their job.
Remember what German philosopher Arthur Schopenhauer said, probably half way through a tall hefeweizen: "Talent hits a target no one else can hit; Genius hits a target no one else can see."  Be a genius, but remember, you still have to prove you hit the target when an exit event occurs!
For more information on these topics, or to learn how Baker Tilly craft brewery specialists can help, contact our team.