Tracking infrastructure costs is a major undertaking and one with which utilities of all sizes wrestle. Major costs of utility infrastructure construction are material, labor, direct costs, and overhead costs, including labor, inventory handling, vehicle/equipment usage, administrative, and the cost of capital. What level of tracking detail is needed? Is it possible to reduce the number of assets you've historically monitored to increase efficiency without compromising the data you have on those assets?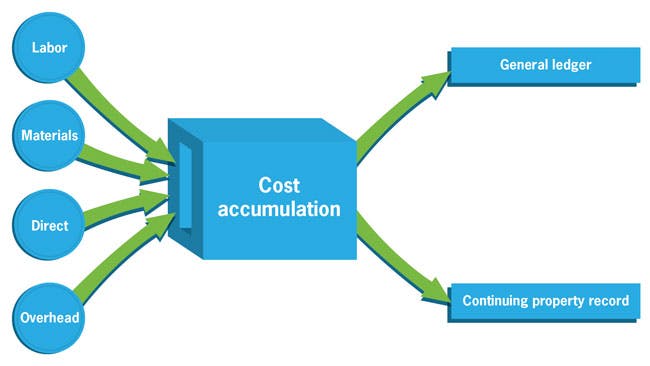 Compatible units
Compatible units (CUs) are standardized assembly units of construction that contains physical materials such as pole, guy wires, and cross arms, labor estimates, vehicle and equipment hours, and overhead costs. CUs facilitate project design, materials management, labor scheduling, estimation, and accounting processes. The types of CUs are based on industry construction standards, and the quantity varies from utility to utility based on internal construction practices and unit design preferences. For electric cooperatives, the Rural Utilities Service (RUS) also provides CU standards for those it funds.
CUs can be small individual units. For example, the construction of a pole could comprise these individual CUs:
Forty-five foot wood pole
Cross arm
Guy wire
Transformer
Arrester
Alternatively, all of the above items could be combined into a single large compatible unit called a "forty-five foot pole" or "structure". When using structures, project design becomes more efficient for the engineer or designer. If the utility's software platform integrates construction design and materials management, reserved inventory pick lists for the project will be more complete and the design process is further streamlined.
Continuing property records
CUs drive how completed project costs are classified in the general ledger as each is mapped to a detailed listing of fixed asset records called continuing property records (CPRs). CPRs are a perpetual record of a plant in service.
For utilities that use the Federal Energy Regulatory Commission's (FERC) Uniform System of Accounts, costs are segregated by CU type such as poles, overhead lines, and underground lines. Though FERC and RUS do not provide specific requirements, in CPRs should generally contain:
Description and identifying number
FERC account to which unit is assigned
Number of units
Average cost of units added for each year (vintage)
Number of surviving units
The location (GIS record can be used)
An example of a partial CPR listing for FERC Account 364 (poles, towers, and fixtures) follows.