All recipients of American Rescue Plan State and Local Fiscal Recovery Funds (SLFRF) submitted Project and Expenditure Reports in April 2022.  The U.S. Treasury provided a detailed data set compiled from this reporting which provides a useful snapshot of this program, roughly one year into its implementation.
How much has been spent?
In total, approximately $224 billion was distributed to 27,388 recipients as part of the first tranche of SLFRF payments. Of that amount, only $69 billion, or 30%, had been spent at the time of the April 2022 reporting. The average number of projects submitted by recipients was between one and two. A significant number of recipients - 11,639 or 42% - reported no projects.  Interestingly, 11,512 of recipients with no projects received awards less than $10 million (reporting Tier 5). 
Analysis by Reporting Tier
Reporting Tiers
Tier 1: States, U.S. territories, metropolitan cities and counties with a population that exceeds 250,000 residents.
Tier 2: Metropolitan cities and counties with a population below 250,000 residents that are allocated more than $10 million in SLFRF funding, and Non-entitlement units of local government (NEUs) that are allocated more than $10 million in SLFRF funding.
Tier 5:  Metropolitan cities and counties with a population below 250,000 residents that are allocated less than $10 million in SLFRF funding, and NEUs that are allocated less than $10 million in SLFRF funding.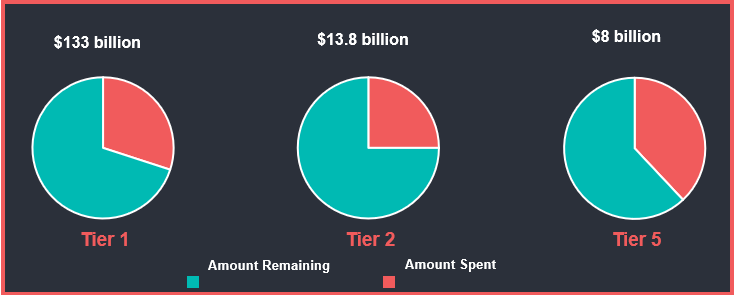 Where is the money going?
Looking across the nation's regions, most SLFRF funds have been spent to date within the Revenue Replacement expenditure category group.  On average, 48% of all projects across U.S. regions are being reported under this expenditure category group. In the Midwest specifically, that number rises to 59% of all projects.  This makes sense as this expenditure category meets the local government's most urgent pandemic recovery need and is the most flexible to administer.  Additionally, Tier 5 recipients with awards under $10 million are permitted to spend their entire award within Revenue Replacement.  Tier 5 recipients constitute 92.7% of all recipients and 5.9% of the first tranche.
Looking beyond Revenue Replacement, most regions of the country have spent their award within either the Public Health or Negative Economic Impacts expenditure category groups.  The one notable exception is the Midwest region where the majority expenditure group is Infrastructure.  It should be noted that expenditures within Negative Economic Impact are largely influenced by state deposits into Unemployment Insurance Trust Funds.
Considering expenditures by recipient size, recipients with populations greater than 250,000 have spent the majority of their award to address Negative Economic Impacts.  If deposits into the Unemployment Insurance Trust Funds are removed, the majority expenditure category group is Public Health.  Revenue Replacement is the dominant expenditure category group to date for remaining recipients, with Public Health a close second for recipients with awards over $10 million and populations below 250,000.      
Analysis by Region
Regions
Midwest: Kan., Mo., Ill., Ind., Ohio, Neb., Iowa, Wis., Mich., N.D., S.D., Minn.
Northeast: Pa., Del., Md., N.J., N.Y., Conn., R.I., Mass., N.H., Vt., Maine, D.C.
Pacific: Calif., Ore., Wash.
Rocky Mountain: Colo., Utah, Nev., Idaho, Wyo., Mont.
Southeast: Ark., La., Miss., Ala., Ga., Fla., Tenn., Ky., Va., W.Va., N.C., S.C.
Southwest: Texas, Okla., N.M., Ariz.
Other: Hawaii, AK, Puerto Rico, Guam, Virgin Islands (U.S.), American Samoa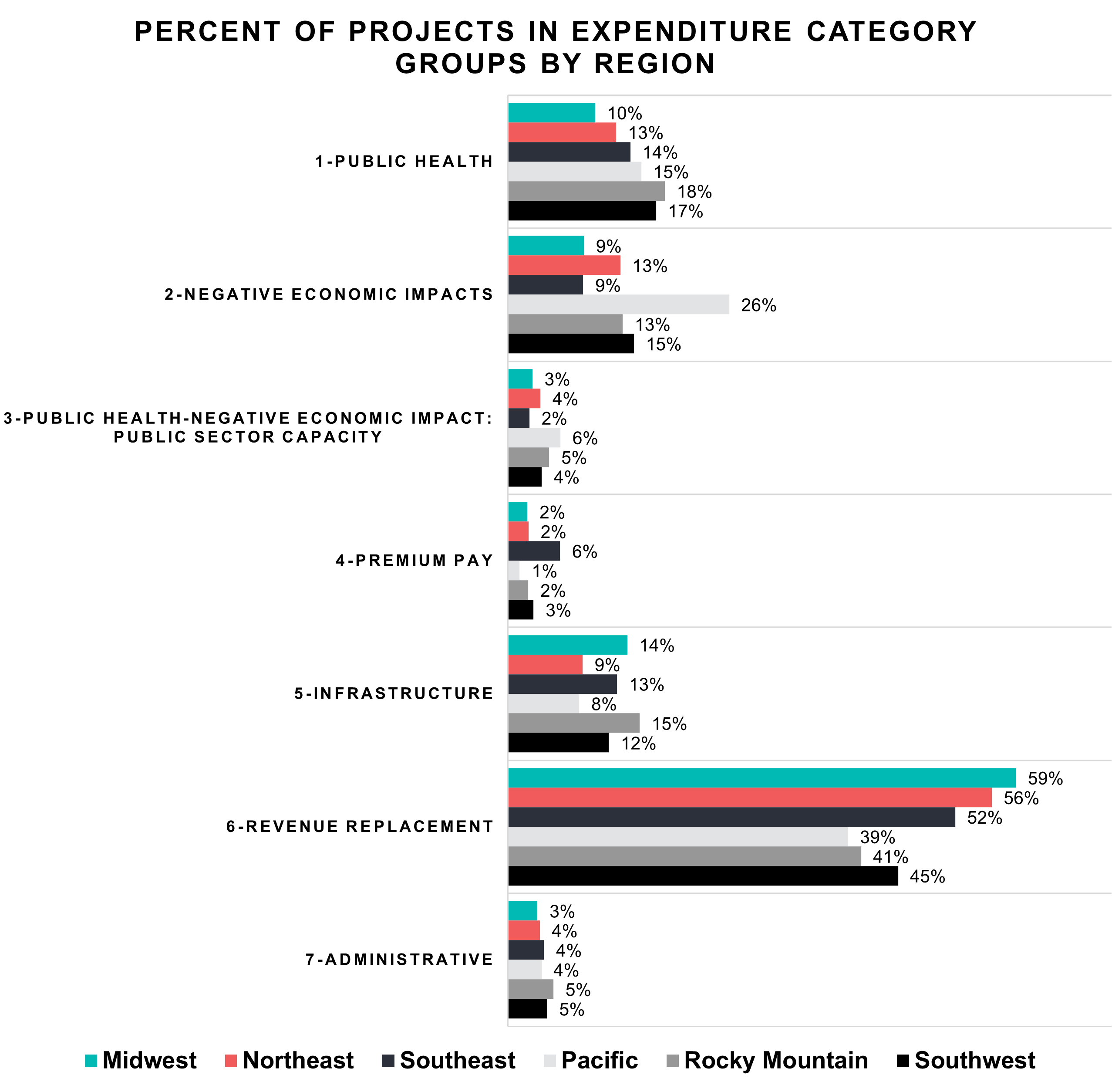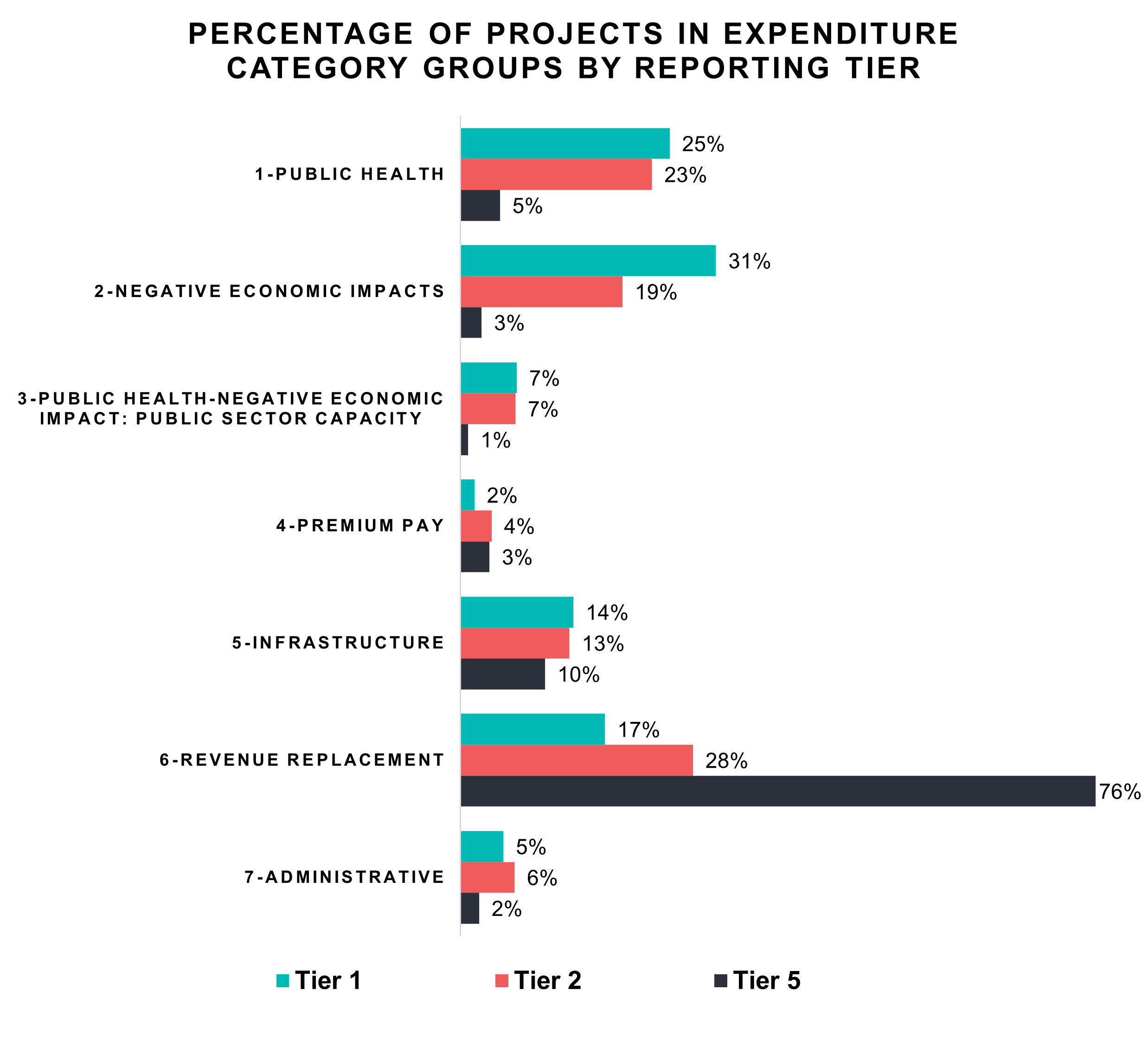 What can we learn?
Administration of the ARPA is still in the early days. In the beginning, Baker Tilly advised clients to be patient as experience shows that rule changes are likely with federal programs of this scale. Indeed, those who waited were rewarded when the Revenue Replacement rules were liberalized.  Greater clarity – although not flexibility – was provided in the Final Rule with regard to capital expenditures within the Public Health and Negative Economic Impacts expenditure category groups.  Rule changes and changes in interpretation are still possible.  Recipients with large, non-enumerated projects who can afford to adopt a "wait and see" posture and still be complete by the end of 2026 may be wise to do so. 
Prioritization is hard work.  Many recipients are still working through how to spend the money.  For some, this reflects the time it takes to engage the public and other stakeholders.  For others, the allocation of the SLFRF award raises differences in policy among the governing body.  Baker Tilly has successfully designed public engagement processes that reflect community norms.  For some recipients, we have found that the best method to allocate the SLFRF award is to simply do so as part of the annual budget process.  Doing so takes the spotlight off this one-time revenue source and allows the decision to be made in a way that is both holistic and familiar to the governing body.
The money is reaching those in need.  Although nascent, it can be seen that money is flowing to address pressing public health and economic needs for those most impacted by the pandemic.  Aging water, sanitary sewer and stormwater infrastructure are getting improved.  The nation's broadband gap is narrowing.  Local government services have been restored.