Supply chain design is a critical component and important differentiator in effective management of supply chains for middle-market manufacturers. Jackie Hensgen (Director, Risk Internal Audit and Cybersecurity Practice) and Dan Bolinson (Consultant, Middle Market Advisory) hosted a webinar, which provided step-by-step guidance on the execution, planning, and design of an effective supply chain. The webinar also included an overview of the SOC report on supply chains that likely will be finalized by AICPA later this year.
According to Bolinson, "Supply chains are systems by which you communicate information, money, and products, through your supplier networks, to your customers. This includes the tools, processes, and people at all levels that are inside this supply chain."
Manufacturers looking to put in place a new supply chain or enhance an existing one need to first think through what they want the supply chain to achieve, and then understand the execution, planning and design capabilities needed to meet that goal. Bolinson noted that each capability has several levels of sophistication, which generally range from a passive, backward looking, labor-intensive level to an automated, real-time level that can help drive forecasting and value-added strategic services.
Execution
Regarding execution, Bolinson noted that in its most basic form, a supply chain has –
Unclear metrics and reporting requirements
Little automation
Daily plans based on past experience and business rules
Communication by file transfer, email, and phone.
At its most sophisticated level, a supply chain includes –
Real time reporting on individual and company metrics
Extensive use of automation, such as robotic process automation
Optimized adaptations to a plan
Customer portals and shared data warehouses to provide effective insights, not just information
Planning
Likewise, with planning capabilities, Bolinson said that in its initial stages, planning capabilities include –
Sales driving production, or production driving sales
"What-if" planning that is siloed and time consuming
Forecasting based on historical information
Plans shared with partners only as deemed appropriated
A highly evolved supply chain will feature –
Planning in an integrated environment including sales, production and finance
Models of various "what-if" scenarios that are widely socialized
Machine learning models that help drive forecasting
Input from partners leveraged into decision making
Bolinson noted that by having a model of the end-to-end supply chain, manufacturers can start to understand how different customer demand-shaping approaches affect their by-product management. He said, "Once this model is in place, detailed scenario forecasts can be generated for any range of what-if questions that the organization might have. These scenario forecasts include both the operational considerations, such as the impact on their bottlenecks and client capacities, as well as the bottom-line financial impact."
Design
In its simplest form, supply chain design features –
Manufacturers monitoring asset capacity at a high level and then check how annual planning will affect that capacity
No technology roadmap
Primarily transactional relations with partners
A fully integrated supply chain approach will feature –
A supply chain Center of Excellence which maintains a strategic vision
Clear strategic priorities related to supply chain capabilities as part of a capital plan
Partners providing value-added strategic services with controls to manage risk
Bolinson said, "Great design flows out of great planning. It involves the mapping of growth of the organization to operations, and what that means related to asset capacity and your ability to provide services to your customers."
How to get started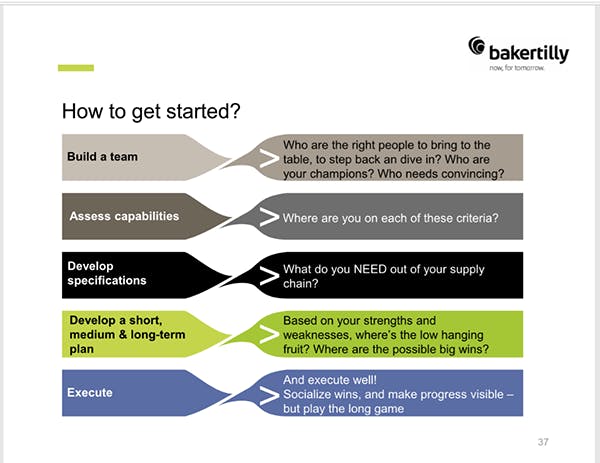 Bolinson said that in building the supply chain team, it is important to have an executive champion, but that people at all levels of the organization need to be leveraged to get the right perspectives and skill sets involved. A company needs to assess properly its current state and required future state to develop short-, medium-, and long-term plans regarding service levels, lead times, or cost.
SOC for supply chain
The AICPA is developing a SOC report for supply chain as part of its suite of service offerings to provide system or entity level controls for an organization. Hensgen said, "The purpose of this SOC supply chain report is to provide users of the report with information about the system used to produce, manufacture, distribute those goods, and the controls within that system. And then address those risks associated with doing business with them and allow for companies to communicate that information and understand those controls within the system." She added that this report, which is intended to be voluntary, "could be helpful or the board of directors and senior management as they're evaluating risk of doing business with a supply chain entity."
An "exposure draft" of SOC for supply chain was released in January 2019 and is currently being revised; AICPA will release the final report later in 2019.
For more information on this topic, or to learn how Baker Tilly specialists can help, contact our team.