Buckle up as we are in for an interesting ride! The hiring market is heating up. Top talent has always been in demand, even in the downturn, but clearly the market is much stronger than a year ago. Employees who have felt trapped are now able to find new opportunities as companies have renewed confidence in adding staff.
So what are companies doing to find top talent?
In order to get more insight into the local marketplace, we surveyed hiring managers around Wisconsin. For starters, 39 percent indicated they anticipated increasing head count in 2011, with no one decreasing. Eighty-six percent responded their hiring needs are a result of new head count. Interestingly, no one anticipated hiring needs as a result of turnover! Some companies handled the downturn well, in some cases even paying back lost wages to those who took temporary pay cuts. Others? Let's just say they didn't handle the downturn quite as well. A lot of damage was done to companies' employment brands during the downturn. How things were handled caused serious trust issues with some hiring managers. Even the best companies have turnover, yet it appears many are not planning on it!
Thirty-three percent of companies reduced their internal recruiting teams. Nearly 40 percent are hiring more, yet only 13 percent are adding more dedicated resources to recruiting efforts.
Responding companies plan on sourcing talent as follows: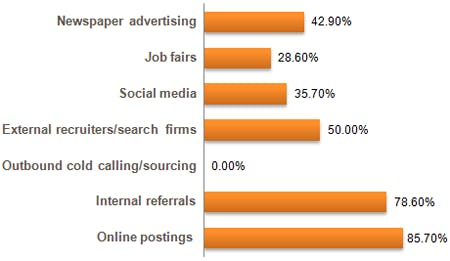 Interestingly, only 64 percent of those surveyed had an internal referral program with almost 79 percent planning on hiring through this source. Also of note was that no one planned on making outbound cold calls. Not surprisingly, most organizations' sourcing efforts are heavily weighted on finding active candidates in the market with only some effort on finding passive candidates. This is often a result of resource constraints and is outsourced to search firms, which 50 percent plan on utilizing.
Almost 73 percent view LinkedIn as an important part of their hiring efforts with 9 percent using Facebook. LinkedIn...the perfect excuse to have your resume online without your employer caring! In some cases people aren't even shy about listing being interested in career opportunities. It is an important tool, but not everyone is on LinkedIn.
So what should you do to be prepared to compete? It's time to audit your hiring practices. How well do you define your needs? How prepared is your team to evaluate and sell candidates? Are you ready to move quickly when you find the right person? What resources do you have internally/externally to find the best person for the opportunity?
Here are some suggestions of best practices to consider as you evaluate your hiring efforts. Some are old standbys while others may be new to you!
Dust off your internal referral program. Keep it fresh and visible. Constantly remind people not just to think in terms of those that need a job, but who is qualified.
Social media. Consider your brand—what really is your employee experience and how are you reflecting it in the social media world? Consider the time you have to devote to maintaining it. Everything you read about social media is that you need a strategy—be consistent and deliberate with your efforts, and give to the social media community more than just take. Challenge yourself to find out which social media sites are hot for the type of candidates you want to find. Have a contest in your office to make a "day in the life" video to post on YouTube.
Use your e-mail signature. Think of how many e-mails you send out. Each one could be a mini billboard for your company. Include links to your social media or career pages. Consider a brief line indicating you are hiring.
Proactively recruit. Determine who has the time to find the passive candidates. Your own efforts? Internal recruiters? Search organizations? If you aren't proactively recruiting, you are missing most of the talent.
Constantly recruit. Just because you don't have an opening doesn't mean you shouldn't keep a list of strong talent you meet. One survey respondent, who works for Starbucks, indicated they hired a store manager after observing selling behaviors at a flea market!
Stay in touch with past candidates or employees. You have already invested time in these relationships and you know them. They may be a great hire or referral source.
Are you ready? Define your need, come up with a strategy factoring in your resources, and go after the best talent in the market. Your success depends on it!
This article was reprinted with permission by the Wisconsin Institute of Certified Public Accountants.