Quarterly U.S. healthcare M&A activity for transactions closed aggregate transaction value and number of deals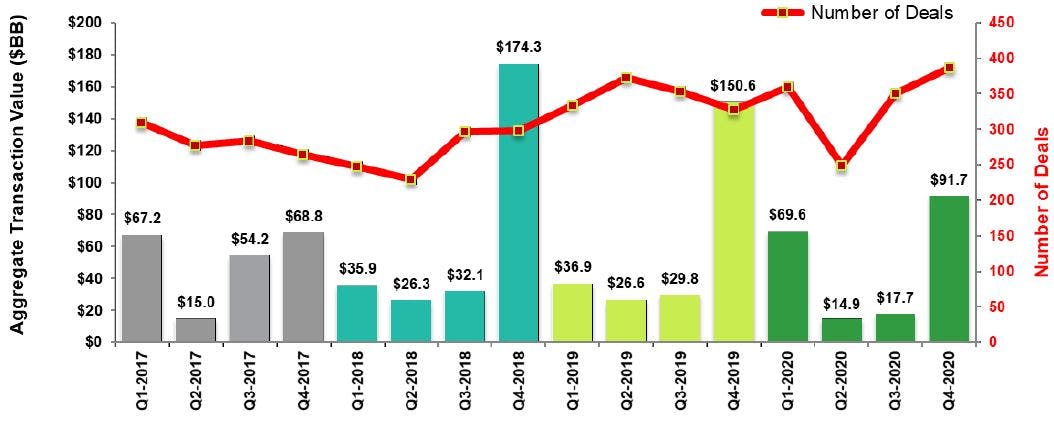 Source: S&P Capital IQ
The growth of home healthcare
The pandemic has brought the need for healthcare home. Literally.
In the second half of 2020, the home health & hospice industry was among the fastest growing healthcare segment in the U.S. Throughout the year, home health & hospice and non-acute care significantly outperformed the S&P 500, the only two healthcare segments to do so.
Healthcare providers' relative market performance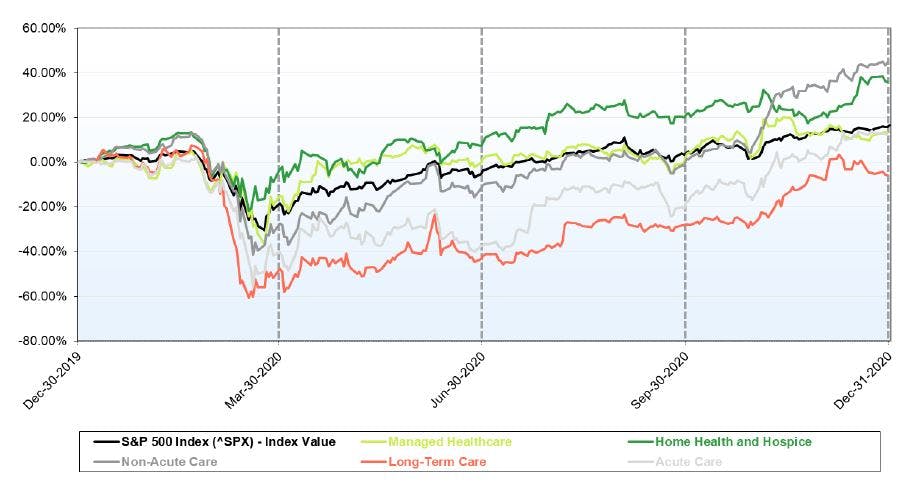 Source: S&P Capital IQ
Two major trends drove the growth of home healthcare in 2020. In-person doctor visits were constrained, especially for high-risk patients, and facility-based providers faced depleted resources and fewer available beds. Two other industry trends, which have been developing for years, further accelerated in 2020:
A shift from the fee-for-service model towards a more holistic, value-based care approach
The evolution of where healthcare is provided, with a focus on bringing healthcare to people instead of bringing people to their healthcare
Moving forward, new partnerships announced by large industry players show that these trends will continue. For example, CVS Health recently announced that it would partner with the Cancer Treatment Centers of America to offer in-home chemotherapy to cancer patients, while Humana announced that it is making a $100 million investment in Heal, a provider of house-call-based primary care to patients.
Get the pulse of the industry
Download your free copy of healthcare M&A update: H2 2020 for more information on:
Financial performance of every healthcare sector
How Medicare and Medicaid are driving further industry consolidation
Where private equity firms are investing
How the Home Health Value Based Purchasing (HHVBP) model is expanding
Industry challenges in 2021