The time of option extension is a prime opportunity for GSA Schedule contractors to revisit all key areas of GSA Schedule compliance. With the check of a box, contractors make the choice to put themselves at risk or feel confident about their preventive controls and accurate disclosures.
A high risk area that contractors should pay particularly close attention to are the commercial sales practices that form the basis for the negotiated prices for GSA Schedule contracts. In fact, according to the March 8, 2013 GSA Office of Inspector General (OIG) update, sixty-nine percent of contractors who received pre-award audits in 2011 were alleged to have provided their Contracting Officers with inaccurate commercial sales practice disclosures. A company's failure to keep those disclosures current, accurate and complete expose it to audit risk (and the potential for increased scrutiny during audits), financial liability and even false claims act litigation. This can be of critical importance at the time of option extension, when a contractor may be more likely to receive a pre-award audit of its Schedule contract.
In this article, we will discuss recommendations for ensuring commercial sales practice disclosures are current, accurate and complete, including affirming or updating pricing disclosures.
Option extension process
In September of 2011, GSA introduced the Option Process Ensuring iNtegrity (OPEN) for Federal Supply Schedule (FSS) contracts with the hope of streamlining the process and meeting Commissioner Kempf's goal of exercising options 60 days prior to contract expiration. In a nutshell, it refocuses the extension process on what it was originally intended to be—a unilateral modification that extends the contract with the same terms and conditions for another five years. It also translates into a much earlier notification letter for contractors, with notification approximately 210 days prior to option expiration and often a 45 day turnaround on the option package.
Two things are of critical importance here, 1) a responsible GSA Schedule contractor needs to thoroughly review their historical pricing practices and ensure that their pricing disclosures are current, accurate, and complete, and 2) if a contractor needs to make contract modifications they will need to accomplish those changes outside of the option exercise modification itself. For example, if a contractor wishes to add or delete products or services, request an economic price adjustment, or offer lower prices, the contractor will likely be required to do this independent of the option exercise. This means that what was previously a best practice recommendation is now a pragmatic and necessary step—contractors must start the review of their Schedules at least 9 months prior to option expiration and they should attempt to make any bilateral contract modifications prior to when they receive their notification letter.
The first question asked in the standard OPEN option exercise notification is whether a contractor wants their contract to be considered for the option to extend. If they do want their contract to be extended, the government requests that they submit the following within 45 days:
Commercial Sales Practice Disclosures (CSP)
Affirmation that there are no changes to their current CSPs, and that they are current accurate and complete; or
Revised CSPs.
Price Reduction Clause (PRC)
Affirmation that the PRC price/discount relationship has not changed; or
A change in disclosed Basis of Award customer discounts utilizing the CSP disclosures noted above.
Administrative Requirements
Affirm that the terms and conditions of the contract have not changed; or
Submit revised terms and conditions; and
Address additional administrative requirements.
In the sections that follow, the above requirements in will be discussed in greater detail, providing a practical explanation of the requirements, risks and best practices.
Commercial sales practice disclosures
It may be tempting for a contractor to affirm that their commercial sales practices have not changed, but the only way to ensure that CSP disclosures are current, accurate and complete is to perform a historical pricing analysis that includes a review of all commercial sales during the preceding 12 months. We recommend a data-driven analysis that starts with capturing and analyzing commercial sales data, and concludes with a review of policy and process, as well as discussions with the business stakeholders to further refine the findings from the analysis.
A detailed review of a company's pricing practices during the preceding 12 months will frequently reveal that discounting policies and practices have changed, particularly if they have not been closely monitored during the contract term. We recommend that contractors not only update their Commercial Sales Practice Format (CSP-1), but that they also draft a detailed narrative carefully describing all of their standard practices as defined in written policies/procedures and the non-standard practices as revealed by the historical pricing analysis. While the CSP-1 requires a contractor to explain all deviations from their "standard" practices, contractors often provide just enough text to answer the question. This is the place to eliminate all ambiguity surrounding what your company does and does not do when it comes to commercial customers. This allows the contractor to disclose all pertinent information to the GSA CO in writing, and removes ambiguities that might otherwise be interpreted in a disadvantageous way in the future.
We have worked with contractors after they have provided disclosures that were accurate, but not complete, or that were both inaccurate and incomplete. The outcomes for a contractor can be just as bad under either of these scenarios, particularly if the contractor has been audited and has had difficulty responding to auditor requests in an accurate and timely fashion. In fact, many multimillion dollar GSA Schedule settlements have resulted from some combination of disclosures that were not current, accurate, complete, and an inability to respond to auditors' requests.
Large GSA settlements
2011 - Oracle - $199.5 million
2010 - Cisco and Westcon - $48 million
2011 - Oracle (Sun) - $46 million
2010 - EMC - $87.5 million
2011 - Fastenal $6.25 million
2009 - NetApp - $128 million
2009 - Tifco Industries - $1.6 million
Although performing a historical pricing analysis can be time consuming, the effort pales in comparison to the potential financial impact resulting from an adverse audit report, or the time spent responding to audit requests. For large contractors who may be more likely to be subjected to pre-award audits, the data and analysis produced during an internal pricing review will prepare the company to respond promptly and accurately to the auditors' requests and expedite an audit.
Price reductions clause
While CSP disclosures provide information that allows the government to make a fair and reasonable pricing determination, the PRC is GSA's mechanism for ensuring it continues to receive fair and reasonable pricing throughout the life of the contract. The BOA customer, or customer group, and the price/discount relationship between the BOA customer and GSA are agreed upon by the government and the contractor for purposes of monitoring the PRC. The price/discount relationship is the discount differential between the BOA and GSA customers, and it must be maintained per the PRC. The OPEN option extension process provides a contractor with the opportunity to update its disclosures for purposes of the PRC.
At the time of option extension, a contractor should take the opportunity to assess its BOA customer or customer group for relevancy and determine if it continues to be a good fit. A contractor should ask itself whether its BOA customer group provides its government customers with adequate price protection while not unnecessarily inhibiting its flexibility to do business in the commercial marketplace. If this is not the case, the contractor should consider proposing a new BOA customer, based on intelligence gained from its historical pricing analysis, and that is based on factual, historical information rather than supposition. We also recommend clearly explaining the price/discount relationship in the pricing narrative to eliminate potential misinterpretations surrounding how PRC compliance will be handled.
OPEN administrative requirements
In addition to affirming or updating pricing disclosures, the contractor must also complete the administrative tasks outlined below:
Redetermination of Business Size
The contractor must submit their current business size in accordance with the current North American Industrial Classification
System (NAICS) code awarded under their contract.
Small Business Subcontracting Plan (SubK Plan)
If a contractor qualifies as "other than small business" they must submit a proposed SubK Plan for evaluation and approval prior to the option being extended.
Required actions that do not require submission of information.
The contractor must ensure that their Centralized Contractor Registration (CCR) and Online Representations and Certifications Application (ORCA) are current, accurate and complete.
The pricelist uploaded to GSA Advantage! must be the most recent version.
All mandatory mass modifications must be reviewed and accepted.
Recommendations for navigating the option extension process
As we have seen in several recent high profile matters brought on by the GSA OIG and Department of Justice, the cost of noncompliance with GSA Schedule contract terms and conditions can be severe. It is extremely important for contractors to ensure that the disclosures they provide GSA are current, accurate and complete, and if disclosures are not data-based or have not been updated recently it puts the contractor at higher risk for noncompliance. Because the time of option extension exposes contractors to greater audit risk, they must be diligent about any information provided to the Contracting Officer. Baker Tilly recommends performing a 12 month historical data review at least 9 months prior to the end of the contract term. This timeframe will allow the contractor to analyze data, verify the results, and determine the best approach for their OPEN option extension response.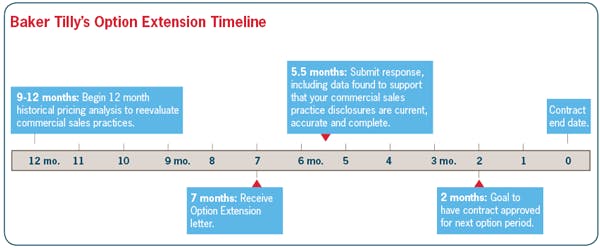 Being proactive with the OPEN process not only allows a contractor to confirm that their practices are properly disclosed but also to ensure that they have an effective compliance program. Option extension is an ideal time for contractors to revisit all key areas of GSA Schedule compliance, particularly in the areas of PRC and Quarterly Sales/IFF administration. They should take the time to test the preventive and detective controls established within their systems to ensure they are working as planned.
Policies and processes should also be reviewed to make certain that they adequately address compliance concerns within the context of a contractor's current organizational structure and previous contract disclosures. Changes in business unit structure/operations, sales or marketing practices, and changes driven by mergers and acquisitions can often render an existing policy or process ineffective. For example, a contractor may have an adequate process in place for tracking all GSA Schedule sales in its current system; however, through acquisition, the company acquires a business unit with different systems that will not be integrated or migrated for some period of time. If this unit will make use of the GSA Schedule, it is likely that the current process for identifying sales in the system may not be capturing GSA sales made through the newly acquired unit.
Finally, contractors should review the efficacy of their training programs and perform periodic internal reviews. An annual compliance review is a good way to test policies, procedures, and training. Personnel subject to periodic training on document retention, for example, should be expected to have maintained the appropriate sales files required by the GSA Schedule contract. During an annual compliance review, validating that the policies surrounding document retention are actually achieving the desired result will identify the gaps between policy and practice; and in so doing, will identify any weaknesses in the training program.
When the time comes to exercise the option to extend a contractor's GSA Schedule contract, they should take the opportunity to confirm that their practices are properly disclosed and that they have an effective compliance program in place. Although the additional disclosures that result may raise questions and complicate things in the near term, it will go a long way to ensuring long term GSA Schedule contracting success.