The combination of tariffs, evolving free trade agreements and the coronavirus (COVID-19) pandemic have created an environment of uncertainty for U.S. manufacturers that rely on global supply chains and trade. Never has there been more uncertainty with global trade or more to keep up with on a day-to-day basis. This is the perfect time for manufacturers to consider investing in a global trade management (GTM) platform to manage and automate their supply chains.
Tariffs remain a burden
Trade tensions continue to take a toll on global trade and if recent events are any indication, tensions are expected to only increase with both shippers and consumer feeling the brunt. According to the International Monetary Fund (IMF), it is estimated that up to $700 billion in global trade could be lost by the end of 2021, mainly tied to reduced trade between the U.S. and China.
Importers in the U.S. have been hit hardest when it comes to tariffs. Since February 2018 (when the current round of tariffs started) until the end of 2019, U.S. importers paid $46 billion in tariffs, with $37 billion related to goods imported from China.
As a signal the U.S. expects China to follow through on commitments to buy more energy and agriculture products in exchange for the U.S. lifting tariffs as part of the "phase 1" trade deal, the Trump administration is considering new tariffs on goods from China
In addition, the Trump administration is now threatening tariffs on France in retaliation to its 3% digital tax on total annual revenue generated by American companies providing services to French users. (France has delayed implementing this tax until the end of 2020.) Brazil and Argentina have also been threatened with tariffs related to steel products.
As tensions continue to grow with China and expand to other counties, U.S. companies continue to struggle with the choice of absorbing the cost of the tariffs or passing the cost on to consumers. While companies have received temporary relief on some tariff payments, with unemployment skyrocketing and demand for most products lower due to the pandemic, this decision becomes more complicated.
Trade pacts also come with some uncertainty
While the passing of USMCA does remove questions in the trade community surrounding what replaces NAFTA, there are also uncertainties with the new United States-Mexico-Canada Agreement (USMCA) which goes into effect July 1, 2020. Companies need to understand changes between the USMCA and NAFTA, in particular if products that qualified under NAFTA still qualify under USMCA. Companies not only need to understand the impact to the qualification of parts and duty rates but to how it influences sourcing decisions.
Depending on the industry USMCA may either prove a net positive or could negate sourcing from Mexico or Canada. The only want to ascertain the impact of USMCA is to analyze current operations factoring in USMCA and the role it can play as part of a larger duty mitigation strategy.
Pandemic impact
The COVID-19 pandemic, which started in China and shut off key parts of the supply chain for many U.S. companies, is accelerating decisions by companies to look for suppliers outside of China, a decision that was already in the works for many because of tariffs.
COVID has forced companies to look closely at their entire supply chain more than they ever have before. Companies that had a single source for a key supply or a high percentage of suppliers in one geography, are now looking to increase supply chain resiliency. Companies with a just-in-time inventory policy discovered how disruptive an event like the pandemic is in shutting down their supply chain. Depending on the industry, supply chains have already shifted sourcing to other parts of Asia, India, or Mexico or, in response to COVID-19, are now considering a "China +1" strategy.
Shifting supply chains, however, is a challenge for most companies, in part because of the difficulty in doing sufficient due diligence related to the business environment in each country, regulations, possible quotas, and the uncertainty of existing or new tariffs.
GTM platforms create certainty
Keeping up with tariffs, trade agreements and regulatory requirements is currently a manual process for many companies, an unsustainable process that puts companies at risk of becoming noncompliant and unable to quickly respond to an ever-changing landscape.
A GTM platform, meshed with a Plex/ERP manufacturing cloud program, replaces the "many sources of truth" and manual nature of the old ways with an integrated platform with more reliable and timely data. GTM software allows companies to screen trading partners up front, before placing or shipping orders. A GTM service can validate data as it flows between internal operations and external supply chain partners (including customs brokers and freight forwarders). If companies do not validate data along the way, they face the possibility of shipments delayed at the border by U.S. Customs and Border Protection (CBP), and exposure to inspections and fines.
GTM platforms give companies access to a treasure trove of data not only to identify free trade agreements or duty deferral programs they may not be leveraging, but also to avoid unnecessary risks. For example, if you do business in 15 countries and use 15 different customs brokers to manage shipments, there's a good chance those 15 brokers are classifying similar products 15 different ways. A good GTM program can analyze your data and get you to the point where similar products are classified the same way, reducing risk level and, more importantly, duty rates.
If companies have misclassified a product for years and the CBP decides to do an audit or assessment, they may face years of back duties for misclassification as well as penalties.
Trade compliance and duty optimization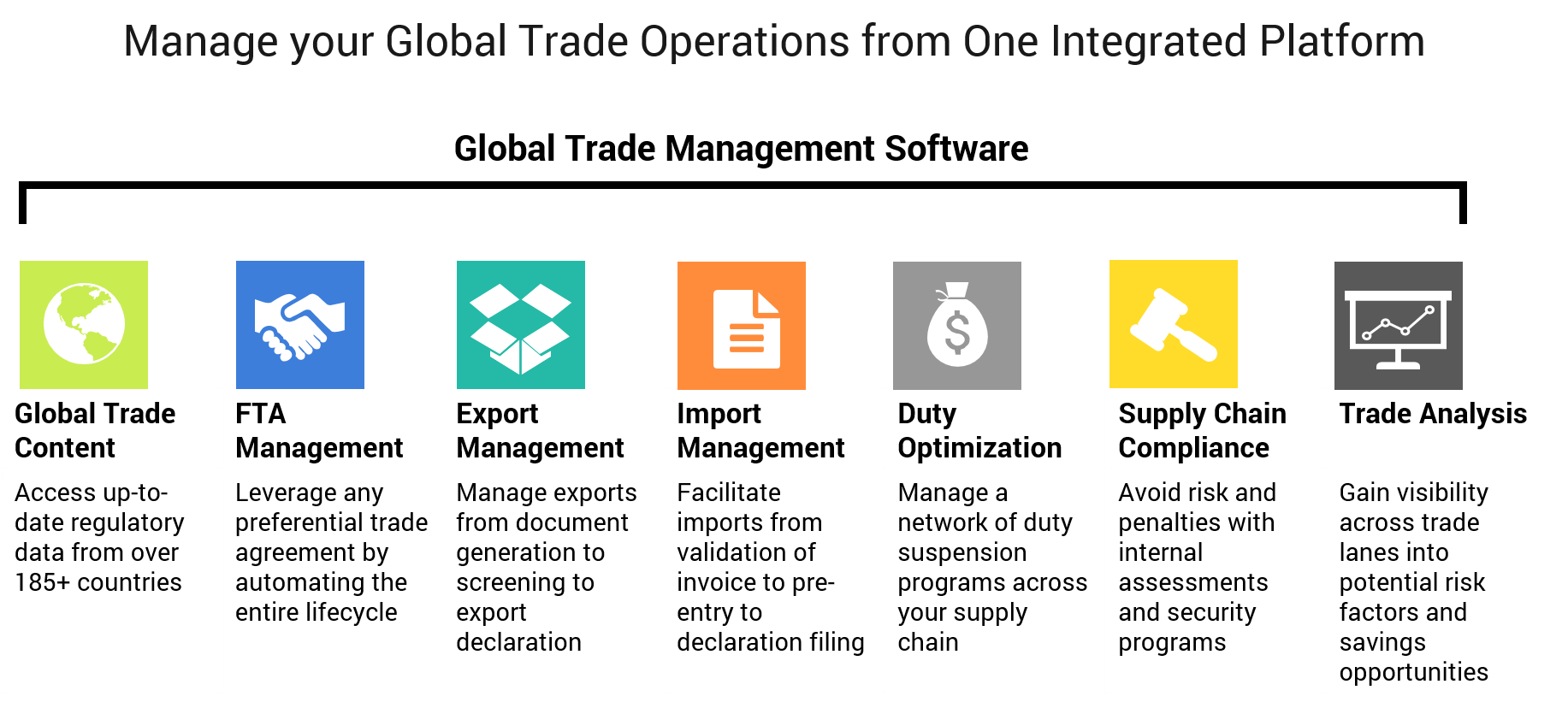 GTM software packages have broad and deep functionality covering a spectrum of functions including:
Global trade content
Free trade agreement management
Import and export management
Duty optimization
Supply chain compliance
Trade analysis
These GTM platforms, combined with the Plex manufacturing cloud, can help companies consolidate necessary information and automate processes, giving them the ability to analyze data and start using it to further improve supply chain operations. GTM platforms, with Plex, will help companies accelerate time to market by streamlining process, eliminating delays, and reducing costs.