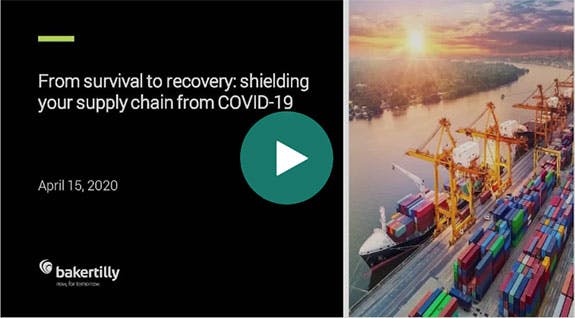 Businesses with a manufacturing or distribution sector have most likely had their supply chain impacted by the coronavirus pandemic. At a time when both COVID-19 news and resources can feel overwhelming, having a knowledgeable source for clarity and structure is both a respite and a source of strength.
Listen to Baker Tilly's, informational, on-demand webinar to learn about different approaches leveraged by some of the world's leading companies to protect their supply chain against the pandemic's impact, strengthen it from future disruptions, and explore practical insights and resources to help your business protect and enhance their value now, next and in the post-pandemic stage. 
Our informational discussion addresses: 
An understanding of the pandemic's impact on supply chains
Best practices to overcome obstacles when dealing with disruptions to supply chains and how to spot the next wave of vulnerabilities
Areas to improve resilience of your supply chain today and better position it to thrive once the crisis has past.
For more information on this topic, or to learn how Baker Tilly's Value Architects™ can help, contact our team.