Authored by Sal Campana
A rapidly growing industry in the face of COVID-19 and the rise of streaming platforms is esports. With extremely popular games like Counter Strike, League of Legends, Overwatch, Fortnite and Call of Duty being streamed online whether in a tournament or just normal online play, there has been an increasing demand for esports professionals. Due to this rising demand, conversations have shifted to collegiate esports. Like any traditional professional sport, collegiate athletics acts as a sort of feeder program. While traditional sports are governed under a single entity, the National Collegiate Athletic Association (NCAA) and its affiliated conferences, there has been no sanctioned league to provide uniformity across esports programs.  In July 2021, the National Association of Collegiate Esports (NACE) announced a partnership with CSL Esports, Nerd Street Gamers and Mainline to establish the NACE Starleague, which will become the largest collegiate esports league in North America. The Starleague will have more than 14,500 students from 600 schools.
Background
The partnership consists of:
NACE, an organization of institutions in North America that want to bring esports to college
CSL Esports, another collegiate esports organization
Nerd Street Gaming, the largest esports infrastructure company in North America
Mainline, one of the leading software company in esports
Some major collegiate esports programs are joining the league, including Boise State University, University of Missouri, Louisiana State University, University of Southern California, Michigan State University, University of North Carolina and University of Maryland. NACE Starleague will give students at these universities opportunities to compete at different levels, including varsity, junior varsity and club. They will collaborate with different colleges and universities to host localized tournaments and help build esports facilities. This historic partnership will open up a number of new participation, broadcast and streaming opportunities for esports. This new league will help grow esports throughout the continent and possibly start a new chapter in collegiate athletics.
Challenges
There are challenges on the road ahead to popularize collegiate esports. First, is the size of the market. We have seen streamers and professionals able to monetize and grow esports into a lucrative business, but will it be the same for collegiate athletes? Will Esports become a program at every higher education institution in the country, much like traditional sports? Will it be worth it for colleges to invest money in facilities, league fees and scholarships for an esports program? The NCAA had opted out of governing esports in 2019 but will recent changes to name, image, and likeness (NIL) rules and their impact on the concept of amateurism open a door for future opportunities in esports? Will Title IX participation and scholarship requirements be operationalized and enforced in esports programs that tend to be predominantly male? These questions will be answered as we move forward and esports continues to grow and evolve both in general and at the collegiate level.
Baker Tilly can help
We can help your institution take a proactive approach to evaluate the current state of your policies, processes, internal controls and definitions related to esports programs and identify opportunities to reduce the identified risks and align with strategic initiatives.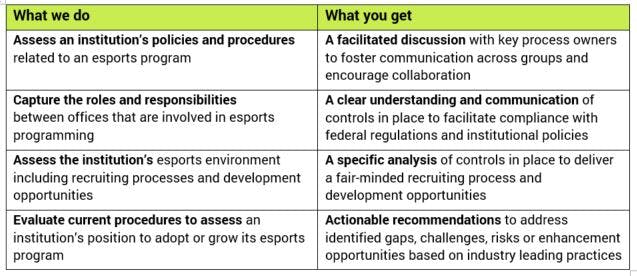 For more information, or to learn more about how Baker Tilly can help your institution develop or grow an esports program, contact our team.