The highly anticipated and closely watched Chief Information Officer Solutions and Partners 4 (CIO-SP4) solicitation is finally here! After six months of delays, NIH's Information Technology Acquisition and Assessment Center (NITAAC) has released the final RFP for the "best-in-class" Governmentwide Acquisition Contract (GWAC).
A popular choice for complex information technology services, CIO-SP4 promises to be a prominent contract vehicle for federal buyers well into the future – covering a wide breadth of services from cybersecurity and cloud computing to healthcare IT.
There are a number of changes when compared to the previous draft RFP – some of which address technical proposal structure, self-scoring and teaming.
First glance takeaways
Contemplated number of awards 
NITAAC anticipates making as many as 165 awards to large businesses, 345 awards to small businesses and 40 awards to 8(a) small businesses. The complete breakdown: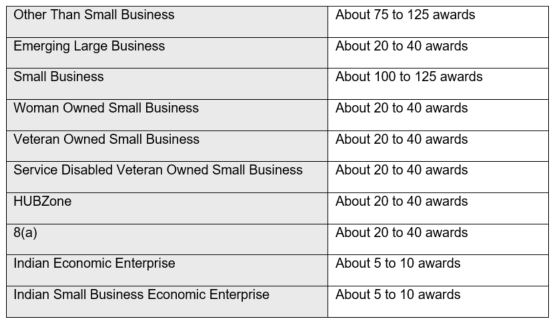 Three phase evaluation approach
While there were no major structural changes from recent NITAAC communications in this area, offerors should keep in mind that they will be notified after each evaluation phase (and at the time of award) whether they are eliminated from the competition, or whether they have been selected for award. The evaluation will follow below three phases:
Phase one: The government will validate the offerors' self-scoring sheet
Phase two: The government will verify the remaining offerors' "go/no-go" requirements
Phase three: The government will evaluate the remaining offerors' written proposal
Scorecard updates
Unfortunately, for some organizations, NITAAC did not remove the CMMI Certification Level 2 and ISO 9001 certifications as mandatory requirements for large businesses to participate – despite fierce advocacy through industry associations in this area. In essence, these are de facto "go/no-go" criteria for large business offerors. If these organizations do not have these certifications in place by the time of proposal submission, they will be eliminated from competition. Even more challenging, NITAAC added an additional certification (ISO 20000) as a requirement for large businesses to participate. This may come as a surprising twist for organizations that have spent months preparing for the release of the RFP. Additionally, while the maximum point total has remained the same (10,000 points), several minor updates were made to the following point scoring items:
ISO 9001 (was 200 points, now 300 points)
ISO 20000 (was 200 points, now 300 points)
ISO 27000 (was 200 points, now 300 points)
Removed points for locations
Emerging Large Businesses (ELB)
NITAAC made clear in the months leading up to the rollout of the solicitation that only businesses within their respective socioeconomic category would be competing against one another. Interestingly, the solicitation includes the mention of the somewhat new category of "Emerging Large Business" – meant to capture mid-size organizations that often feel they are too small to compete on a large business contract vehicle and too large to compete on a small business contract vehicle. The inclusion of the category represents NITAAC's attempt to capture capabilities from this subset of industry. In order to propose as an ELB, offerors must "provide documentation that shows their average yearly revenue for the last five years was between $30M and $500M per year. An example of this documentation is an income statement. Any business with average yearly revenue greater than $500M per year for the last five years is considered an Other Than Small Business."
Project experience validation
Offerors will be challenged to provide contractual evidence to validate point scoring claims in two primary areas as it relates to corporate experience, leading edge technology relevant experience and federal multiple award experience: 1) the dollar value of federal contract/agreement being used and 2) task area applicability. The RFP provides limited examples of what can be provided as support, leaving the matter open to interpretation. Additionally, there does not appear to be guidance around whether offerors can present a collection of task orders under an IDIQ or BPA as a singular "project" for the purposes of preparing a Corporate Experience self-score.
Pricing
The RFP requires offerors to provide contractor site and government site loaded labor rates for all 274 labor categories defined in Attachment J.1. Little direction is given to offerors other than directing them to prepare rates "inclusive of all direct costs, indirect costs, overhead, G&A, profit/fee and any other costs associated with the rates." Proposed labor category rates will be compared to the prices of all other offerors and against an Independent Government Cost Estimate.
Business systems
Each of the key contractor business systems included has varying degrees of detail, trigger words with specific meaning, acceptable forms of documentation and what is ultimately required to meet the solicitation scoring criteria. Be sure to read these sections in detail and do not paint with a broad brush for all contractor business systems.
Adequate Accounting System (SF-1408): Documentation from the government or third party CPA is acceptable for verification.
Acceptable Estimating System: Documentation from the government or third party CPA is acceptable for verification.
Approved Purchasing System: Only documentation from the government is acceptable for verification, such as contractor's purchasing system review report.
Earned Value Management System: Contractor has an EVMS or Cost/Schedule control system that is compliant with EIA-748 Standards.
Upcoming important dates/deadlines 
Written questions can be submitted to NITAAC and must be received from offerors by June 1, 2021 at 12:00 p.m. EDT. All questions must be submitted to

[email protected]

in the format provided in solicitation Attachment J.4.
The RFP indicates NITAAC will post answers to "some" questions from offerors starting as early as June 11, 2021.
Proposals are currently due June 28, 2021 at 12:00 p.m. EDT. While NITAAC has hinted that there may be an extension due to the number of questions they expect to receive, offerors would be wise to not count on it and proceed with proposal development steps with the current deadline firmly in mind.   
How can Baker Tilly help?
Now that the solicitation has been released, many companies are working diligently to prepare qualified, high-scoring proposals within the allotted timeframe. Timely, accurate and responsive proposals will be critical to moving through the phased evaluation process set forth by NITAAC in the RFP.
Baker Tilly stands ready to assist in the following areas:
Third party review/validation of RFP specified business systems
Scorecard/RFP readiness   
Proposal support and preparation
Proposal compliance assessment
Baker Tilly has a well-established methodology for third party review of business systems. Our reports have been included in client proposals as evidence of client system acceptability for many years. We are business system specialists.
Baker Tilly is familiar with the self-scoring methodology employed for complex GWAC vehicles like Alliant 2, HCaTS, ASTRO and OASIS. These types of acquisitions place maximum burden on the offeror to prove that they have the requisite experience and capabilities to meet government requirements.
Baker Tilly has assisted leading government contractors through the relevant experience review process, facilitating the successful selection of the right combination of projects to achieve an organization's maximum score. Baker Tilly has also advised during the pre-proposal stage on teaming and partnering arrangements should it appear an offeror's ability to achieve a successful award is in doubt. Whether an offeror is seeking support in making a bid/no-bid decision or would like assistance with 'soup-to-nuts' proposal preparation, we offer tailor-made assistance to address your unique needs.