Federal contractors surveying the acquisition landscape in FY20 will find themselves in an environment marked by a number of challenges, including continued consolidation, growth in new acquisition methods, and an ever widening use of assisted acquisition services. One near term opportunity is expected to highlight many of these federal procurement trends, and to capture a lot of attention as a bellwether federal procurement:  ASTRO.
With an anticipated solicitation release date of January 2020, ASTRO is seen by many as GSA's next major multiple award IDIQ competition. The ASTRO program, sponsored by and intended for the Department of Defense (DoD), will be administered by GSA's Federal Systems Integration and Management Center (FEDSIM). The vehicle's scope allows for a broad mix of products and services focused on the development, integration, operation, maintenance and support of unmanned, manned, and optionally manned systems, robotics, and platforms. 
To date, FEDSIM has engaged with industry through three Requests for Information (RFI) to answer questions from contractors as to the format, scope, and structure of the contemplated vehicle.  The latest draft statement of work (SOW) released Oct. 24, 2019, is divided into the scope "Domains" outlined below:
Operations
Data Operations
Data Operations as a Service
Mission Operations
Mission Operations as a Service
Maintenance/Readiness
Development/Systems Integration
Support
Business Support
Mission Support
Research and Development
Interestingly, FEDSIM also released the anticipated "Pool" Structure for ASTRO.  For those familiar with the One Acquisition Solution for Integrated Services (OASIS) contract vehicle, this concept will be quite familiar.  Similar to OASIS, ASTRO will be broken out into eight service subcategories, or "pools", each of which operate as a separate multiple award IDIQ contract. Only approved contractors in each segregated pool are allowed to compete for task orders in that pool. FEDSIM has also stated that they intend to provide for task orders spanning all contract types (including cost reimbursement, FFP, and T&M), allowing the nature of the work to guide contract type selection rather than the restraints at the vehicle level. The anticipated pools include:
Data Operations
Mission Operations
Aviation
Space
Maritime
Ground
Development/Systems Integration
Research
Given the increasing use of multiple award contract (MAC) vehicles as a preferred method of contracting and the Office of Federal Procurement Policy's (OFPP) acquisition strategy to push open market spend onto large, dominant contract vehicles, organizations in the unmanned, manned, and optionally manned systems, robotics, and platforms arena would be wise to consider this upcoming opportunity.  In the below sections we will provide an overview of this procurement, lessons learned from scorecard Requests for Proposal (RFPs) like OASIS, and how your company can take advantage of the next few months to prepare for an ASTRO bid.  
Why ASTRO?
ASTRO is MAC vehicle designed solely to meet the needs of the warfighter, scoped in close collaboration with the US Combatant Commands.  Operationally, it is intended to augment DoD capabilities in a number of areas to ensure interoperability, resilience, and assurance on the modern-day battlefield.  This includes:
Command, Control, Communications, Computer, Intelligence, Surveillance, and Reconnaissance (C4ISR):  The rise in asymmetric warfare, increased use of geospatial intelligence, and the need to maintain connectivity on the battlefield, has magnified the need for C4ISR solutions.  Market demand has led to significant growth amongst providers – likely a factor that did not go unnoticed by FEDSIM leadership.  According to one market research firm, the global C4ISR market is expected to grow at a compounded rate of 3.8% year over year, reaching a total value of $132.26 billion by 2026.[1]  Bloomberg Government anticipates C4ISR spend in the United States to increase by 8.6% this year, reaching $17.9 billion in FY20 and $18.4 billion in FY21.
Unmanned Systems: This is yet another growth area that likely drew the attention of DoD and FEDSIM leadership. One market analysis firm forecasted worldwide military Unmanned Aerial Vehicle (UAV) production to total over $90 billion over the forthcoming decade.[2]  According to the Association for Unmanned Vehicle Systems International (AUVSI), the FY19 NDAA authorized an increase of 28% (over the previous year) in unmanned technologies – totaling $9.6 billion.  AUVSI also noted a surge in in the Navy's investment in unmanned vehicle systems, estimating over $4.5 billion in spend on unmanned vehicle systems in FY20 alone.[3]  Notably, three major Navy programs, including the MQ-25 Stingray Unmanned Aircraft System (UAS), the Large Unmanned Surface Vehicle (LSUV), and the MQ-4C Triton UAS are slated for budget increases – amidst a tightening budgetary environment.
Research, Development, Test and Evaluation (RDT&E): While FY20 appropriations bills have yet to be signed into law, the President's FY20 Defense Budget Overview does note increased spending in RDT&E activities, likely an indicator of the administration's growing concern of maintaining a competitive position in the global defense arena – especially amidst threats to air superiority and cyber resilience.  The FY20 defense budget increases RDT&E spending by 9.4% as compared to FY19.  This spending increase will be used to fund aircraft systems development ($1.8B), Space Based Systems ($2.5B), and additional Science and Technology projects ($0.5B) focused on Artificial Intelligence, Hypersonics, Directed Energy, and Quantum sciences.[4]
To better understand the categories of services offered under ASTRO, GSA released "Sources Sought" notifications for 24 NAICS codes related to a wide spectrum of services.  While these are subject to change, one can assume these NAICS codes are largely aligned with FEDSIM's intentions for future task orders.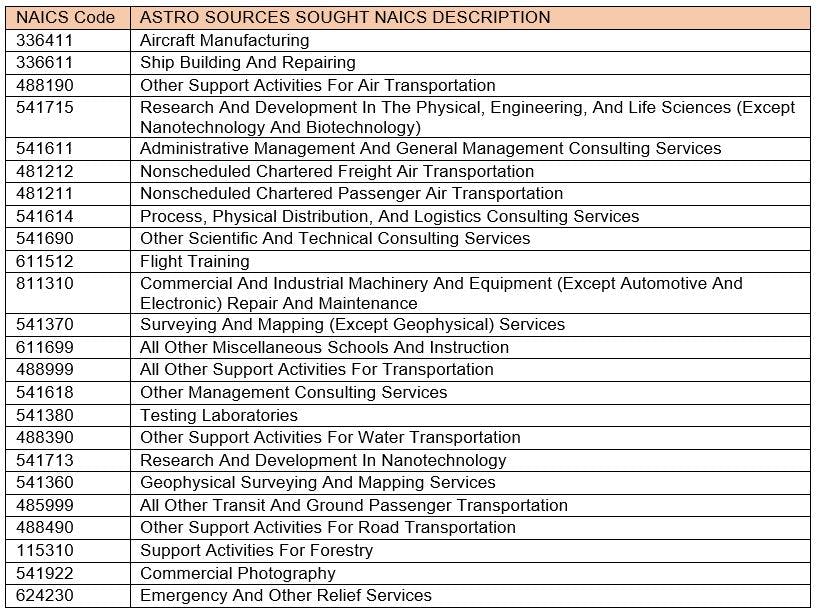 The contemplated pool structure also has a number of aligned NAICS codes that may shed some light on the anticipated predominant work scope related to each pool.  If your organization has deep past performance related to these NAICS codes, ASTRO is an opportunity you should consider following closely.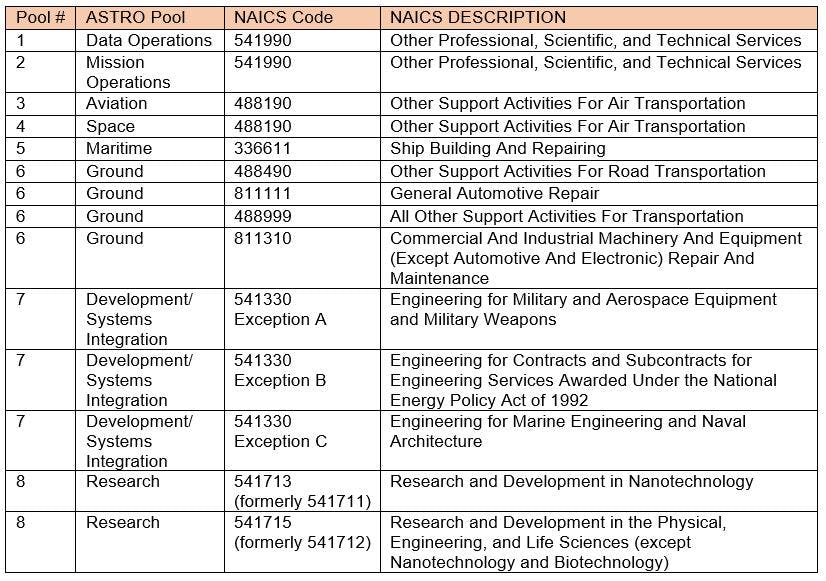 What is FEDSIM?
For those unfamiliar with the FEDSIM organization, it is a client support center within GSA that is slated to serve as the stand-in acquisition, financial, and project management team for ASTRO's entire contract lifecycle.  FEDSIM has authority to operate via interagency agreements and currently manages over $33 billion in contract awards for DoD, the Food and Drug Administration (FDA), and the Department of Homeland Security (DHS).  The organization boasts a 99% protest win rate, an attractive feature for entities looking for assisted acquisition services, and it has received high marks from customer agencies for exceptional client service. 
In July 2017, GSA moved the entire OASIS program team to FEDSIM to support the design and development of the ASTRO vehicle – no doubt, bringing experience and lessons learned to the program.  It has been made clear in ASTRO's first published RFI Questions and Answers publication that "the acquisition team is intending to utilize a highest technically rated source selection methodology similar to the one the acquisition team invented for OASIS."  For this reason, vendors tracking this opportunity should expect a scorecard RFP to be the method of procurement used for ASTRO.
What contractors should expect:
During the ASTRO industry day held on June 27, 2019, FEDSIM publicly disclosed their planned timeline for solicitation release, citing January 2020 as the expected release date and February 2020 for the proposal submission deadline.  Considering it is already November 2019 and a full draft solicitation has not been released, we believe it likely that the release schedule will move to the right at least to some degree.  Included below is a timeline with key dates provided by the FEDSIM program team: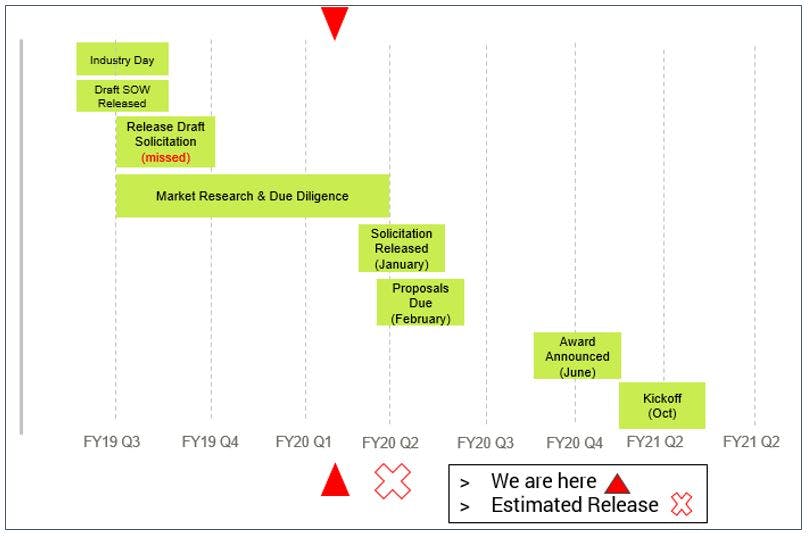 In terms of the structure of work to be performed, contractors can expect the vehicle to allow for "total solutions" provided at the task order level.  ASTRO also intends to provide contractors with flexibility to provide ancillary products and services, commercial and noncommercial items, as well as non-professional labor (in compliance with the Service Contract Act or Davis Bacon Act, as applicable).
Unfortunately, for small businesses hoping to gain a spot on the vehicle FEDSIM has made clear that there will be no small business set aside at this time.  As stated in the third RFI, ASTRO "will only support task orders placed by FEDSIM or other GSA Assisted Acquisition Services individuals specifically authorized to use the contracts for requirements exceeding $100 million,"  – meaning that no task orders under $100 million are anticipated.  When asked for the number of anticipated orders on the vehicle annually, FEDSIM stated in their second Question & Answer publication (dated Oct. 15, 2019) that it projects 20 or more orders per year. 
How to prepare:
The ASTRO team has made it clear that they will utilize a self-scoring system similar to OASIS and Alliant II to evaluate contractors' technical capability.  On OASIS, this meant that proposal points could be obtained by submitting complex relevant experience projects with strong past performance ratings, as well as proof of approved contractor systems, certifications, and clearances. 
Although the exact evaluation criteria is not known at this time, it is not too early to begin preparing your ASTRO proposal.  Contractors are advised to first download and review the OASIS solicitation, as it is expected to be the best benchmark for what the ASTRO team is contemplating.  Those familiar with the OASIS structure will have a "leg up" in terms of what to expect so we'd like to highlight a few challenges encountered and lessons learned from the OASIS proposal submission and award process:
Identify potential relevant experience projects:  We suggest contractors begin holding meetings with their contracts, finance, and program managers to find at least five projects that:
Were awarded in the past five years
Have an assigned NAICS code that matches one of the 24 NAICS codes identified for ASTRO (and the Pool assigned NAICS codes as well)
Have a large annual value (at least $5M in funding per year)
Have a strong CPARS rating (at least an average of "Very Good" (4.0) or above)
Have a SOW that matches the domains identified in the ASTRO SOW
Contractors should note that the ASTRO team has provided examples of service areas for each domain.  This should make identifying relevant experience projects a little easier in the short term.  Additionally, the ASTRO team has made it clear that contractors will be allowed to use commercial projects, so while federal prime contracts may present the best opportunity to score higher, a review of commercial work based on the criteria outlined above could help to identify other strong candidates for inclusion in an ASTRO proposal. 
Begin Accumulating Documentation:  The administrative burden of these proposals is significant. We recommend accumulating the following documents ahead of time:
For the relevant experience projects, identify and organize all contract award documents, statements of work, contract modifications, and most recent CPARS.  Make sure the contract documents are signed by the cognizant contracting officer.
Identify and organize documentation to demonstrate DCAA, DCMA, or CFA approval for your company's accounting system, billing rates, purchasing system, earned value management system, and/or estimating system
Assign roles and determine responsibilities:  To avoid confusion when the solicitation is released, it is best to get the personnel question answered first:
Who is responsible for checking FedBizOpps (beta.sam.gov starting November 8, 2019) and GSA Interact daily to review any recent correspondence from FEDSIM?
Who is the lead program sponsor, contracts manager, finance manager, and proposal manager in charge?
Who will communicate the status of ASTRO to leadership?
Does your team need to outsource support to ensure a compliant proposal?
Finally, below is a summary of the OASIS scorecard that may provide greater insight into the types of attributes FEDSIM may be looking for in an ASTRO proposal.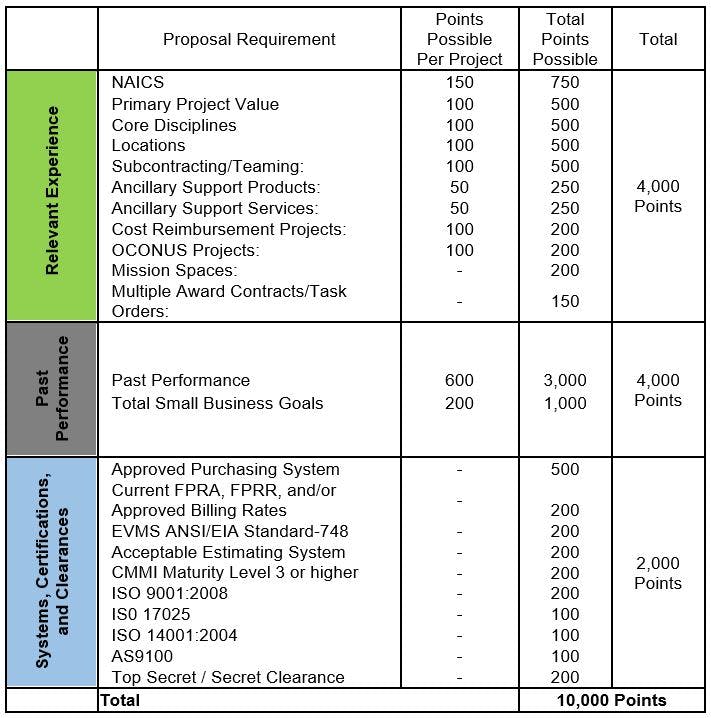 Conclusion
Given the collaboration between FEDSIM, industry, and DoD, in combination with lessons learned from OASIS, Baker Tilly expects ASTRO to be a well-designed vehicle that presents clear and direct value for DoD customers. The draft SOW and three RFIs are the only documents that have been released to date, so there are many open questions as to what ASTRO will look like in its final form. With that said, we do expect further communication from FEDSIM to be released in the coming weeks. Baker Tilly is tracking all ASTRO correspondence closely and will distribute follow-on material to ensure our clients are informed and ready for ASTRO launch.
For more information on this topic, or to learn how Baker Tilly specialists can help, contact our team.
[1] Source: https://www.transparencymarketresearch.com/sample/sample.php?flag=S&rep_id=18971
[2] Source: https://www.tealgroup.com/index.php/pages/press-releases/56-teal-group-predicts-worldwide-military-uav-production-of-90-billion-over-the-next-decade
[3] Klein, David. "Fiscal 2020 Defense Budget Request Includes Billions for Unmanned Systems." Unmanned Systems, July-August 2019, Volume 37 No. 5, Page 26.
[4]Source: https://comptroller.defense.gov/Portals/45/Documents/defbudget/fy2020/fy2020_Weapons.pdf