The General Services Administration (GSA) recently announced in a GSA Interact post that an Alliant 3 request for proposal (RFP) would be released in the first quarter of government fiscal year 2023.
As GSA's "premier enterprise Governmentwide Acquisition Contract (GWAC) providing customized information technology (IT) services and IT services-based solutions to the federal government," Alliant has earned a strong reputation as an essential IT procurement vehicle. So much so, that GSA  recently increased its program ceiling for Alliant 2 from $50 billion to $75 billion, helping to ensure a smooth transition to Alliant 3. 
Alliant, the predecessor to Alliant 2, began in 2007 and was intended to cover many facets of federal government product and service needs within the IT space. Now a fixture of the federal IT market, the vehicle has helped spur many of the government's overarching IT modernization efforts over the last decade. According to GSA, more than 100 federal agencies have used Alliant 2 since inception.
Released in 2018, Alliant 2 has become one of the government's largest "best-in-class" procurement vehicles. Current reporting indicates that nearly $12 billion of the $50 billion ceiling has been reached – with 471 task orders awarded to the 43 GWAC industry partners. 
Those interested in pursuing Alliant 3 should expect a similar points-scoring methodology for offer evaluation as seen with Alliant 2. In addition to prior evaluation criteria such as relevant project experience, system approvals, and industry certifications, the government is expected to emphasize the importance of supply chain risk management (SCRM) as it has in recent bellwether procurements similar to Alliant (GSA Polaris SB and GSA's Ascend Cloud BPAs serving as prime examples).
Notably, the government is closing in on awards for its Polaris acquisition vehicle. Polaris comes nearly two years after its predecessor, Alliant 2 Small Business, was cancelled due to dozens of bid protests under which GSA stated it was "planning a new approach" in how it manages GWAC programs. The new approach is intended to better align socio-economic groups to specific IT pools. An overview of Polaris, including compliance considerations, service descriptions applicable to offerors, and success factors is provided here.
An overview of the predecessor vehicles to Alliant 3: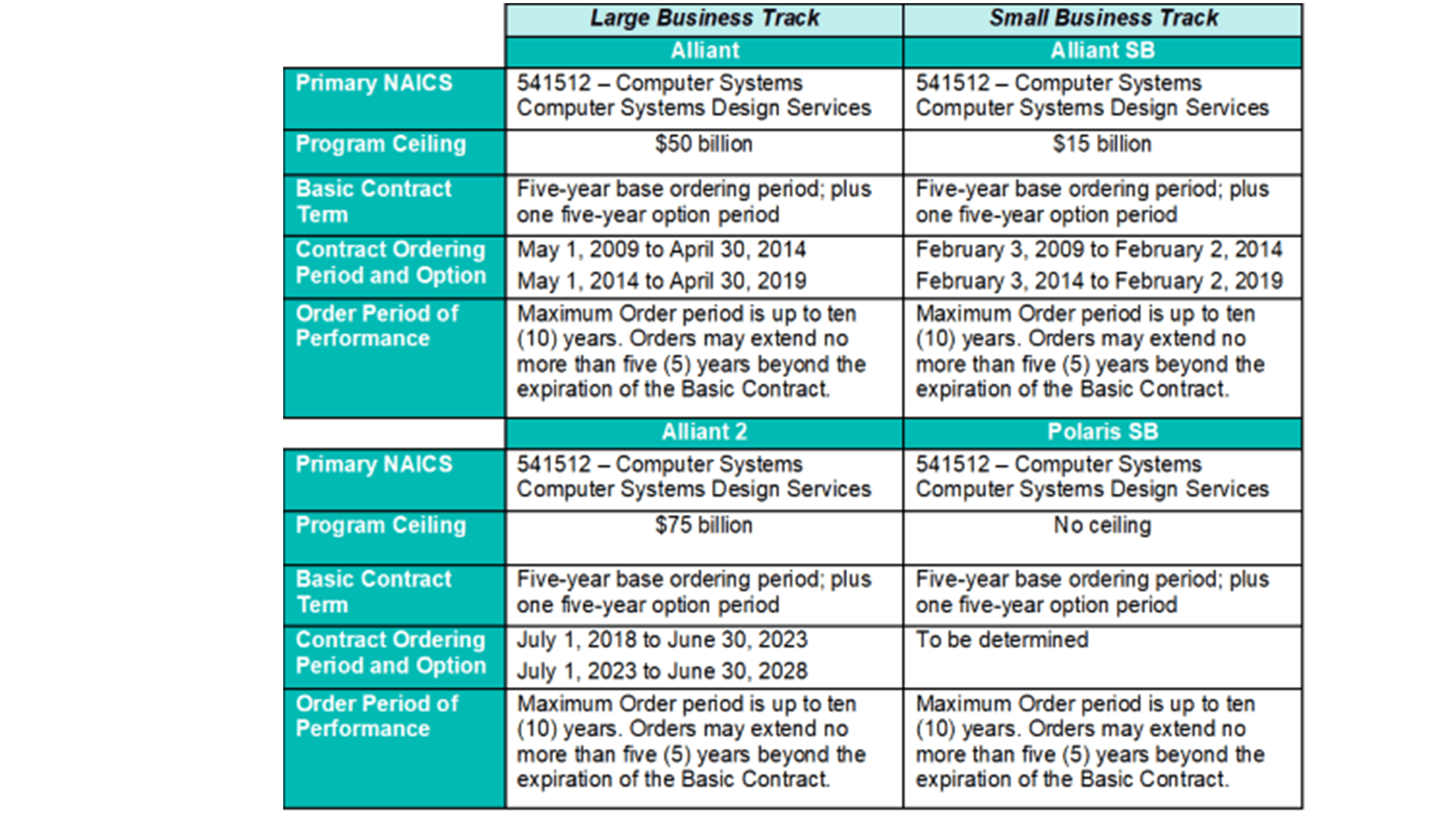 For more information on this topic, or to learn how Baker Tilly specialists can help, contact our team. Baker Tilly is tracking all Alliant 3 communications closely and will distribute follow-on material to ensure our clients are informed and ready for the launch of the Alliant 3 GWAC. Our team has extensive experience with scorecard RFPs (OASIS, OASIS+, CIO-SP4, ASTRO, HCaTS, STARS 3, and others) and is ready to support you in your pursuit.