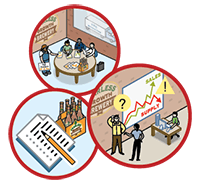 There are many factors a brewer should take into consideration when developing a new market strategy. These should be discussed well in advance as they may influence who you choose as a distribution partner based on their respective insights on these factors. Timing, competitive landscape (both within your distributor portfolio and with their competitors), pricing environment, existing consumer interest and budget should all be considered.
These factors will help you determine which strategy will be most effective. Is it a 'slow play' where you want to build anticipation like a major motion picture teaser or is it more advantageous to go 'grass roots' and build an avid core-consumer fan base of ambassadors? Maybe it's all about making a 'big splash' and concentrating your efforts across multiple media outlets in a short period of time. These aren't your only options and in the end, it may end up being a combination of factors. No matter what choice you make, all choices should all be built on the same foundation: do your homework.
Set a pre-launch meeting with your distributor partner to cover the following:
Set a budget, obtain written commitments and track who is responsible for which cost element of your plan (e.g., are tap handles 50/50 coop?)
Set targets by channel, by brand, by package, by sales rep
Discuss and determine incentives to ensure share of mind
Confirm access to download all point of connection materials for both on and off-premise

Discuss and place order for permanent point of connection materials

Samplings both on and off-premise with a pre-meeting to discuss brand attributes
Key account call schedule with brewery personnel
Product donations to key influencers; radio morning shows, bloggers, editorial papers
Sell sheets, "now available" / "now on tap" sign-making templates, UPC codes, etc..
Tap handles, LEDs/neons, tackers, coasters, glassware, etc..
Every brewer wants to win at retail and ensuring success must begin with preparation and homework. Baker Tilly has helped brands connect with consumers over the years. Do your homework and create a detailed plan that can be orchestrated with all of your partners (employee's, distributors, vendors, media outlets, and key retailers) to ensure a successful brand launch, win the battle at retail, and obtain the consumer vote.
For more information on this topic, or to learn how Baker Tilly specialists can help, contact our team.