As digital transformation continues to become a priority across industries, we are seeing the adoption of business process automation through advanced technologies like Robotic Process Automation (RPA). This tool helps automate business processes that contain manual, standardized, repetitive and rule-based processes. Traditionally, these types of tools are spearheaded by a firm's chief technology officer (CTO) or chief information officer (CIO), but we find that greater success is often achieved when business leaders are actively involved to champion these initiatives.
We see digital transformation as a three-pronged approach that leverages advanced technologies to become efficient, transparent and insightful. According to a survey by the American Bar Association, almost 70 percent of law firms' fees are based on hourly engagements, with fixed and contingent at 15 percent and 11 percent, respectively. This tells us that efficiency should be a top priority for firms. In fact, the average worker spends 11 hours a week generating documents, with six of those hours considered wasted time. RPA is well-positioned to provide great value to both the workforce and the bottom-line operating results of all firms."
Besides efficiency, RPA helps with managing and mitigating risk. Looking at various types of malpractice errors encountered in law firms, almost half of the errors are rated substantive (as demonstrated in figure 1). More than other industries, the stakes are high for law practices with serious consequences if these errors are not caught, mitigated and managed. RPA has the capabilities to monitor, alert and resolve such errors with little or no human intervention.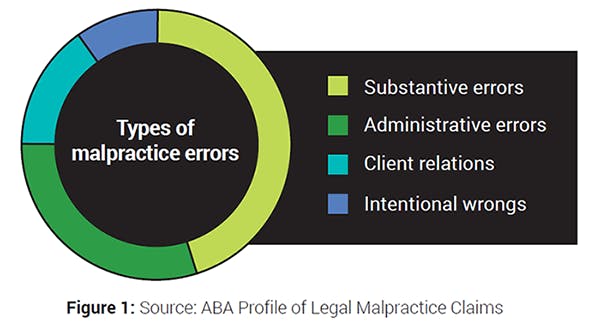 Scalable automation journey
There are three types of RPA use cases to create a scalable automation journey for law firms. We recommend starting off with "Standard" use cases that are rule-based business processes. The Standard use cases focus on creating efficiencies in frequency, total process time and number of people involved. Moving further through the journey, we focus on "Advanced" use cases that go beyond time and money savings, and realize business value in quality and risk mitigation, regulatory compliance, organizational readiness and employee satisfaction. In the third type of RPA use cases, we start to combine other advanced technologies, such as artificial intelligence (AI), machine learning, optical character recognition (OCR), advanced analytics, chatbots and so forth. This third type of use case helps to automate business processes that are very complex and require human intuition. Figure 2 outlines some sample use cases in law firms.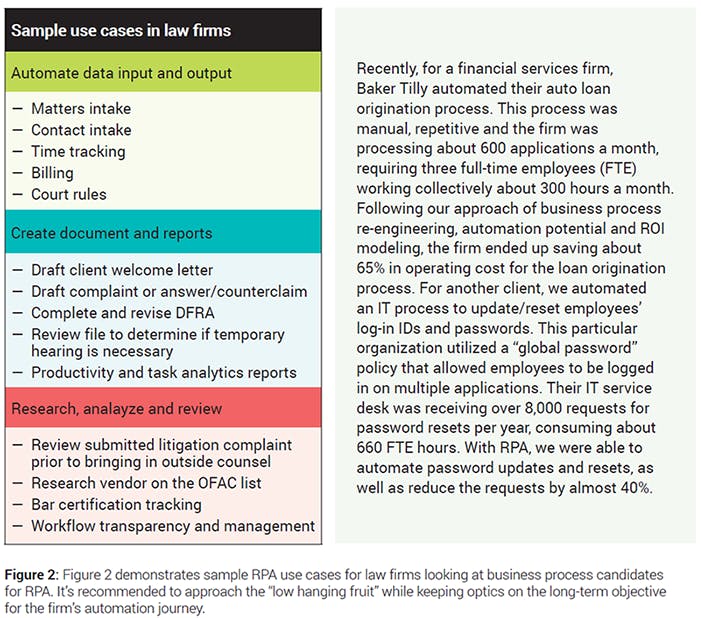 To get started on your firm's automation journey, lay out a strategy that begins with the why, how and what. Implementing RPA impacts the entire organization and not just the team utilizing the RPA "bot." Baker Tilly advises firms to follow the automation strategy below to support their overall digital transformation.
Automation strategy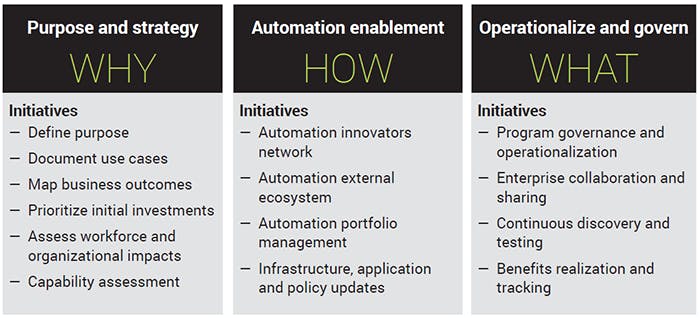 RPA is a next-level tool for businesses to continue improving efficiency and effectiveness of operations.  Considering the competitive upheaval in the legal industry from alternative service providers, including the well-financed including the largest international CPA firms, to the general client demands for enhanced cost controls, utilization of RPA is an important strategic alternative. From a cost-benefit and return on investment perspective, RPA is particularly effective for major, repetitive support functions where automation can improve accuracy, timeliness and employee hours. It's equally useful for performance and management of revenue service models. 
As law firms continue their digital transformation journey, intelligent automation will be a conducive enabler to make the firm both more efficient and insightful.
For more information on this topic, or to learn how Baker Tilly professional services specialists can help, contact our team.