The craft brewing industry is experiencing unprecedented growth. With this growth comes great opportunity, as well as ample business challenges that can make the joy of creating a good craft seem a little less tasteful. Whether you need assistance with technology, sales channel management, financial modeling and financing, distribution rights, waste/energy, HR assistance, or compliance, we have the dedicated beverage team to assist you, so that you can pay more attention to perfecting your craft.
This variety of topics provides you an overview of the craft brewing webinars that we will cover in our ongoing webinar series. Our webinars are complementary and often offer CPE credit. We also archive our series for your convenience. You may contact us at any time with questions, or if you have a specific subject matter that you would like addressed.
Previous webinars in this series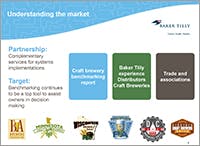 Maximizing distribution rights: Understanding both sides

Do you know the value drivers of your distribution rights? Do you know how to leverage them to maximize volume, profitability, and finding the best business partner for your brewery? Would you like to get insight from multiple points of view, including the distributors? View this webinar for a behind-the-scenes look at distribution rights.