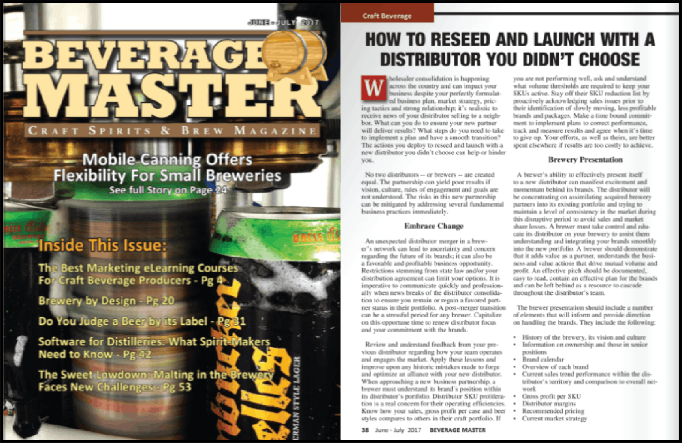 Reprinted courtesy of Beverage Master.

Wholesaler consolidation is happening across the country and can impact your business despite your perfectly formulated business plan, market strategy, pricing tactics and strong relationship; it's realistic to receive news of your distributor selling to a neighbor. What can you do to ensure your new partner will deliver results? What steps do you need to take to implement a plan and have a smooth transition? The actions you deploy to reseed and launch with a new distributor you didn't choose can help or hinder you.
No two distributors - or brewers - are created equal. The partnership can yield poor results if vision, culture, rules of engagement and goals are not understood. The risks in this new partnership can be mitigated by addressing several fundamental business practices immediately. 
Embrace change
An unexpected distributor merger in a brewer's network can lead to uncertainty and concern regarding the future of its brands; it can also be a favorable and profitable business opportunity. Restrictions stemming from state law and/or your distribution agreement can limit your options. It is imperative to communicate quickly and professionally when news breaks of the distributor consolidation to ensure you remain or regain a favored partner status in their portfolio. A post-merger transition can be a stressful period for any brewer. Capitalize on this opportune time to renew distributor focus and your commitment with the brands.
Review and understand feedback from your previous distributor regarding how your team operates and engages the market. Apply these lessons and improve upon any historic mistakes made to forge and optimize an alliance with your new distributor. When approaching a new business partnership, a brewer must understand its brand's position within its distributor's portfolio. Distributor SKU proliferation is a real concern for their operating efficiencies. Know how your sales, gross profit per case and beer styles compares to others in their craft portfolio. If you are not performing well, ask and understand what volume thresholds are required to keep your SKUs active. Stay off their SKU reduction list by proactively acknowledging sales issues prior to their identification of slowly moving, less profitable brands and packages. Make a time bound commitment to implement plans to correct performance, track and measure results and agree when it's time to give up. Your efforts, as well as theirs, are better spent elsewhere if results are too costly to achieve. 
Brewery presentation
A brewer's ability to effectively present itself to a new distributor can manifest excitement and momentum behind its brands. The distributor will be concentrating on assimilating acquired brewery partners into its existing portfolio and trying to maintain a level of consistency in the market during this disruptive period to avoid sales and market share losses. A brewer must take control and educate its distributor on your brewery to assist them understanding and integrating your brands smoothly into the new portfolio. A brewer should demonstrate that it adds value as a partner, understands the business and value actions that drive mutual volume and profit. An effective pitch should be documented, easy to read, contain an effective plan for the brands and can be left behind as a resource to cascade throughout the distributor's team.
The brewer presentation should include a number of elements that will inform and provide direction on handling the brands. They include the following:
History of the brewery, its vision and culture
Information on ownership and those in senior positions
Brand calendar
Overview of each brand
Current sales trend performance within the distributor's territory and comparison to overall network
Gross profit per SKU
Distributor margins
Recommended pricing
Current market strategy
Available point of connection materials and costs
Retail and quality control standards
Forecasting and ordering policies/procedures
Copy of the current distribution agreement
Upcoming plans related to brewery changes
New brands or package configurations
Revamped marketing strategies
Social media activity
It may seem like a daunting task to create and pitch such a comprehensive presentation, but a brewer can secure a bright future with a distributor by proactively communicating its plans and the value-added nature of its team.
SWOT
When meeting with a distributor and presenting a pitch, a brewer should also take time to outline its organizational Strengths, Weaknesses, Opportunities and Threats (SWOT). Strengths and weaknesses pertain specifically to a brewer and the advantages and disadvantages it has relative to its competitors, while opportunities and threats are factors outside the control of the brewer that could help or harm performance, respectively. Sharing this with your new distributor demonstrates the value you place on teamwork and transparency.
When drafting a comprehensive SWOT analysis, a brewer should work with its team to secure varied input. Ultimately, a SWOT analysis serves to facilitate discussion and allows for both a brewer and its distributor to be upfront with one another, and it creates an opportunity for both parties to collaborate. Do not use this medium as a chance to brag about yourself; even a top brewer has room to expand upon successes. Most importantly, be honest in your assessment.
Review the below example to gain a deeper understanding of the details that can be provided within each section.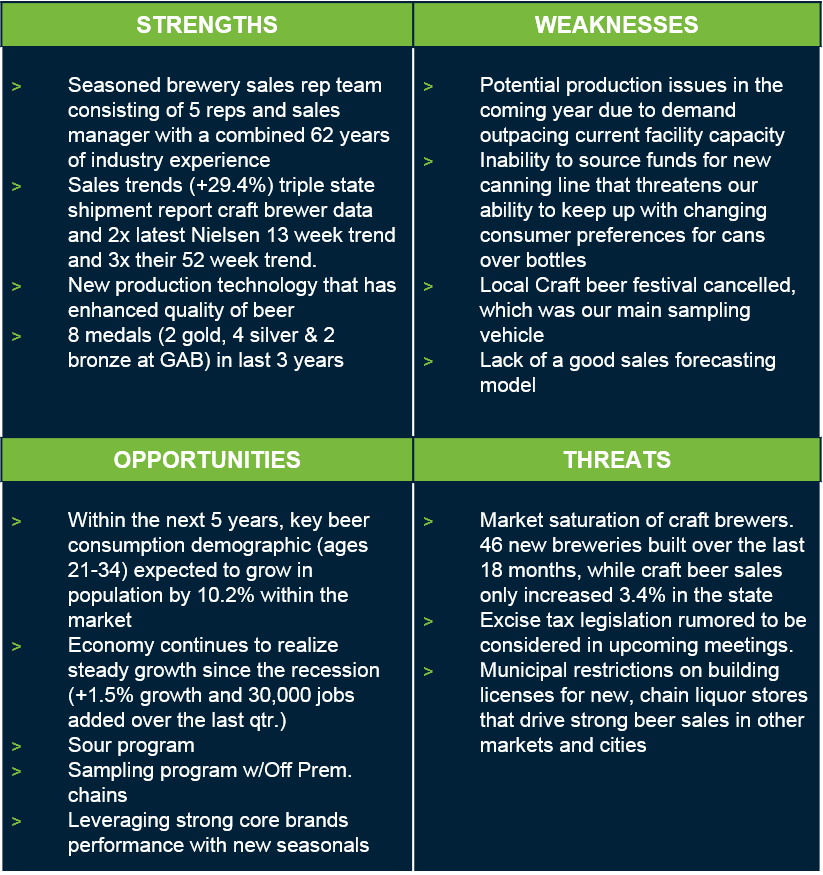 Above is an example of the details that can be provided within each section of a SWOT analysis.
Meet with ownership and senior management
Once a brewery has been pitched and all key stakeholders feel energized following a productive discussion around data, market execution and strategy, there is still more work to be done to help build a healthy relationship between a brewer and its distributor.
Interpersonal relationships have a monumental impact on the future of cooperative business partnerships. Unhealthy communication or mutual dislike can lead to uncertainty. However, a brewer can generate rapport and friendships between its team and that of its distributor. Efforts to do so can include inviting the distributor to visit the brewery's operation, allowing the distributor's team to sample beers at a sales meeting or in the taproom, as well as hosting a cookout at the distributor's facility. Whatever the forum, the brewer needs to make sure everyone is given an opportunity to enjoy themselves and get to know one another. Remember this is a business partnership and demonstrating your understanding and support to achieve agreed upon results must shine through in the relationship. 
Ongoing engagement
Most distributors require active participation from brewery partners to ensure strong results. Build upon the new relationship, take action quickly regarding their input and apply any lessons learned from your previous relationship to create a communication structure that will allow you to operate seamlessly in their system.   
Every organization has a unique culture and understanding those differences can lead to better engagement between brewer and distributor. It is pivotal for a brewer to understand its distributor partner's communication style and operating procedures to properly engage with their team and avoid being difficult. Ask, don't assume, how communication, collaboration and dialogue should occur between brewer and distributor.
Know your lead point of contact with the distributor and how to channel each type of communication.

Being flexible and adaptable will help a brewer assimilate into its distributor's company culture. Lastly, a brewer should recognize how a distributor's team engages at retail to ensure a coordinated approach that complements those efforts and helps achieve both brand and revenue growth.
Routine management
Coordinate your manpower support in the distributor's territory to ensure there is alignment and transparency in your approach. Any plan that is developed should outline account visits and frequency for the brewery rep team and each rep should have a defined list of account objectives and targets so all visits are meaningful for the retailer. Make sure to have a structured sales process and brewery rep toolbox defined (these are items that all reps should have with them while in the trade) to prove your team is truly value added in the market. Listen to the distributor feedback regarding your plan and address any of their concerns or suggestions.
If there are no brewery reps, then schedule ownership, senior staff and key members of the brewing team to visit accounts on a realistic, mutually agreed upon frequency. In the beginning, brewery/distributor "ride-withs" are an effective method to ensure the distributor reps understand the brands and brewery reps understand how the distributor operates day to day. Every sales call should have an objective to help move the business forward.
Coordination with distributor reps is important to ensure the right accounts are receiving attention and to reduce major overlaps in sales call efforts. A cooperative sales approach between distributor and brewer will also improve relationships with retailers. All too often, brewery reps gravitate to "crafty" and "well-known" accounts, which tend to cycle through tap handles and limit steady distribution. Other accounts do not get the necessary attention, even though they are ripe for high volume and consistent distribution with some attention and understanding of their business.
The two charts below outline where brewery and distributor sales reps are currently spending their time, and how that method could be improved to better capture performance.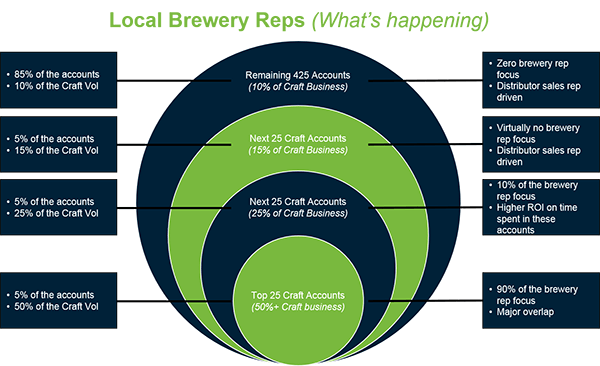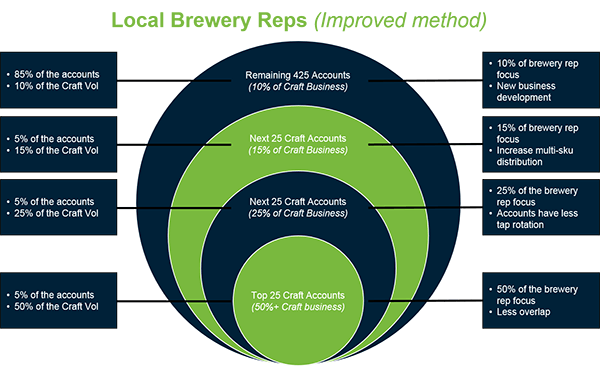 Goals and results
The importance of a brewer and distributor continuing to talk through performance, results and goal sharing following the initial introduction/pitch meeting cannot be overstated. It is best to establish a consistent schedule of performance reviews to share results and align on volume and distribution targets.
Towards the end of each year, a brewer should create an in-depth annual business plan to present and collaborate with its distributor partner. The contents can include materials similar to a brewer's pitch deck but -- more importantly -- they should be used as opportunities to share brewery performance and highlight how a distributor's results stack up to foster best practice sharing and create new targets and support for the following year. A shorter quarter or trimester review should also be shared at the conclusion of each period to recap results, adjust any targets and discuss mutual market support.
When creating performance reviews, data should be utilized along with empirical context to craft a comprehensive story of what is happening in the marketplace. These reviews are an opportunity to align on targets, and it is important that data be used to back up any proposed volume and distribution targets to demonstrate they are both realistic and achievable. If you are not buying or using data to identify opportunities, start now. Your distributor will appreciate and value you more as a partner if you understand, monitor and take action using the data. A brewer must be open to feedback from its distributor, especially if they feel targets are understated or overstated. A distributor is more likely to work toward these goals if they are involved, valued and their concerns are addressed in the process of developing the targets.
Many brewers find it beneficial to implement variable pay metrics for brewery sales reps. The compensation strategy incentivizes sales reps to achieve controllable targets such as volume, displays, distribution, rate of sale improvements, etc. in their accounts. The metric should be linked to what the distributor agreed to achieve to further align both brewer and distributor sales teams and efforts at retail.
Clearly communicating the metrics and targets to the sales rep team is crucial for success, as is making sure the brewer team can identify the distributor partner's full portfolio to avoid any friendly fire situations. There will be opportunities for brewery reps to lend a hand and suggest brands that your partner distributes. Follow-up quickly and make them aware of opportunities and successes. 
Key takeaways
Having a carefully selected distributor switch unexpectedly can be a tumultuous situation for any brewer. However, it can ultimately lead to a fulfilling and collaborative alliance with a new partner. When executed correctly, the brewer-distributor relationship is both a lasting and mutually beneficial one.
Proactive involvement by both parties can help ease the transition for everyone involved. By embracing change, remaining flexible and initiating healthy conversations, a brewer can ensure its brands are quickly and easily assimilated into its wholesaler's portfolio.
For more information on this topic, or to learn how Baker Tilly craft brewery specialists can help, contact our team.