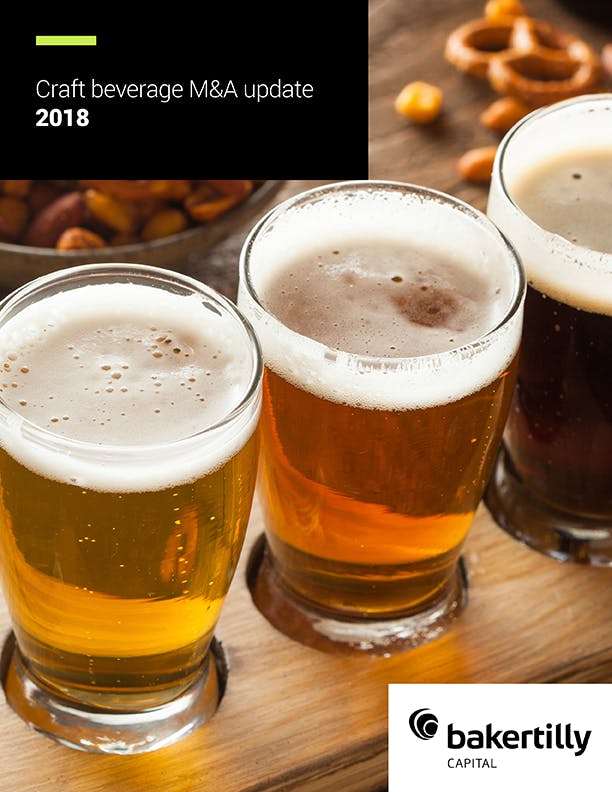 Craft brewery market trends
The number of craft breweries in the U.S. grew 13.2 percent in 2018 to an all-time high of more than 7,346 active craft breweries. These breweries consist of 2,594 brewpubs, 4,522 microbreweries and 230 regional breweries. There are an additional 104 macrobreweries that are not considered "craft" breweries due to their size.
At-the-brewery sales continue to grow as craft breweries find success in driving customers to their taprooms to purchase draft and pre-packaged beer-to-go. At-the-brewery sales grew 14.8 percent in 2018 to a total of 3.1 million barrels. Canned beer is also on the rise as it gained 9.2 percent in 2018, totaling 40.7 percent of total craft beer sales compared to other packaging formats. Large beer companies continued to lose ground as wine and craft spirits each gained an estimated 2 percent of

off-premise market share.
Select U.S. brewery transactions are highlighted in the table below. One interesting development that began in 2017 and continued throughout 2018 is the use of minority equity investments to create production and sales alliances between the companies to leverage each other's resources geographically. This trend continued with Mahou San Miguel purchasing an additional 40 percent in Avery Brewing (Mahou San Miguel bought a 30 percent stake in 2017 and also owns a minority stake in Founders Brewing). This is a managed risk strategy compared to building additional facilities to generate growth.


Source: Brewers Association, Brewbound, public news sources, Baker Tilly Insights, and Capital IQ (April 2019)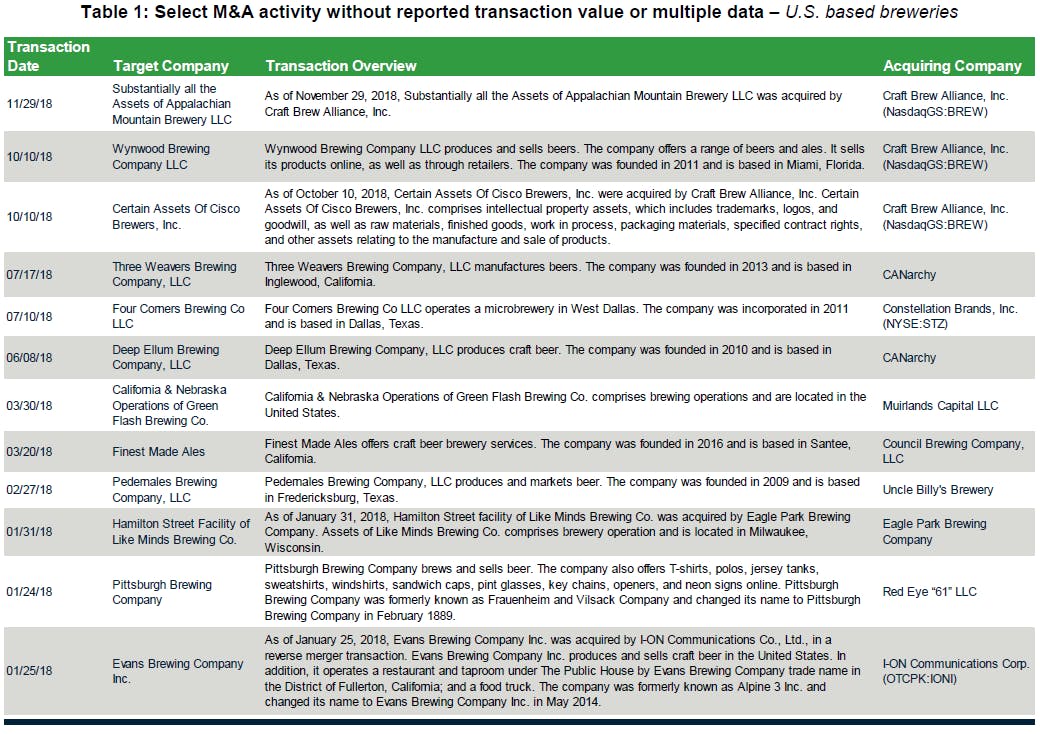 Download the complete report >
For more information on this topic, or to learn how Baker Tilly Capital specialists can help, contact our team.
Baker Tilly Capital, LLC disclosure
Baker Tilly Capital, LLC privacy policy
Baker Tilly Capital, LLC social media disclaimer