On Feb. 12, 2021, the House Committee on Oversight and Reform (Committee) met to deliberate legislation that would allocate $350 billion in financial relief to states, local units of government, territories and tribes. Under the proposed legislation, local governments would receive an allocation regardless of population size. According to the Committee's markup of the Fiscal Year 2021 Budget Reconciliation Act, "Funds are available until expended, awarded directly from Treasury within 60 days of enactment and subject to eligible uses including to replace revenue lost, delayed or decreased as a result of the pandemic."
What is being proposed?
The Committee is proposing to distribute $350 billion as follows*: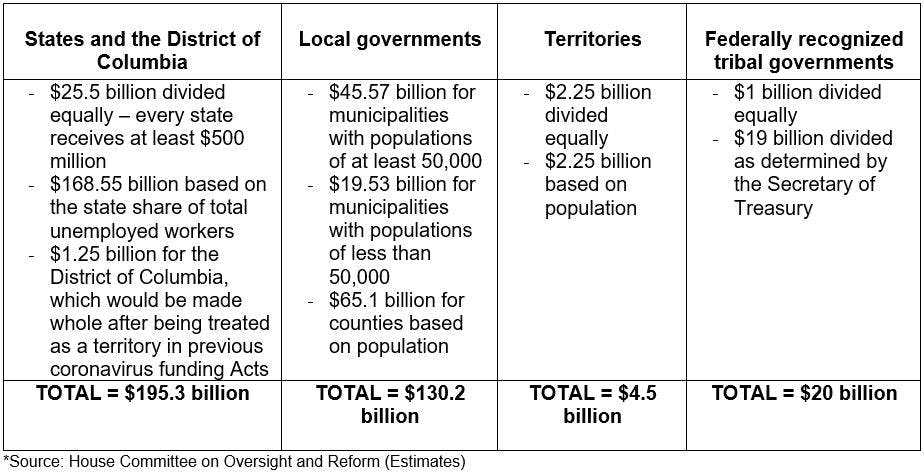 In addition to the Committee on Oversight and Reform's work, eleven other House committees have been tasked with crafting proposed legislation as part of the countrywide financial rescue package. If adopted, a number of these legislative elements will also impact state and local governments. We are actively reviewing all aspects of the legislation that could have financial impacts on your organization and will be monitoring any updates closely. Stay tuned for more information as it becomes available.
Allowable uses
Respond to or mitigate the public health emergency with respect to the coronavirus disease 2019 (COVID-19) or its negative economic impacts;
Cover costs incurred as a result of such emergency;
Replace revenue that was lost, delayed or decreased (as determined based on revenue projections for the state, local government, tribal government or territory as of Jan. 27, 2020), as a result of such emergency; or
Address the negative economic impacts of such emergency
What could this mean for your organization's funding allocation?
As noted, these are estimates and subject to change. In addition, the proposed legislation states that, "The total amount distributed to a nonentitlement unit of local government under this paragraph may not exceed the amount equal to 75% of the most recent budget for the nonentitlement unit of local government as of Jan. 27, 2020." Nonentitlement units of local government are those with less than 50,000 in population.
What is the proposed effective date?
This funding is part of a larger $1.9 trillion COVID-19 economic relief and stimulus package referred to as the American Rescue Plan. The goal of the House is to have the American Rescue Plan signed into law by Mar. 14, 2021. The $350 billion proposed funding would be available until expended and would be awarded directly from Treasury within 60 days of enactment to the states, tribes and territories. Payments for nonentitlement local governments will be funneled through the states.
What should you do to prepare?
Identify revenue losses that have occurred or are anticipated to occur
Identify current or anticipated costs that align with the allowable uses above
Consider the compliance requirements associated with any funding expended (i.e., single audit requirements)
Determine how this funding fits into your organization's current and future financial plan and what it means for your community
Tap into Baker Tilly's knowledge and experience
The mission of our public sector practice is to help you build strong communities. We continue to monitor the latest information on the funding packages, what is being proposed and how we can partner with you to navigate through the complex compliance requirements and strategize how to maximize your funding sources. Lean on us as your Value Architects™ to protect and enhance your organization's assets. You can count on our experience from the previous rounds of COVID-19 funding to assist your organization.
Coronavirus Resource Center
Please visit our Coronavirus Resource Center for state and local governments for current and comprehensive news, programs, insights and other information to assist governments with the business and community impact of this pandemic.
Connect with us
For more information, or to learn how Baker Tilly's public sector specialists can help your organization, contact our team.