Authored by Mark Baron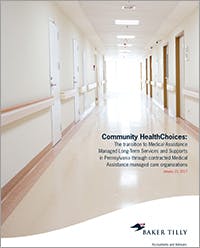 Pennsylvania currently provides fee-for-service long-term care through the Office of Long-Term Living (OLTL) with a plan to transition to Community HealthChoices (CHC) Managed Long-Term Services and Supports (MLTSS) beginning in January 2018.
CHC is a new initiative that will use managed care organizations to coordinate physical healthcare and long-term services and supports for older persons, persons with physical disabilities and Pennsylvanians who are dually eligible for Medicare and Medicaid.
There are various concerns about CHC that healthcare providers are beginning to become aware of. In this whitepaper, Baker Tilly provides an overview of the program and its components to date, as well as a comparison to the already implemented MLTSS programs in New Jersey and New York.