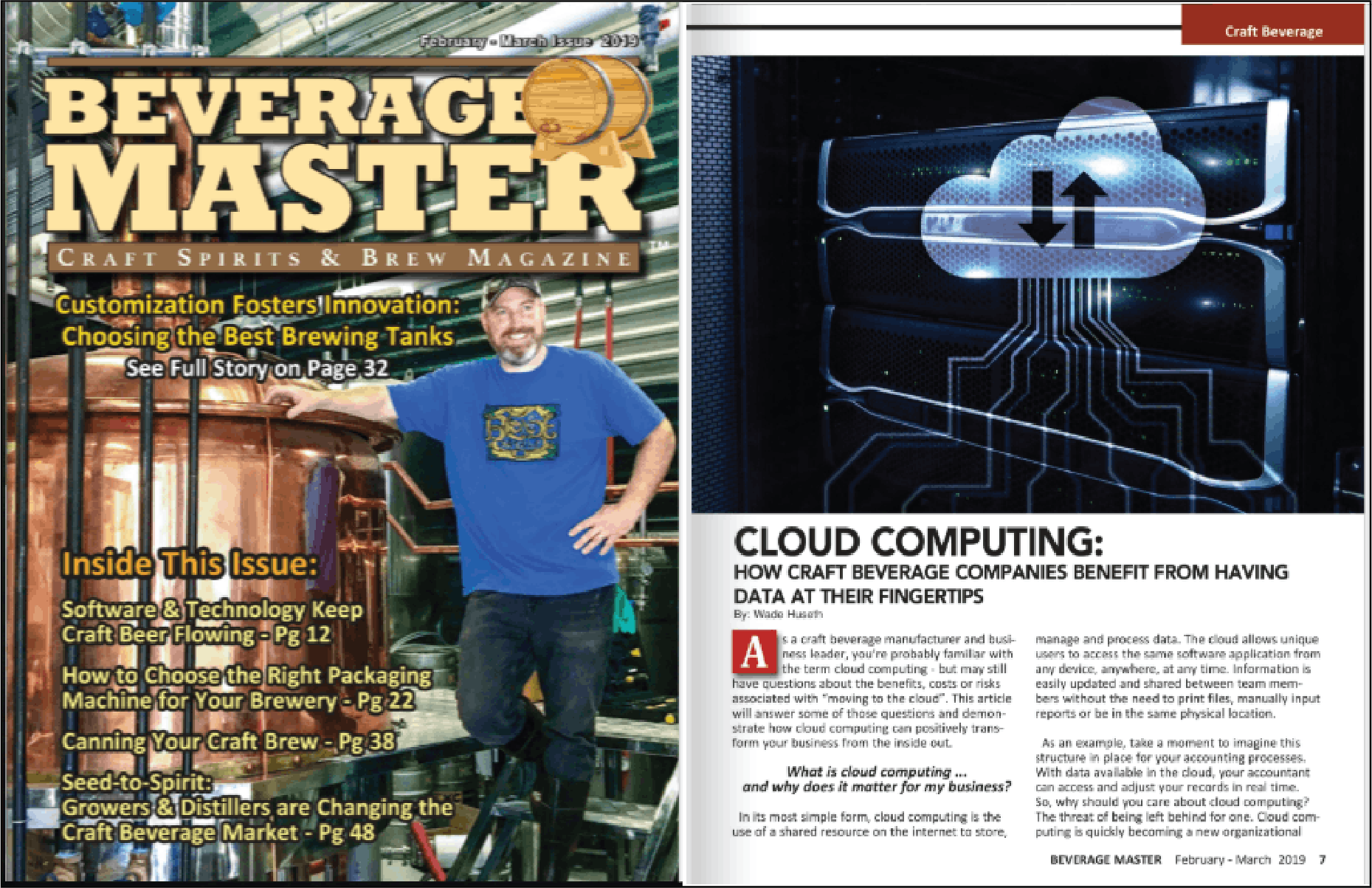 Reprinted courtesy of Beverage Master. Read the full issue.

As a craft beverage manufacturer and business leader, you're probably familiar with the term cloud computing - but may still have questions about the benefits, costs or risks associated with "moving to the cloud". This article will answer some of those questions and demonstrate how cloud computing can positively transform your business from the inside out.
What is cloud computing ... and why does it matter for my business?
In its most simple form, cloud computing is the use of a shared resource on the internet to store, manage and process data. The cloud allows unique users to access the same software application from any device, anywhere, at any time. Information is easily updated and shared between team members without the need to print files, manually input reports or be in the same physical location.
As an example, take a moment to imagine this structure in place for your accounting processes. With data available in the cloud, your accountant can access and adjust your records in real time.
So, why should you care about cloud computing? The threat of being left behind for one. Cloud computing is quickly becoming a new organizational norm. Emerging research on the topic speaks for itself.
Nearly 90 percent of all financial decision makers are already aware of cloud computing and the overwhelming majority believe cloud computing brings quantifiable business benefits critical to the success of their organizations.[1]
The cloud is the new normal for enterprise applications, with 70 percent of all organizations having at least one application in the cloud today.[2]
Wikibon is predicting enterprise cloud spending will grow at a 16 percent compound annual growth (CAGR) run rate between 2016 and 2026.[3]
Business/data analytics and data storage (both 43 percent), so critical in the competitive craft beverage industry today, are projected to lead the decision for cloud adoption in 2019 and beyond.[4]
Benefits of cloud computing
How can cloud computing improve my business?
We're glad you asked. Here are a few ways cloud computing can positively impact your operational, financial and organizational goals:
Scalability
Reduced IT and operational costs
Enhanced efficiencies through automation and collaboration
Information mobility and accessibility
Greater visibility into your competitive advantages
Increased productivity
Disaster resistance
Scalability: Successful craft brewers are growing at an unprecedented rate and the ability to scale on an as-needed basis is one of the biggest advantages of cloud computing. Accelerated business growth typically leads to growing pains and missed opportunities resulting from the mismanagement of more data, infrastructure and customers. The right cloud computing solution will grow alongside your business to meet market demands and accommodate growth as technology shifts, revenues grow and your business needs evolve.
Reduced IT and operational costs: When it comes to budgeting for infrastructure, the cloud eliminates hefty upfront costs for computer hardware and licenses. Instead, you pay a monthly software subscription based on usage that can be adjusted over time. Cloud computing allows craft beverage companies to work with business professionals with expertise in areas where your team may be lacking from a skill set standpoint. It allows you to share information in real time for consultation in areas you would rather outsource such as CFO services, IT, human resource management, sales analytics, accounting, and payroll / performance compensation so you can focus on what you do best which is brewing quality beer. Cloud computing isn't just good for business - it's good for the environment, too. In one example, the U.S. General Services Administration reduced server energy consumption by nearly 90 percent and carbon emissions by 85 percent after switching users to a cloud solution.[5]
Enhanced efficiencies through automation and collaboration: Craft business owners are always looking for efficiency savings and implementing a cloud solution means you can say goodbye to manual entries or physical backups to secure data. For example, cloud-based accounting software typically automates processes by importing transaction data on a real-time basis. The cloud computing model empowers team members to collaborate and share information beyond traditional communication methods - allowing multiple facilities and/or taprooms to co-manage production, raw materials, packaging levels and distribution scheduling.
Information mobility and accessibility: Information mobility and accessibility are two major benefits associated with the widespread adoption of smart phones and tablets across the global workforce. Cloud technology gives business owners access to critical data and reports on the go with anytime-anywhere access for quick and more informed decision making. In today's market as a craft beverage manufacturer, it is critical to maintain ongoing communication via a CRM tool not only within your own sales team but with your distributor partners to ensure opportunities are addressed quickly and everyone is executing as planned. As a business leader, you can customize authorities and grant individual user access through a comprehensive authorization process.
Greater visibility into your competitive advantages: Taking it one step further, the ability for craft beverage companies to access data in real time also makes that data more useful in identifying trends, comparing results to industry benchmarks, monitoring key performance indicators and, ultimately, being a better business partner to your distributors and retailers. Harvard Business Review Analytic Services reported that 74 percent of cloud computing businesses feel they have a competitive advantage.[6]
Increased productivity: The blend of increased collaboration, added efficiencies, enterprisewide visibility and more informed decision making can only lead to one thing: more productivity. In fact, a survey by Frost & Sullivan found companies that invest in collaboration technologies increased productivity by as much as 400 percent.[7] Cloud solutions allow employees, service providers and senior leadership to devote more time and energy to achieving strategic business goals. In some cases, it can also free up resources for the other ongoing capital investments required from beverage companies such as marketing, point of connection materials, event activation, research and development and employee training.
Disaster resistance: Paper files and hardware systems run the risk of being destroyed by natural disasters like fires, hurricanes and earthquakes. While cybersecurity remains a top concern for potential cloud adapters, losing important data to a disaster can completely devastate your business. Cloud technology recovery methods mitigate this risk by securing a copy of your data in a centralized server location, should a natural disaster occur.
Data security
What's the catch? Is security a concern?
Cloud security is a hot topic, and rightfully so. Critics argue the risks of turning your data over to an external provider need to be taken seriously, and data security is the leading concern for IT professionals when it comes to cloud computing.[8] Additionally, a mere 23 percent of organizations today completely trust public clouds to keep their data secure[9] and many surveyed professionals attribute a delay in cloud adoption to a lack of cybersecurity skills.
There is a widespread misconception that keeping IT operations in house is safer when, in reality, a third-party firm may be more capable of looking after your data. Unlike the IT management process a typical craft beverage company has in place, third-party providers offer devoted cybersecurity professionals with relevant technical credentials and a business model focused predominately around data security. As a result, they bring the expertise required to handle (and alert clients to) threats that include data breaches, insecure interfaces, system vulnerabilities, account hijacking and malicious insiders. Third party providers also keep up with the latest technology and industry developments, bring best practices forward based on interactions with other similar businesses, don't require a benefits package including vacation and remove the threat of leaving with critical intellectual property such as recipes or brewing process insights.
Cloud computing: Next steps
Okay, I've bought in to the benefits of cloud computing. Now what?
The majority of businesses hire an external consulting firm to help implement a cloud strategy.[10] Working with an outside service provider gives you access to A) the latest and greatest technologies, B) industry specialists with an objective opinion and C) a reduction in both risk and cost.
Look for a firm that will work collaboratively with you to demystify the cloud to help your business thrive while making you a more informed and - as a result - more successful business leader throughout the process. Though the main focus may center on how cloud computing integrates with your financial reporting, cloud computing extends across many areas and is not limited to accounting functions.
Going beyond the basics, your chosen firm should assist you in understanding your data and leveraging it to make better business decisions. Every beverage company is different, so you should handpick a cloud solution customized to your unique needs and use that platform to transform what was once static accounting data and boring operational and sales statistics into a robust business management dashboard.
Business intelligence through analytics - dashboards - help identify trends, benchmarking comparisons, investment choices, planning opportunities and, most importantly, what your next business move should be. The beverage business is becoming less predictable with fewer loyal consumers. Staying a step ahead of your peers in this rapidly changing environment is critical to maintain a competitive advantage and realize long term success.
Cloud computing is more than just a technological fad. It represents the future of business and can transform your data whether it be sales, marketing, inventory/production or accounting records into a useful business tool.
For more information on this topic, or to learn how Baker Tilly craft beverage specialists can help, contact our team.
Cited resources:
[1] VansonBourne. The Business Impact of the Cloud. March 2012: http://static.ziftsolutions.com/files/8a57cb7d3e5aa0dd013e61c646bbld58.pdf
[2] Olson, Marc. Cloud Computing Trends to Watch in 2018. 2017: Apiumhub - Tech Hub blog, https://apiumhub.com/tech-blog-barcelona/cloud-computing/
[3] Columbus, Louis. Cloud Computing Forecasts. April 2017: Forbes, https://www.forbes.com/sites/louiscolumbus/2017/04/29/roundup-of-cloud-computing-forecasts-2017 /#255303f31e87
[4] Columbus, Louis. Analytics, Data Storage Will Lead Cloud Adoption In 2017. November 2016: Forbes, https://www.forbes.com/sites/louiscolumbus/2016/11/20/ analytics-data-storage-will-lead-cloud­adoption-in-2017/#14445217e7ad
[5] Hölzle, Urs. Cloud Computing Can Use Energy Efficiently. September 2012: The New York Times, https://www.nytimes.com/roomfordebate/2012/09/23/informations-environmental-cost/cloud­computing-can-use-energy-efficiently
[6] HBR Analytic Services. Business Agility in the Cloud. June 2014: Harvard Business Review, https://hbr.org/resources/pdfs/tools/Verizon_Report_June2014.pdf
[7] Wiese, Carl. The Return on Collaboration: Assessing the Value of Today's Collaboration Solutions. May 2010: Cisco, https://communities.cisco.com/docs/DOC-16566
[8] Online Tech. Top 5 Tips for Cloud Computing Security. 2018: OnlineTech, http://onlinetech.com/resources/top-5-tips-for-cloud-computing-security
[9] McAfee. Building Trust in a Cloudy Sky. 2017: McAfee, https://www.mcafee.com/us/solutions/lp/cloud-security-report.html
[10] Panko, Riley. How Businesses Use Cloud Computing: 2017 Survey. June 2017: Clutch, https://clutch.co/cloud/resources/annual-cloud-computing-survey-2017