In a recent webinar, Getting more value for your community and hospital in round two, Baker Tilly discussed specific examples of how hospitals are using community health needs assessments (CHNA) to inform population health management initiatives. The CHNA specialists went into detail about the following topics:
IRS Final Rules for CHNA and reporting
Building on your previous CHNA in round two
Using your CHNA to inform Population Health Management initiatives
As you begin planning for your next CHNA, consider these questions.
How will you evaluate the effectiveness of your last CHNA and build a process for the next round?
What data will you collect and update this round?
How will you incorporate PHM data needs into CHNA?
How will you prioritize needs and/or refine priorities from your last Implementation Strategy?
How can you use program evaluation to show ROI on community health efforts?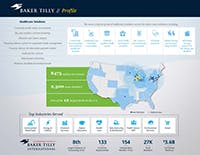 The information provided here is of a general nature and is not intended to address the specific circumstances of any individual or entity. In specific circumstances, the services of a professional should be sought. Tax information, if any, contained in this communication was not intended or written to be used by any person for the purpose of avoiding penalties, nor should such information be construed as an opinion upon which any person may rely.  The intended recipients of this communication and any attachments are not subject to any limitation on the disclosure of the tax treatment or tax structure of any transaction or matter that is the subject of this communication and any attachments.