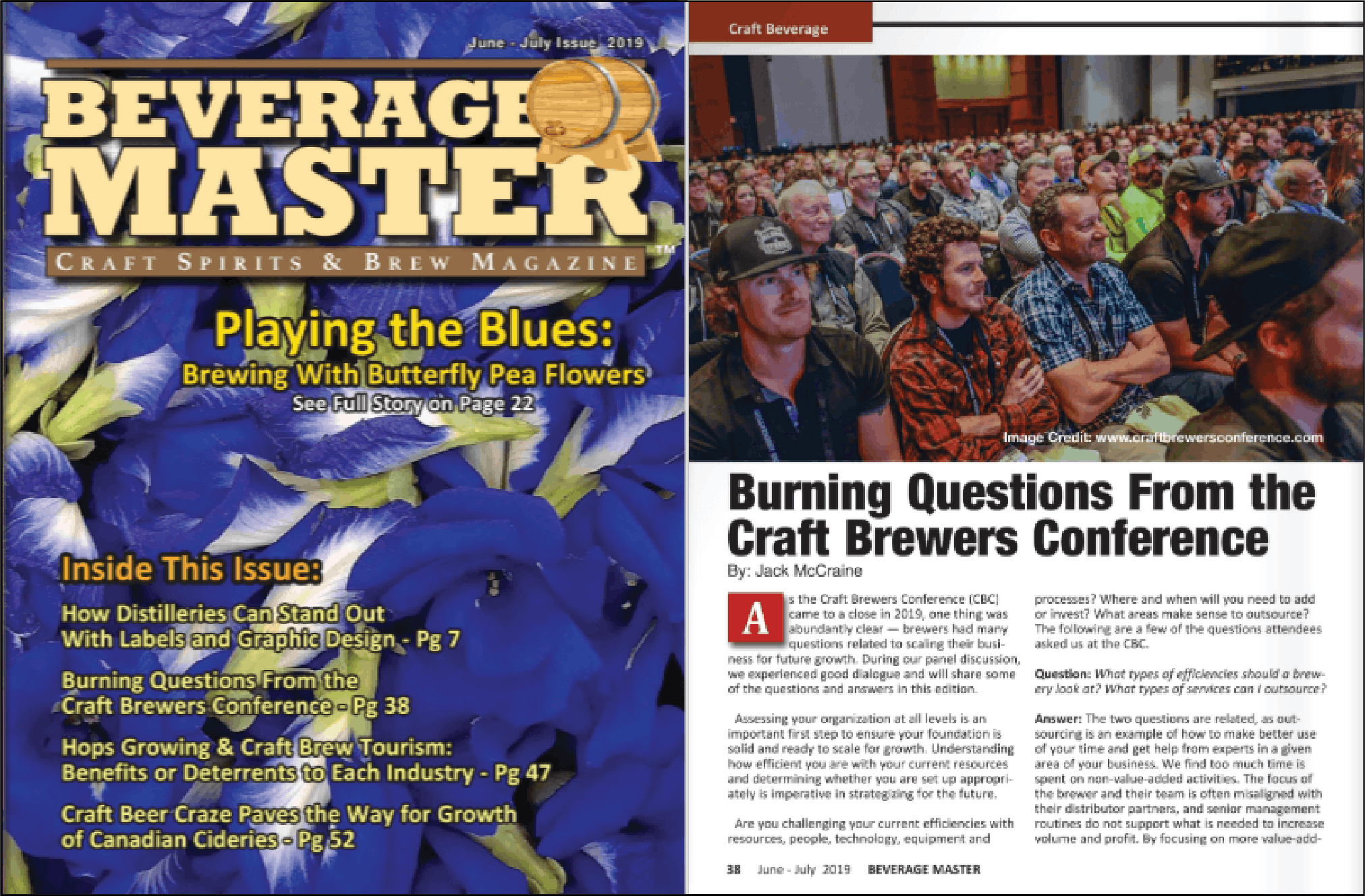 Reprinted courtesy of Beverage Master.

As the Craft Brewers Conference (CBC) came to a close in 2019, one thing was abundantly clear — brewers had many questions related to scaling their business for future growth. During our panel discussion, we experienced good dialogue and will share some of the questions and answers in this edition. 
Assessing your organization at all levels is an important first step to ensure your foundation is solid and ready to scale for growth. Understanding how efficient you are with your current resources and determining whether you are set up appropriately is imperative in strategizing for the future.
Are you challenging your current efficiencies with resources, people, technology, equipment and processes? Where and when will you need to add or invest? What areas make sense to outsource? The following are a few of the questions attendees asked us at the CBC.
Question: What types of efficiencies should a brewery look at? What types of services can I outsource?
Answer: The two questions are related, as outsourcing is an example of how to make better use of your time and get help from experts in a given area of your business. We find too much time is spent on non-value-added activities. The focus of the brewer and their team is often misaligned with their distributor partners, and senior management routines do not support what is needed to increase volume and profit. By focusing on more value-added activities and less time on routines that don't support growth, you can improve efficiencies. Some examples include: 
Standard operating procedures (SOPs): Check, double check and check again! When it comes to quality control you can't afford to have mistakes. This might not be a time saver, but it can make a significant difference if the current SOP is conducted haphazardly or is incomplete. We often see the time savings effects when strong SOPs are finally put in place, are followed and no issues arise. 
Buy in bulk: Can't find room? Move barrel-aging or other items that are seldom used off-site to make more use out of your current space.
Reduce brands and SKU's outside of core/local footprint: Use data, retail surveys and input from distributors to better understand what's selling vs. what you want to sell. Focusing on fewer brands or SKUs can help your team focus on what's working to grow brand equity. Spend your time on what the consumer is buying instead of wasting time pushing something that isn't connecting with the market.
Routine management: Use data and distributor (if you have one) input to map account calls. Revisit the plan each quarter, tweak based on performance metrics, competitive activity and distributor input. Develop a methodology that makes sense for your brewery. The below chart shows a suggested breakout of segmenting calls for a quarter: 

Retail surveys reveal that buyers and decision makers want their supplier and distributor sales reps to be more predictable with their visits, have an objective, and bring fresh ideas and best practices to grow their business. They truly want to be sold instead of applying relationship pressure in the sales pitch. Meeting on a consistent and regular basis will allow the retailer to mentally prepare for the engagement.
Maximize ownership, production leaders and other senior management with scheduled account calls – they can be more effective at motivating, educating and convincing a retailer or distributor than brewery reps because of their authenticity and expertise.  
Sell a plan to buyers/decision makers rather than one SKU at a time: With this approach, your team can manage the plan and truly partner with the retailer on their business, reducing the need for numerous visits and ongoing pitches. If you want to gain a competitive edge in the market, spend more time developing a fully-integrated plan for your retailers. 
Fractional CFO and other key positions can be outsourced: Most breweries under $20 million in revenue are unlikely to maximize the talents of a CFO. That's like having a 1,000 horsepower engine in a Pinto. It works, but it's hard to really make use of the full power under your hood. 
Determine if a strategic partner can take some tasks off your plate: Often, owners of smaller breweries are responsible for payroll, paying bills, fielding emails and taking all appointments from people knocking on the door. Adjusting your accounting approach from traditional in-house methods to an outsourced approach can free up your time to focus on what matters most – running your business. A strategic partner should have the expertise and resources to provide accounting, operational and strategic support through a combination of technology, data, analysis and insight with business advisory services to help you achieve your goals.
Spend more time moving the "big stones": Your time as owner in the earlier stages of your business is critical. Lead, motivate and thank people for their business instead of selling. Yes, that wasn't a typo….leave the selling up to your front-line team. Give them the training, tools, data, CRM, compensation and KPIs they need to win at retail and with their distributor partners (if you have them).
Question: What is the significance of having visibility into my financials mid-month? How can I leverage that information?
Answer: Real-time visibility into your financials allows you to leverage technology to improve the timeliness and accuracy of financial reporting, enabling ongoing analysis and actions that capture opportunities to grow top-line or improve bottom-line results. Access to critical financial data and reporting generates proactive decision-making with quicker reactions to changing business conditions. As one of many brewers in today's saturated market, it is important to maintain ongoing communication within your own teams, but also with your distributor partners to ensure opportunities are addressed quickly and executed as planned. Taking it one step further, the ability for craft beverage companies to access, interpret and take action with their own data makes it more likely they will foresee underlining trends, compare results to industry benchmarks, monitor key performance indicators and ultimately run a better business.
Question: When scaling a business, how do you determine when it's appropriate to increase headcount vs. retraining?
Answer: Training won't be successful if the individual isn't a good fit based on aptitude or skill-set, nor will it be optimal if strong processes, tools and support aren't aligned with critical resources to achieve business objectives. Training can be appropriate and maximized to yield strong results if the organization has invested in the right people, structure and support for each position.  
Everyone should have a job description and solid routines that provide time to achieve what they are assigned to accomplish. It is preferable to maximize current employee's skills/abilities before adding more manpower. Many breweries assign tasks or pieces of the business to individuals closest to the job function instead of the person who is best suited for the responsibility. This often results in bloated project timelines, producing nominal output because the person responsible is not a good fit for the assignment. Make sure you have the right people assigned to the critical areas of your business. These can be harder decisions to make than increasing staff. 
Most breweries add a staff member if they enter a new territory, but you could benefit by reevaluating that approach. Could ownership or senior management share time in that territory for the first 6-12 months with a realistic call frequency? Could one of the brewers tell the story and represent the brands better than anyone else? What can be taken off the owner's or senior management's plate to make this a reality without adding a costly full-time employee?    
Training or retraining can be costly if people don't have the aptitude, aren't respected or are missing the passion to accept the challenge. Depending upon the process or task, we recommend exploring a few options to ensure your team has the best chance to drive better results for your brewery:
Develop a job description for all members of the company.
Challenge the roles and the "value-added" nature of the assignments within your company at every level. Can you move some responsibilities to a lesser paid employee or outsource the service to an expert who has potential to generate better results and/or cost less?
Routine management should be verified using data.
This is specific to outlining expectations daily, weekly and quarterly so there is structure and guidance for the position. This can be documented with some estimated percentages of required time for various categories of activities. If you are paying someone to do the job then it is worth tracking and measuring to ensure the plan is working.    
Perform a thorough review of SOPs and ensure the appropriate levels of the organization have the necessary data available for their positions. Utilize tools to minimize time spent on tasks and maximize results, a CRM system to stay organized, a profit calculator for more professional sales pitches and follow-up recaps and support from others such as content experts (ownership, senior management, production team members).
There are some things that training can't fix quickly. If these things are maximized, we typically find training can be implemented at a higher and more sophisticated level. You won't need to teach them the basics, you can move deeper into strategy and tactics: negotiating and influencing the decision maker vs. selling. 
Does the individual lack the necessary personality for the position?
Sometimes there is a mismatch and poor cultural fit for the position. Taking an objective look at the situation can help identify if the issue is with the process, policy, procedure, or if it is a staffing issue that needs to be addressed.
 Hiring external advisors
Utilizing external business advisors can help with many of the situations we covered. They will identify strategic changes you can make to thrive now and help you plan for the future. Look for a firm that will work collaboratively to help your business grow while making you a more informed and successful business leader.
Ensure your advisors have:
The right credentials
Deep experience in the beverage industry
A proven team of experienced professionals with credible references
Practitioners with extensive experience in the craft brewing industry can be that trusted advisor to help you navigate difficult decisions, while leveraging best practice experiences to help you scale for future growth.
Join us for part two in the next issue of Beverage Master Magazine, where we will tackle the answers to additional questions from brewers at the CBC.
For more information on this topic, or to learn how Baker Tilly specialists can help, contact our team.