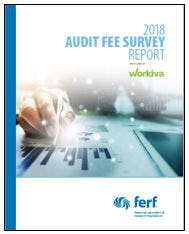 In January, the 2018 Audit Fee Survey Report was released by Financial Executives International (FEI). Public company respondents to the Financial Executives Research Foundation's survey showed "comparatively modest increases in audit fees, with public companies reporting a median increase of 2.5 percent. Similarly, private companies reported a median increase of 3.2 percent, and nonprofit organizations reported flat fees."
Baker Tilly's own Chris Jeffrey, a partner in the firm's risk advisory practice, is quoted in the report emphasizing the importance of collaboration for a successful engagement.
We "…work with our clients to increase collaboration between the company, internal audit, and external auditors, and that certainly yields benefits. We want to prevent surprises so we can march forward with the same understanding…."
The report is complimentary for FEI members and available for a fee to non-members.
Download the complete report here >
For more information on this topic, or to learn how Baker Tilly specialists can help, contact our team.