As communities across the country grapple with deteriorating infrastructure and the economic impact of COVID-19, Baker Tilly COMPASS is a collaborative service model designed to guide you through the historic wave of federal funding.
There is currently an unprecedented level of federal dollars flowing into our communities through the American Rescue Plan Act of 2021 (ARP) and the Infrastructure Investment and Jobs Act (IIJA). Navigating this funding is complex and can be overwhelming. To take advantage of the opportunities that these funding sources offer, it is important for public sector entities to be proactive in their pursuit and to build a nimble and experienced team. Baker Tilly COMPASS can help.
Our team will meet you where you are in your community's funding journey, but the process typically begins with an understanding and assessment of community goals, recovery needs and capital priorities. If you can imagine your community in five, 10 or 20 years, Baker Tilly COMPASS will help craft a strategic funding path to reach those goals. The below graphic visually represents each point in our comprehensive solution.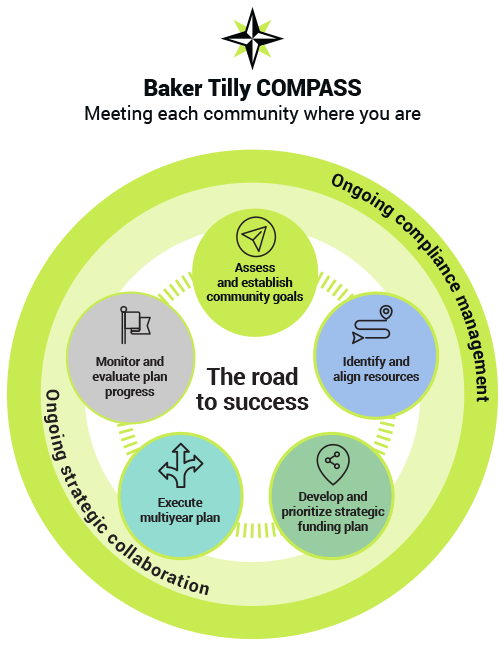 By engaging with Baker Tilly, you will have access to a team of hundreds of specialized public sector professionals that are focused on accessing and analyzing the new federal funding sources along with the tried-and-true public and private financial resources that have been around for decades.
American Rescue Plan Act
In March 2021, the ARP was signed into law. The $1.9 trillion package, designed to combat the COVID-19 pandemic, includes $350 billion in Fiscal Recovery Funds (FRF), which were allocated directly to states, tribes, territories, municipalities and counties. This flexible funding creates an amazing opportunity for communities to rebuild and grow from the pandemic. It also requires recipients to prioritize projects, make difficult decisions and understand the vast array of rules, regulations and U.S. Treasury guidance related to the funding. In addition to the FRF, the ARP includes competitive funding that can help you achieve your community's vision:

Flexibility Act
The pending State, Local, Tribal and Territorial Fiscal Recovery, Infrastructure, and Disaster Relief Act (Flexibility Act) passed in the Senate and is expected to be considered in the House in early 2022. If passed by Congress, the Flexibility Act will offer expanded FRF spending opportunities and deadlines for governments. Learn more about how the Flexibility Act could be transformational for communities in this article.
Infrastructure Investment and Jobs Act
The bipartisan IIJA provides $1.2 trillion in federal spending over the next five years. The Act addresses provisions related to federal aid for highway, transit, highway safety, motor carrier, research, hazardous materials and rail programs of the Department of Transportation (DOT). The following is a funding breakdown:

Resource alignment: bringing it all together
In order to get the most out of these federal funding opportunities, communities should build a team and engage specialists with an in-depth understanding of the new and existing financial tools and resources. These include federal, state and local tools, many of which can be used to leverage private investment.
A cohesive, collaborative plan for funding your community priorities and needs should consider all available tools, which include municipal bonds, state resources such as grants, loans and tax credits and existing federal resources such as New Markets Tax Credits, Historic Tax Credits and Low-Income Housing Tax Credits.
Let Baker Tilly COMPASS be your guide to creating and executing a strategic funding plan that ensures you leverage the vast resources available to achieve your community's vision.
For more information on Baker Tilly COMPASS, or to collaborate with us on your federal funding journey, contact our team.