Auto manufacturers and their suppliers will have to become more nimble as they face internal and external forces that are changing their industry. Speaking at the virtual PowerPlex 2020 conference in May, Peter Pearce, Principal, Enterprise Solutions, and Erich Bergen, Director, Consulting at Baker Tilly emphasized that traditional car companies that learn to pivot their business based on effectively using data to address new realities in the mobility industry will have a distinct advantage over the competition.
The state of the auto industry
Pearce said that the auto industry was in a "destructive phase" even prior to the coronavirus pandemic that hit the world economy hard in March. Demands for internal combustion engine (ICE) cars are trending downward; Pearce noted a 5% drop in automobile sales globally in 2019, and anticipates a 30% drop in U.S. auto sales by 2022. In addition, changes in international tariffs on automobiles, new emissions and sustainability standards in several countries and changing consumer tastes have contributed to tapping the brakes on auto sales.
Still, sales of electric vehicles (EVs) are steadily increasing, and likely will top 50% of all vehicle sales sometime between 2025 and 2030. Because of this trend, manufacturers of ICE automobiles are increasing their investment in EVs.
Battery development
EVs are about 2.5 times more expensive than ICE autos. The most expensive component of an EV is the battery by far. Parity in research and development (R&D) costs will come quickly, and the prices of EVs will become more competitive, as more companies invest in EV battery and power train development. Pearce noted that a significant difference between manufacturing ICE and EVs is the number of moving parts: over 10,000 moving parts in an ICE car versus 50 to 100 moving parts in an electric car.
The supply chain for all vehicles slowed tremendously in March as plants shut down because of the coronavirus. As local economies cautiously reopen, EV manufacturers could potentially ramp up production much faster than ICE manufacturers because there are fewer components in an electric car and more automated production lines, resulting in less changes needed in EV factories to address social distancing concerns. Having a far less complex supply chain also reduces the risk of a plant shutting down due to a shortage of parts from one supplier.
Mobility trends
The future of mobility can be summed up with the acronym CASE – connected, autonomous, shared and electrification.
Most new vehicles are capable of being connected to the internet, mainly through a mobile device. Connectivity, however, is increasingly being embedded into vehicles as they are manufactured, creating a smart device on wheels. Data collected and communicated is forming the basis for new services that enhance the driving experience.
Autonomous, or driverless, vehicles are coming to fruition, even more so in a time of pandemic when utilizing driverless vehicles for both consumer and business deliveries is seen as an advantage for many businesses. Advanced Driver Assistance Systems (ADAS) technology is making vehicles safer as they transition to greater levels of autonomy.
Shared vehicles include services offered through companies like Uber and Lyft. This industry has suffered during the early months of the pandemic, with trip requests down about 80% from their average. As economies open up, trip requests are rising and ride share companies are pivoting to focus on delivery services.
The success of electric vehicles will be driven by consumer preference. Traditional original equipment manufacturers (OEMs) recognize this and are spending money on each part of the CASE paradigm.
Profit margin will also change the focus of OEMs. ICE cars have a profit margin of 10% or less, while the profit margin on a Tesla vehicle is 20% or more. When OEMs realize they can build units with fewer parts, less human labor, and a higher potential profit margin, that will drive their decision-making towards EV manufacturing. Pearce said, "Electric vehicles will be disruptive to the industry not because it's the right thing to do from an environmental perspective, but because it's the right thing to do for profit and for consumer preference."
Changing supply chain relationships
Pearce noted the changing relationship between OEMs and their supply chain. OEMs historically provided mandates to, and exerted significant control over, what and how much was made by different tier companies in their supply chain. In the new world of electric and autonomous vehicles, OEMs are looking to build relationships with vendors, some of whom have never worked with a car company before.
For example, there is a growing need for fast charging power cables so that battery operated cars can quickly recharge and get back on the road. OEMs are looking for partner companies, which may be a legacy company that currently manufactures products that have nothing to do with automotive, but can be adapted for an EV. Pearce's message for companies at different tiers of the supply chain? "Do not hesitate to make relationships with OEMs as they navigate the new world of electric vehicles. They are looking for help and support, so figure out what you can make to support this new industry."
Enterprise impact dimensions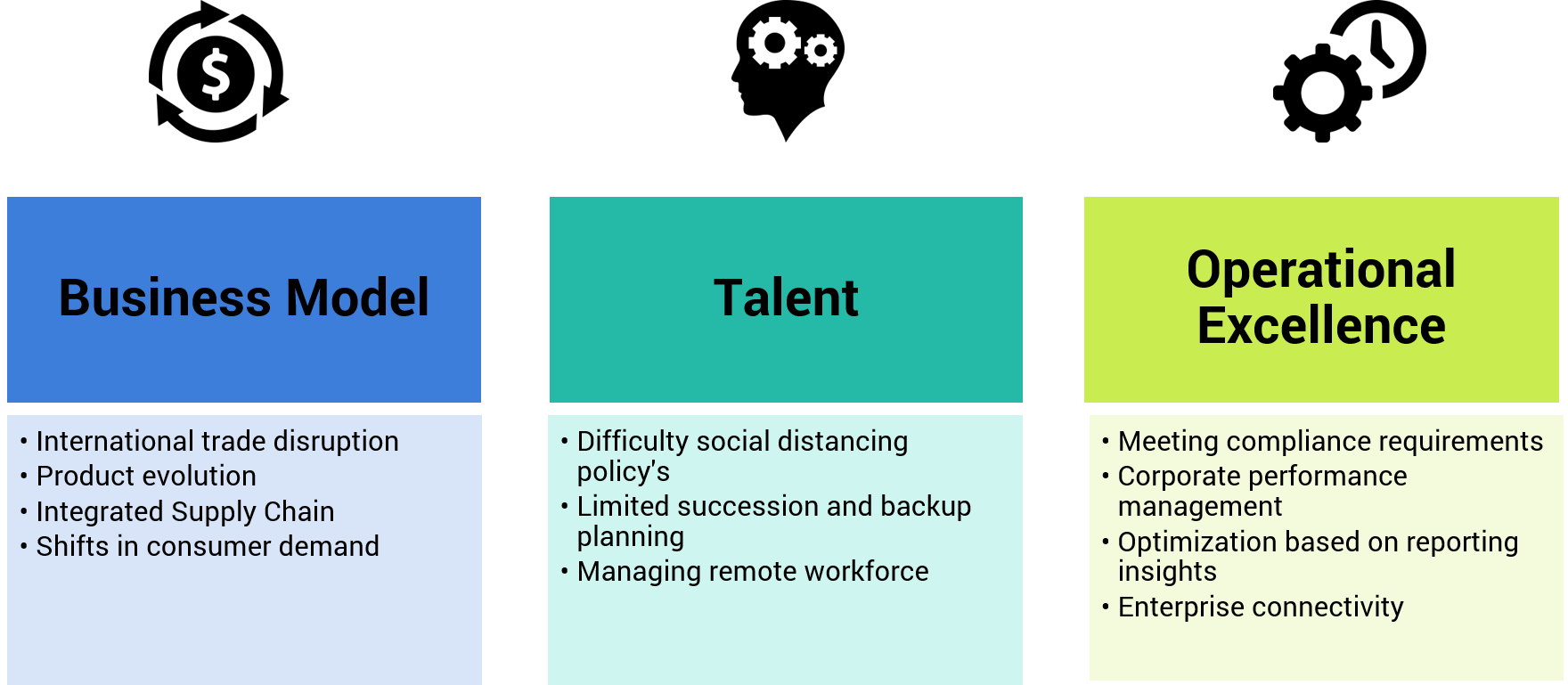 Opportunity in disruption
Bergen said that external forces like trade wars and the COVID-19 pandemic experience will teach companies to look at enterprise strategy in new ways to take advantage of new opportunities. The three things companies must focus on is their business model, talent and operational excellence.
Business model
Bergen noted that decision-making must become more agile, with communication across silos of a business making it easier for companies to decide to pull forward product development opportunities and cut off legacy programs. OEMs have to measure the consumer pulse, especially of younger consumers who are less interested in owning a car.
Many Tier 1 and 2 suppliers are family businesses, and as supply chain relationships change, companies may want to look at accelerating succession plans or changing ownership structures.
Pearce highlighted how the Plex platform will support agile decision-making, helping the business to leverage program management to expedite programs for new opportunities. He said, "Plex isn't a transaction/solution set, but a change enabler taking into account internal and external forces."
Talent
Prior to the pandemic, many businesses in the automotive supply chain were facing talent shortages. As OEMs shift to EV manufacturing and supply, with their more automated production line and fewer parts, the talent shortage may be lessened.
Still, Plex can support talent management in many ways, including repurposing employee scheduling systems to improve employee interaction and also manage social distancing whether on the plant floor, the warehouse or the home office.
Operational excellence
Bergen said that a key to operational excellence is managing cash flow. The pandemic downtime will teach many businesses to think differently about managing costs and increasing efficiency. Pearce noted that businesses can leverage the Plex ecosystem to improve the management of their financial and analytical data. He said, "Plex allows you to be innovative and prepare you for what the new market will be requiring." By improving financial data accuracy, companies are able to make more informed decisions.
As the economy opens up, OEMs are focusing on new revenue streams and canceling traditional lines so they can pivot and "slingshot past the competition." Bergen said, "What COVID has taught everybody is that businesses need to be more nimble, which isn't easy to do in the automotive ecosystem."