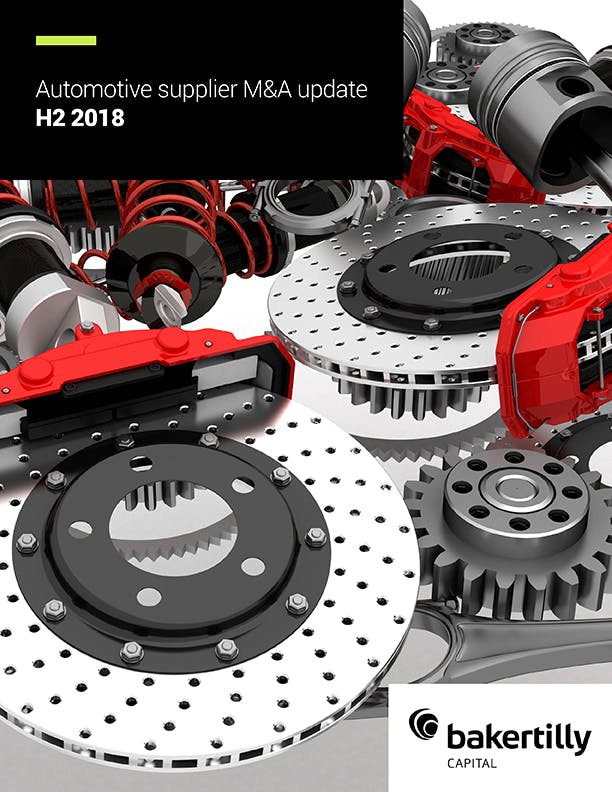 Automotive supplier industry overview and indicators
Baker Tilly Capital, LLC's automotive supplier M&A newsletter provides an overview of the North American automotive supplier sector, including recent performance and North American M&A trends. The North American automotive supplier sector continues to be impacted by original equipment manufacturers' (OEM) growing emphasis on technology, automation and connectivity. Despite concerns of a looming industry disruption, the strategic motivations of suppliers maintained focus on traditional acquisition tactics. Consolidation and product diversification were primary motivations as the automotive supplier industry remains fragmented.
Previously authorized U.S. tariff policies failed to materialize in the back half of 2018 (H2 2018). In addition, the North American Free Trade Agreement was replaced with the United States-Mexico-Canada Agreement, and established commodity specific tariffs on individual countries. While seen generally as a near-term victory for the U.S., adjustments to the agreement shifted automakers to domestically source the production of more parts. Automakers exceeded analyst sales expectations in 2018, but given possible regulatory implications combined with potentially higher interest rate forecasts and consumer confidence levels, the 2019 outlook, according to the National Automobile Dealers Association, is projected to fall 1.1 percent year-over-year to 16 million new-vehicle sales.
Download the complete report >
For more information on this topic, or to learn how Baker Tilly Capital specialists can help, contact our team.
Baker Tilly Capital, LLC disclosure
Baker Tilly Capital, LLC privacy policy
Baker Tilly Capital, LLC social media disclaimer