Automotive supplier industry overview and indicators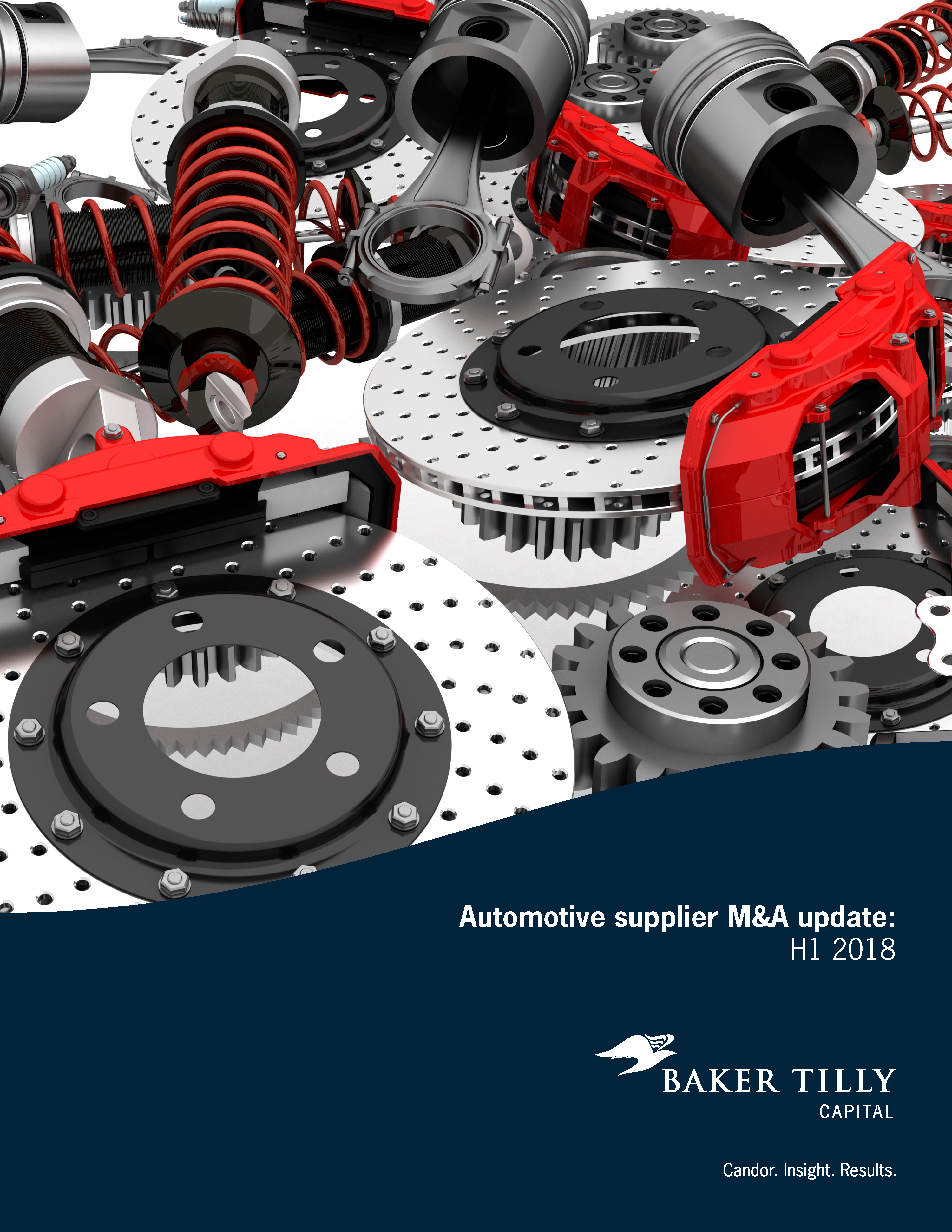 Baker Tilly Capital, LLC's automotive supplier M&A newsletter provides an overview of the North American automotive supplier sector, including recent performance and North American M&A trends. The North American automotive supplier sector has been buffeted by declining unit sales, original equipment manufacturers' (OEM) growing emphasis on technology and automation, and the potential for more restrictive trade policies.
"The first half of 2018 (H1 2018) will deliver the weakest industry retail sales results since 2014," said Thomas King, senior vice president of the data and analytics division at J.D. Power. "However, weaker sales volumes are being offset by higher transaction prices, which are expected to reach $32,221 for the first half of 2018, up $824 compared with 2017. This means consumers are on pace to spend $215 billion on new vehicles, nearly $5 billion more than the first six months of 2017."1 Light vehicle unit sales are expected to decline slightly through 2021.
The trend of cooperation between technology and automotive manufacturers continues as Toyota recently invested an estimated $500 million in Uber Technologies Inc. in order for the companies to work jointly on autonomous vehicles. Toyota's investment is an attempt to accelerate the autonomous ride-sharing. In a similar fashion, General Motors Inc. made an investment in ridesharing service Lyft in early 2016. Automotive manufacturers will continuously work on partnerships within the technology sector as traditional car ownership is exchanged for more mobility services. Most recently, Honda announced it will invest $2 billion over 12 years with an additional $750 million equity investment in Cruise, General Motors' Cruise autonomous division. The investment by Honda places this division's valuation at an estimated $14.6 billion.
Two U.S. policies may have a large impact on automotive suppliers: 1) The Trump administration's renegotiation efforts of the North American Free Trade Agreement, and 2) the investigation under Section 232 of the Trade Expansion Act of 1962 (tariffs to adjust the import of materials from countries it deems a threat to national security). The proposed 25 percent tariff would increase the cost of manufacturing vehicles in the U.S. significantly. According to the American Auto Council, a vehicle that is 65 percent U.S. content level would see their cost to manufacture increase by $2,000 per vehicle. The potential result of the higher cost of manufacturing, if passed, on to the consumer could result in lower demand or lower capital investment if the cost is absorbed by the manufacturer.
1 J.D. Power and LMC Automotive Forecast June 2018
Download the complete report > 
For more information on this topic, or to learn how Baker Tilly Capital specialists can help, contact our team.
Baker Tilly Capital, LLC disclosure
Baker Tilly Capital, LLC privacy policy
Baker Tilly Capital, LLC social media disclaimer