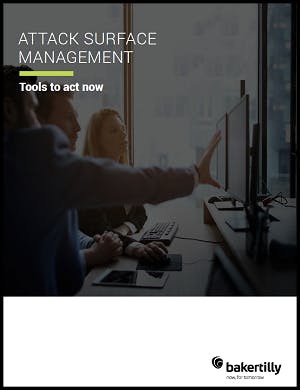 An organization's "attack surface" includes anyone or anything (virtual or physical) that can be exploited by cyber criminals - everything from operating systems and servers to employees, social media accounts and mobile apps. Managing the attack surface is not just an IT initiative. It is a strategic imperative. To manage and control risks to their attack surface, leaders must address the full of set factors in play. This five-part insight introduces the core elements of a cybersecurity risk management program.
Part 1: Hardening the attack surface with secure architecture
Part 2: Unseen risks: The social attack surface
Part 3: Assessing attack surface risk: Vulnerability management
Part 4: Monitoring the attack surface: Making the most of logging capabilities
Part 5: Preparing for a breach: Cyber simulation (table-top exercises and system-based simulations)
For more information on this topic, or to learn how Baker Tilly cybersecurity specialists can help, contact our team.