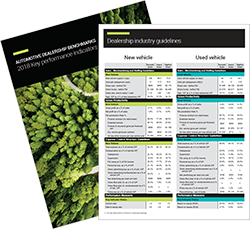 Determine how your dealership stacks up against industry standards with Baker Tilly's 2018 automotive dealership benchmarks report. By analyzing your dealership's operations against industry key performance indicators in each department, you can identify specific areas for improvement – ultimately enabling you to make proactive business decisions that more effectively meet your goals.
Metrics are outlined by new vehicle, used vehicle, service department and parts department and include guidelines in the following categories:
Sales – merchandising and staffing guidelines
Gross productivity
Expense control structure guidelines
Performance measure ratios
Fixed expenses
Compiled by Auto Team America, a network consisting of Baker Tilly and 10 other CPA firms that specialize in serving dealerships, the automotive benchmarks represent the operational statistics from each member firms' most profitable clients and averages that data to define standard industry metrics.
For more information on this topic, or to learn how Baker Tilly dealership specialists can help, contact our team.