Due to the popularity of the initial webinar, Baker Tilly and ACUA were pleased to offer Adventures in Small Shop Auditing Part Two! Small internal audit shops face a number of distinct challenges when providing support to their institutions. We presented this follow-up session to provide insight into additional topics that are on the minds of many higher education internal audit professionals and tailoring them specifically to smaller shops. These topic areas included:
Institutional data reporting
Construction auditing
Making a case for the value of internal audit
Learning objectives
Learning leading industry practices and auditing tips for small auditing departments
Discussing methods for planning and scoping audit activities in a small shop environment
Understanding and incorporating current and emerging risk considerations (construction, institutional data reporting) into risk assessment and audit work plans
Describing how to promote the value of your internal audit shop and build trust with university stakeholders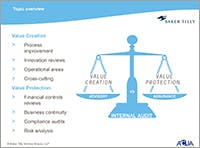 Download the presentation: Adventures in Small Shop Auditing Part Two! >
For more information on this topic, or to learn how Baker Tilly higher education specialists can help, contact our team.