The New Healthcare Paradigm - Optimizing performance through data analytics and benchmarking
Analyzing, benchmarking, and understanding data is critical in the new, value-based world of healthcare. Evaluating data, such as unplanned readmission rates, discharge destination analyses, the frequency of patient visits to the ER, and length of stay by DRG helps hospitals better understand how to improve outcomes and lower overall costs. Reviewing this data on a regular basis helps organizations identify opportunities for improved organizational, patient, and population health management.
Download a regional benchmarking report: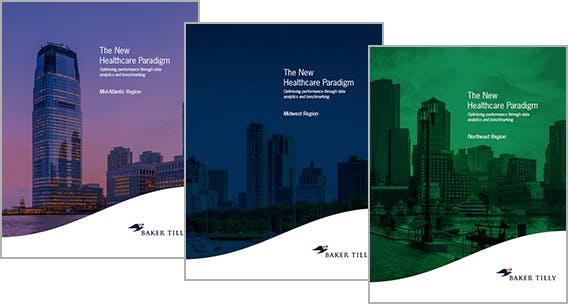 Baker Tilly developed three regional reports that compare and analyze data in three critical areas that will drive sustainability and profitability of healthcare organizations in the future: population health, cost management, and patient outcomes and satisfaction. The data includes hospital, health system, and physician information.