Download the SOC review template >
The importance of vendor management continues to grow, especially given the rise in outsourcing tasks or entire functions of an organization to a service provider. As such, vendor management is becoming increasingly complex as more vendors are providing more services, often handling sensitive data with specific regulatory requirements.
A comprehensive vendor management program is a necessity for many organizations and a vital piece of that program is understanding the risks posed by vendors. To understand these risks, System and Organization Controls (SOC) reports are a key component in the process. However, many organizations simply file them away and fail to perform a critical review of each report that would uncover:
Information that is relevant to their organization (e.g., controls that should be in place as a result of complementary user entity controls)
If the service provider's controls are in place and operating effectively
Potential areas of heightened risk based on results of the examination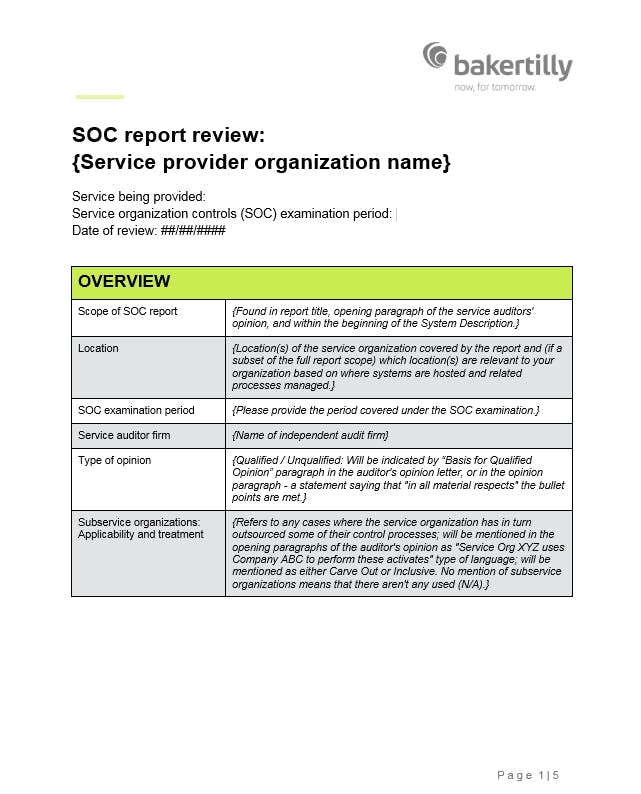 Organizational benefits through a disciplined / consistent vendor management approach
Boards and management are now becoming more involved in the vendor management discussion. As such, they are asking for more transparency related to the vendor management activities performed. They are looking for more insightful information generated from consistent and repeatable processes. A key tool to meet this need is the use of SOC report evaluation templates along with standardized reporting metrics.
Review template
The benefits of using a template like the SOC Report Review Template include:
Helps organizations understand and evaluate the services, control processes and risks specific to each vendor in a consistent manner
Identifies and guides organizations on risk mitigation and overall vendor relationship management activities
Allows for upward reporting to management and board members reviewed on vendor risk management
Download SOC report review template below.
Understand the risks your vendors pose? Download this helpful template.
For more information on this topic, or to learn how Baker Tilly SOC reporting specialists can help, contact our team.