Navigating the Service Contract Act's complex compliance responsibilities is not easy. Learn when the service contract applies and best practices for ensuring that your company does not run afoul of its requirements in an article co-penned by government contractor advisory services principal Jennifer Flickinger published by the Westlaw Journal.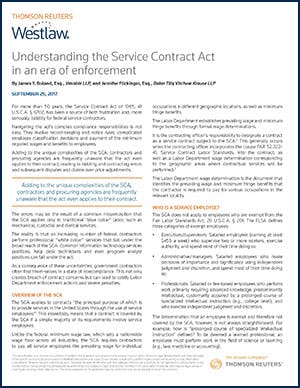 Key takeaways:
Overview of the SCA
Who is a service employee?
Does the SCA Cover my contract?
Employee Classification
Health & Welfare (Fringe Benefits)
Vacation, Holiday and Sick Pay
What happens if I receive an audit notice?
Penalties for Noncompliance
Download the Westlaw article >
For more information on this topic, or to learn how Baker Tilly specialists can help, contact our team.