This article is part of a series to provide information relating to the components of assessed valuation, property classifications and how to analyze a unit's tax base.
What are the components of Assessed Valuation?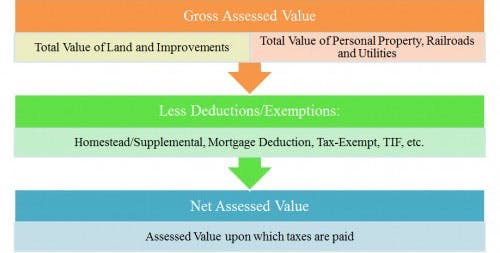 Gross Assessed Value represents the total value of a property before any deductions or exemptions are applied. This value represents the market value of a property (i.e. how much you could sell the property for).
Different deductions and exemptions are available depending on the type of property. Typically the deductions available for homestead properties include the Homestead Deduction, the Supplemental Homestead Deduction and the Mortgage Deduction. Other types of property may have deductions for TIF or Tax-Exempt status. Deductions reduce the amount of assessed value upon which taxes are paid.
Net Assessed Value represents the assessed value upon which taxes are paid after deductions and exemptions are applied. Property taxes are paid per $100 of net assessed valuation.
What are the different types of property classifications?
Agricultural
Business, Commercial, Industrial
Residential (including Mobile Homes)
Utilities
Tax-Exempt
The County Assessor's office distinguishes properties by the property classifications listed above. It is possible for one parcel to have different types of property (i.e. homestead property and agricultural land). Calculations for the Circuit Breaker Tax Caps (1%, 2% and 3%) are based upon these property classifications. The Tax Caps for different types of properties are in the table below: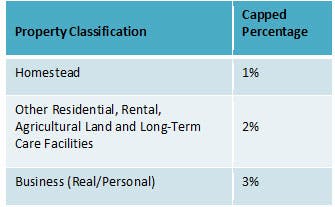 A future article will provide more information on how you can take this information to understand more about your tax base and the implications on Tax Cap losses, and the effect of legislative changes on assessed valuation.
For more information on this topic, or to learn how Baker Tilly municipal specialists can help, contact our team.
Baker Tilly Municipal Advisors, LLC is a registered municipal advisor and wholly-owned subsidiary of Baker Tilly US, LLP, an accounting firm. Baker Tilly US, LLP, trading as Baker Tilly, is a member of the global network of Baker Tilly International Ltd., the members of which are separate and independent legal entities.
The information provided here is of a general nature and is not intended to address the specific circumstances of any individual or entity. In specific circumstances, the services of a professional should be sought. Tax advice, if any, contained in this communication was not intended or written to be used by any taxpayer for the purpose of avoiding penalties.