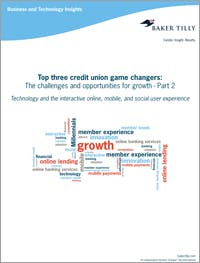 Technology and the interactive online, mobile, and social user experience
Credit unions such as yours are facing intensive competition. Traditional and non-traditional financial providers are leveraging a trio of technologies to redefine their offerings and provide a consistent interactive user experience for their customers. Credit unions need to adopt these technologies to keep pace with their rivals, become more responsive to their members' needs, and provide a consistent interactive member experience. In this whitepaper, discover through our research how credit unions can:
Use big data and analytics to shape/drive their member and growth strategies
Reimagine the end-to-end member experience with mobile technology
Attract new members and service existing members via social media channels, while reducing servicing costs.
For more information on this topic, or to learn how Baker Tilly growth strategy specialists can help, contact our team.