In past generations, economies of advanced countries were based on a combination of commodities and goods. In recent years, however, we have witnessed acceleration away from an economy based on commodities and goods to an economy based on experiences. Just as economic growth has been fuelled by a focus on service as a differentiator, a new catalyst in economic growth has emerged - the experience based economy. Experiences are more difficult to commoditize and therefore will create differentiation for your organization in the marketplace. Today, only 26% of companies have a well-developed strategy in place for improving the customer experience, though 86% of consumers will pay more for a better customer experience.
Key actions you need to take
Companies that do not grasp the implications of this new economy will be left to "hand to hand combat" in the goods and services commodity economy where the race to the lowest cost possible is the goal. We believe there are things companies should do to avoid getting pulled into the commodity trap and thrive in an experienced based economy.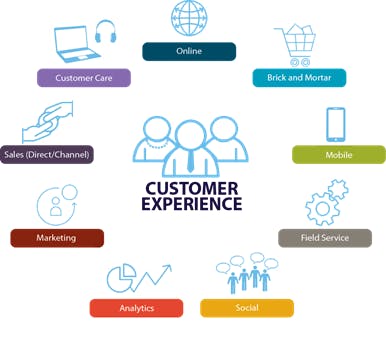 Listen to your customers. Engage with your customers to understand their expectations about their experiences Social and digital media have changed the landscape of voice of the customer research (VoC). VoC data is now continuous, unstructured and more meaningful than ever. Monitor all feedback channels to look for indicators of how your prospects and customers perceive their experiences with your organization. The real time feedback that social media provides is indispensable in providing insight around the customer's expectations.
Seek out great examples. Look for analogous models of great customer experiences and assess potential for adoption of those models in your environment. Our experience shows that many of the best ideas come from organizations outside of your industry that have faced similar challenges.
Define the customer experience. Adjust customer experience based on the feedback from your customers to define a consistent, effective experience across all channels. Adopt innovation techniques, ethnographic research, and conduct "experience experiments" to understand the preferred customer experience through the customer's eyes. New research methods and ideas can be helpful in spurring new thinking and supporting a company's ability to design exceptional customer experiences.
Build an empowered customer experience culture. A culture of delivering the ideal customer experience is everyone's job. To consistently deliver the intended customer experience, marketing is uniquely qualified to drive the culture shift by providing tools, process, learning and coaching. Constantly ask yourself (and encourage your employees to ask), "is this the kind of experience I would like?" and empower front line staff to do the right thing in the name of the ideal customer experience.
Engage with your customers. Customize how you interact with your customers based on who they are, what they care about and what their expectations are. Seek to leverage innovative technology to consistently interact with your customers based on the defined customer experience.
Assign ownership. Assess your organization's ability to deliver the customer experience and the talent required to do so. Best in class organizations have adopted a CCO (Chief Customer Officer) and empowered the role to make meaningful changes across the organization.
Monitor results. Leverage new technologies and analytics capabilities to measure impact of the changes you have made on the customer lifecycle. These solutions allow your organization to build customer experience score cards based on real-time data to monitor your progress and evaluate success.
Build a sustainable process. Developing a differentiated customer experience is a journey, not a one-time activity. Experiences that once delighted customers will eventually become basic expectations and new experiences will need to be created. To sustain the competitive advantage created by the experience created, continue to work through these steps on an ongoing basis as customer expectations are constantly changing.
In an experience based economy, companies that succeed put their customers at the center of their strategy. Organizations with leading customer experiences decline less in the downturns and bounce back faster when the economic cycle improves. By defining the ideal customer experience, building a sustainable process, and leveraging new technologies, companies can create a customer experience that differentiates them from their competitors and positions them for growth. How well is your company positioned?