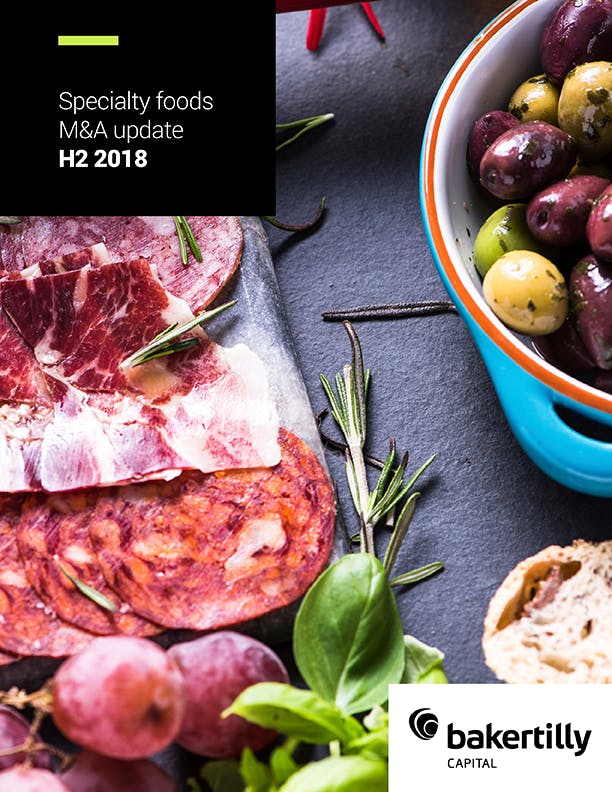 Baker Tilly Capital, LLC's H2 2018 Specialty foods M&A Update provides an overview of the U.S. specialty foods market, industry trends and relevant transactions from July 1, 2018 to December 31, 2018 (H2 2018).
Convenience continues to be among the most popular trends in the food industry, largely driven by demographic shifts as time-conscious millennials comprise a larger portion of the population and more of that generation begins to have children. The consumer shift towards convenience-oriented products has spurred growth in certain subsectors of the specialty foods industry, such as snacks and frozen foods, and has spawned a variety of start-ups and new products, ranging from grab-n-go meals to meal-kit delivery services. Convenience has historically not been synonymous with "healthy" and "fresh" food options, but today's increasingly health-conscious consumers are demanding products that intersect these qualities, which has created both challenges and opportunities for large food companies and small start-ups alike.
Snack foods have been a major beneficiary of the demand for convenience and the frequency of snacking continues to grow. According to surveys performed by Lightspeed and Mintel, 21 percent of survey responders reported snacking more frequently in 2018 than in 2017. How consumers view snacking is also evolving, as snacks are increasingly replacing meals and the demand for healthier and less processed food is driving demand for more functional and nutritious snack products. These factors have resulted in strong growth and prevalence of snack bars and opportunities for new companies to capture market share away from traditional granola bars. According to data from Information Resources, Inc. (I.R.I.), a Chicago-based market research firm, dollar sales of granola bars in the 52 weeks ended October 7, 2018 have declined 3.0 percent compared to the prior year to $1.6 billion, while dollar sales of the overall snack bars/granola bars category increased 2.9 percent over the same period to $6.2 billion. Dollar sales of nutrition and health bars grew 3.5 percent to $3.2 billion in the 52 weeks ended October 7, 2018, while breakfast/cereal/snack bars increased 9.0 percent to $1.4 billion, according to I.R.I. These favorable trends in the bar segment are being capitalized on by some of the largest food manufacturers, as evidenced by new product introductions and acquisitions, including:
General Mills, Inc.'s 2016 acquisition of EPIC Provisions, a provider of meat, fruit and nut bars
Kellogg Company's 2017 purchase of RXBAR, which offers protein bars made with dates, nuts and other ingredients
PepsiCo, Inc.'s 2018 acquisition of Health Warrior, Inc., a maker of plant-based nutrition bars (see page 4 for additional details)
Beverages have increasingly crossed over into the snack space as well, as demand for nutritious snacks between meals has led to new product introductions in drinkable soups and bone broths, plant-based lattes, and cold-pressed juices. Consumers are incorporating more vegetables and fruits into their snacking and food manufacturers are following suit with new products and acquisitions. During H2 2018, a drinkable soup company that previously received investments from General Mills, Tio Gazpacho, was acquired by an importer and marketer of Mexican soft drinks and grocery products, which should help the company further accelerate recent growth and expand the category.
Download the complete report >
For more information on this topic, or to learn how Baker Tilly Capital specialists can help, contact our team.
Baker Tilly Capital, LLC disclosure
Baker Tilly Capital, LLC privacy policy
Baker Tilly Capital, LLC social media disclaimer