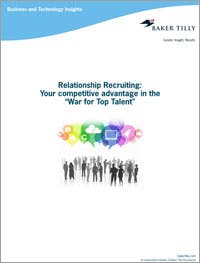 The world of recruiting has changed as has human resources. Leadership within human resources now encompasses everything from being a technology advocate to an agent of organizational change. Today, recruiting involves far more than just posting a requisition and waiting for people to apply – it involves a new focus on how to leverage other people's networks. 
To maintain a competitive advantage in the "war for top talent," organizations must widen their searches and how they recruit new employees. Best-in-class organizations are taking the 'we want you to work with us' approach called relationship recruiting.
In this whitepaper you will learn how to:
Make relationship recruiting an imperative for your organization. 
Tap into the power of your team and employee networks.
Make it easy for employees to refer the right people to open positions. 
Build your pipeline before a position becomes urgent to fill.
Learn how to start the journey toward relationship recruiting.
For more information on this topic, or to learn how Baker Tilly human capital specialists can help, contact our team.