In today's world, the insurance industry is faced with a perfect storm of opportunity, ability and desire to transform. Customers have seen this transformation happen in other industries, and now expect the insurance industry to follow. A critical crossroad has arrived, which allows the technology advancements to provide the ability to challenge the legacy models the industry has thrived on for years and innovate to meet customer expectations. Think of this crossroad as the Can, Want and Need.
Can: The technical ability to augment the existing value chain/business processes to become more fluent, efficient and digital is available.
Want: The breakdown of barriers in traditional insurance delivery and operating models has begun through status quo challenges and search for improvements. The challenge to the status quo has been driven by new entries into the market through unlikely sources, which have lower cost structures, are more efficient and are meeting the customer in their preferred channels of communication.
Need: If insurers want to retain their existing market share and profitability, there is a need to change.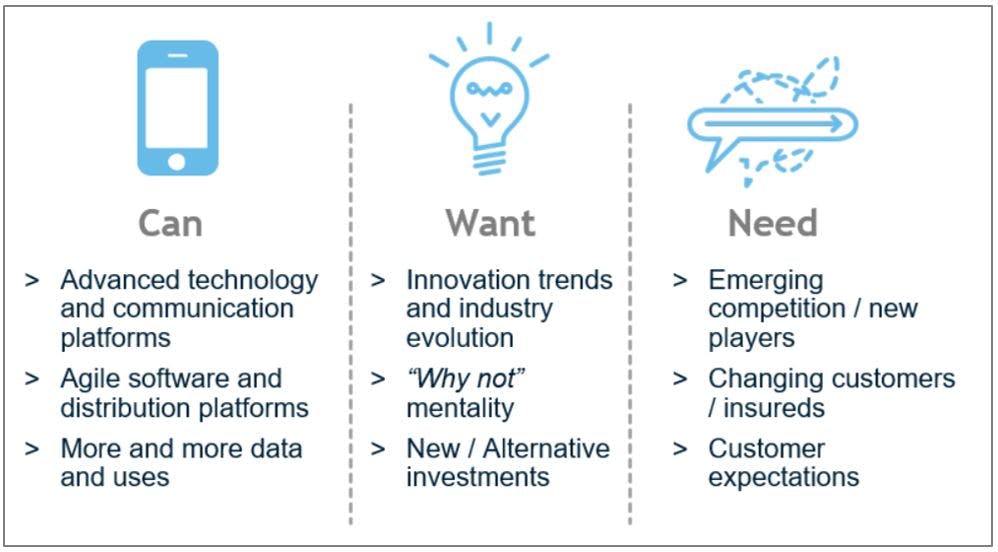 This need is the core driver for change. While having the ability and creativity to challenge old processes/models is great, there is no traction to adopt these innovations without the market need or desires of the customer. Nearly all business challenges exist because a customer (internal or external) has a bad experience with the way something works. The InsurTech revolution is no different. Customer experience (CX) is at the core of almost every technology innovation happening in the insurance industry today. Even though great CX is synonymous with technology companies (think of the ease of ordering from Amazon or searching through Google), incumbent insurers have stepped up to the plate either directly through internal innovation or through collaboration partnerships with those InsurTechs looking to transform the industry.
An elevated focus on CX has shifted from something that would be nice to differentiate your organization, into a baseline table stake and a focus area to satisfy your current and future customers. Common customer behavior changes stem from a variety of factors. Simply stated, consumers want to be given the same engagement channels and convenience of use as they have in the rest of their lives (i.e., online shopping, online banking, streaming television, one-stop shopping, etc.) Customers are looking for insurance companies to interact:
Digitally: With reduced focus on person-to-person communication and elevated desire for anywhere access, customers want digital options…
On-demand: And they want to access when they want, 24/7, 365 days of the year…
On-channel: Where they want to engage, whether that is on their phone, laptop or in-person…
Optionally: With increased choices in coverage and more versatile options for what they cover ("Uber-fication" – pay-per-use insurance)
These changes to how, when and what customers expect from their insurance companies create a great opportunity for those InsurTech companies with highly engaging digital platforms to enter the market. With the evolution of individual engagement preferences with their insurance company, the relationship between insurer and customer is changing too. Instead of the historical once a year transaction-based relationship, insurers need to evaluate their online presence, communication strategy and delivery platforms to create a differentiator which builds the customer relationship.
For more information on this topic, or to learn how Baker Tilly's InsurTech specialists can help, contact our team.